"We plan to perform our Uncle's own compositions alongside Qawwali favourites"
Pakistan's prestigious Rizwan-Muazzam Qawwali Group will be touring the UK in March 2017, paying tribute to 'Shahenshah-e-Qawwali', Ustad Nusrat Fateh Ali Khan.
The special tribute tour organised by Asian Arts Agency marks the 20th death anniversary of the musical legend, who rose to international fame in the late 1970s and 1980s.
The Pakistani entertainer is best known for popularising the 600-year-old Qawwali tradition in the west. With outstanding hits such as 'Yeh Jo Halka Halka Suroor Hai','Sanson Ki Mala Pey', 'Sanu Ek Pal Chain Na', 'Tere Bin Nahin Lagda Dil Mera', and of course, 'Afreen Afreen', Ustad Nusrat Fateh Ali Khan enjoyed global fame for 25 years before his death.
Nephews of the Ustad, Rizwan and Muazzam were trained by the maestro himself in the Qawwali tradition and have been continuing his legacy since 1990.
They have performed all over the world and have gained a devoted fan following in their own right. They are also popular guests at Coke Studio Pakistan, where they performed 'Naina De Akhay' in Season 3. As well as honouring their uncle's popular compositions, the duo and their 10-piece band will also perform other Qawwals inspired by classic Sufi and devotional poetry.
The Group's UK 2017 tour will take them to Luton, Birmingham, Bristol, Leeds and Gateshead. They will also perform at The Barbican in London on Monday 27th March.
Rizwan and Muazzam exclusively tell DESIblitz:
"We are very excited about our UK tour in March and looking forward to meeting and performing in front of Qawwali loving audiences.
"With 2017 being the 20th death anniversary of our great Uncle Ustad Nusrat Fateh Ali Khan, we will be paying our humble respects to him, bringing a special show to UK Qawwali fans.
"We plan to perform songs from our Uncle's own compositions alongside Qawwali favourites.
"We learned so much from him – he was a great teacher but above all a great and kind human being. He brought Qawwali music and its message of peace and love to a world audience and we continue spreading this message through our live shows."
Watch Rizwan-Muazzam Qawwali Group perform at Jaipur Literature Festival here: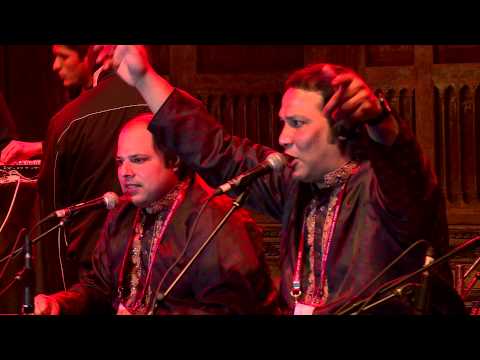 The 2017 tour by the musical group also coincides with the 70th anniversary of Indian Independence and the birth of Pakistan. Director of Asian Arts Agency, Jaswinder Singh adds:
"We are delighted to be bringing Rizwan and Muazzam to UK audiences in 2017, as part of our touring programme.
"Rizwan and Muazzam are arguably the finest Sufi musicians in the world and we are sure that audiences in the UK will have a great time enjoying their incredible live performances.
"The Agency is one of the leading touring producers of contemporary Asian music in the UK and this tour further strengthens our expanding touring work."
Rizwan-Muazzam Qawwali Group tour dates for 2017 are as follows:
Wednesday 22th March ~ Luton Library Theatre, Luton
Thursday 23rd March ~ St George's, Bristol
Saturday 25th March ~ Harwood Assembly Rooms, Leeds
Sunday 26th March ~ The Sage, Gateshead
Monday 27th March ~ The Barbican, London
Thursday 30th March ~ Birmingham Town Hall, Birmingham
The Rizwan-Muazzam Qawwali Group are known for their mesmerising performances. And their effortless ability to take audiences on a journey through stunning melodies and poetic lyrics. Alongside their instrumental band, the duo will perform in Farsi (Persian), Urdu and Poetry.
For more details about the Rizwan-Muazzam Qawwali Group or to book tickets, please visit the Asian Arts Agency website here.