"Most riyaz is done in Raag Bhairon and this is an early morning raag."
Some of the biggest names from the music world include eminent Pakistani qawwali singers.
These qawwali artists and their music have touched the pulse of many over the years. Most of the Pakistani qawwali singers are respectfully known as Ustad.
With this musical genre, Pakistani qawwali singers express their emotions through the vocals.
This art form has been passed down from many generations. Most Pakistani qawwali singers adhere and relate to Sufism, which is a highlight in their music.
Ustaad Bahauddin Khan Qawwal, Nusrat Fateh Ali Khan and Rahat Fateh Ali Khan are some of the famous Pakistani qawwali singers from different decades.
Let us look at 10 best Pakistani qawwali singers that put the country on the world music map.
Fateh Ali Khan
Fateh Ali Khan was a famous qawwali singer from the 40s and 50s. He was born in Jalandhar, Punjab, British India during the early 19th century.
Coming from a qawwali tradition, his family have been closely following the Sufi Chisti order for over 600 years.
Fateh Saab was the father of renowned qawwals, Nusrat Fateh Ali Khan and Farrukh Fateh Ali Khan. He undertook skilful vocalist and instrumentalist training from his father Maula Baksh Khan.
He was master of delivering poetry in various languages including Punjabi and Urdu. Fateh Saab led the family qawwali troupe, familiar as Fateh Ali Khan, Mubarak Ali Khan & Party.
They were known as the leading party of their time. They had a big hand in popularising verses of eminent poet Allama Iqbal.
Paying homage to Fateh Saab, Iqbal wrote:
"I was restricted to schools and colleges only. You (Ustad Fateh Ali Khan) have spread my poetry through India."
Post partition, Fateh Ji took the art of qawwali to Pakistan, where it also became very successful.
In 1990, he was honoured with the Pride of Performance Award by the President of Pakistan. The qawwali musician made a departure from this world sometime during 1964.
Ghulam Farid Sabri
Ghulam Farid Sabri was a famed qawwali singer and a key member of the well-known group, Sabri Brothers.
He was born in Kalyana village, Punjab, British India during 1930. His family musical lineage traces back to numerous centuries, during the Mughal rule.
He received formal music instruction from his father, Inayat Hussain Sabri at the age of six. He learnt to play the harmonium and tabla.
After migrating to Pakistan, Ghulam Saab became part of the qawwali group, Sabri Brothers, which was formed by young brother Maqbool Ahmed Sabri.
Their first major hit was 'Mera Koi Nahin Teray Siwa,' releasing under the EMI label in 1958.
Popular qawwalis of his include 'Saqiya Aur Pila' (1982: Balaghul Ula Bekamalehi, Vol. 7) and 'Bhardo Jholi Meri' (2011: Best of Sabri Brothers).
Over the years his qawwalis have gone on to feature in several films both home and abroad.
Along with the group, Ghulam Saab has gone on tour, performing their qawwalis. Outstanding performances of his include the 1989 WOMAD (World of Music, Arts and Dance Festival) and Nottingham 1991.
Ghulam Saab has many accolades to his name. This includes receiving the Presidential Pride of Performance Award in 1978.
Following a massive heart attack, he passed away in Karachi on April 5, 1994.
Watch Ghulam Farid Sabri performing to 'Bhar Do Joli Meri' here: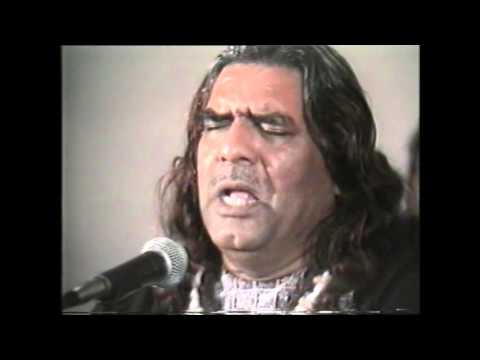 Ustaad Bahauddin Khan Qawwal
Ustad Bahauddin Khan Qawwal was a Pakistani qawwali singer and musician. He is a descendant of Sufi musician, Amir Khusrau.
He was born in Delhi, India during 1934. Bahauddin also belongs to Delhi's Qawwal Bacchon Gharana.
His father Suleman Khan and uncle Sardar Khan were responsible for formally training him in music and qawwali.
In 1956, almost ten years after partition, he left for Pakistan. Teaming up with his brother Qutbuddin, he formed his own ensemble in 1965.
In recognition of his masterly rendition of the qawwali, he was known as Ashraf-ul-Mousiqaraan.
Bahauddin displayed the qawwali art form across the world, touring Europe, Middle East, South Africa and Iran.
His famous qawwalis include 'Man Lago Yaar', 'Ganj-e-Shakar,' 'Bakhoohi Hum,' 'Thumri' and 'Aaj Rang Hai.'
Bahauddin died in the city of lights on February 3, 2006. Such was his popularity that a street in Karachi has also been named after him.
To recognise his outstanding services, an award under his name made its entry in 2006 for sports and culture.
Aziz Mian
Aziz Mian was a leading non-traditional qawwal from Pakistan. He was born pre-partition in Delhi on April 17, 1942.
He learnt the harmonium at the age of ten, under the supervision of Ustad Abdul Wahid Khan. Aziz Mian went onto gain training at the Data Ganj Baksh School of Lahore, lasting sixteen years.
He holds triple Master degrees in Urdu Literature, Arabic and Persian from the University of Punjab, Lahore.
He is respectably familiar as 'Shahenshah E Qawwali' (The Ultimate King Of Qawwali). Aziz Mian is amongst the great and influential qawwali singers of all time.
Aziz Mian had a very distinctive and strong voice. He wrote his own lyrics, along with performing to qawwalis penned by other poets.
His career began with performances during private functions. In 1966, he made his official debut with a performance which was witnessed by the Shah of Iran Reza Shah Pahlavi.
The Irani Shah gave him a gold medal, after appreciating his moving performance.
With his early stage performances taking place in barracks of the army, he was also known as Fauji Qawwal.
Whilst performing he had a very opera style, which was quite dramatic at times. He was very keen to discuss Sufism in his qawwalis.
Following hepatitis complications, Aziz Mian died in Tehran, Iran on December 6, 2000.
His popular qawwalis include 'Teri Soorat Nigahon Mein' (1996: Shrabi Shrabi, Vol 11) and 'Ho Toh Mein Kiya Karoon' (2-13: Aziz Mian Qawwal, Vol. 3)
The commercial qawwali, 'Hashr Ke Roz Yeh Poochhunga' which has a running time just over 150 minutes is a singing record for Aziz Mian.
Watch Aziz Mian performing to 'Teri Surat Nigahon' here:
Maqbool Ahmed Sabri
Maqbool Ahmed Sabri was a prominent qawwal from Pakistan who established the ensemble, Sabri Brothers.
He was born in Kalyana, East Punjab, India on October 12, 1945. Similar to elder brother Ghulam Farid, Maqbool was also fortunate to receive training from his father, Inayat Hussain Sabri.
The surname Sabri derives from the Sabriyya Sufi order, which deeply relates to the family of Maqbool.
With the support of his father, Maqbool had begun showing musical talent at a young age. At the age of eleven, he was part of a qawwali group called Bacha Qawwali Party.
In 1956, he made his first public performance during a Sufi saint ceremony in front of great qawwals of that period.
His successful qawwalis include 'Mera Koi Nahin Teray Siwa' and 'O Shrabi Chorde Peena' (1987: Maikhana).
Besides Urdu, he also has sung qawwalis in other languages including Persian. Along with his qawwali troupe, Maqbool has had many performances during foreign tours.
His fantastic concerts include performing at the Carnegie Hall, New York in 1975 and 1989 WOMAD Festival.
It came as a surprise that people were dancing to their performance as opposed to sitting and listening. He joked:
"It felt like we were the Beatles."
Maqbool Saab has many awards and recognitions for his wonderful contribution to qawwali. This includes the 1983 Charles de Galle Award.
Whilst in South Africa, after having a cardiac arrest, Maqbool died on September 21, 2020.
Nusrat Fateh Ali Khan
Nusrat Fateh Ali Khan is no doubt the most popular Pakistani qawwali singer. He was born into a Punjabi family in Faisalabad on October 13, 1948.
He came from a musical family, with his father Fateh Ali Khan also being a qawwal. Nusrat took a deep interest and had a natural ability for qawwali.
Nusrat went from learning the tabla to concentrating on his vocals. He further learnt from his paternal uncles, Mubarak Ali Khan and Salamat Ali Khan.
As qawwali party leader, his first public performance took place as part of the Jashn-e-Baharan Festival.
'Haq Ali Ali' was his first big success, performing in a conventional style with traditional instruments. Nusrat restrained his usage of the Sargam improvisations for this song.
Nusrat's mastery of the qawwali took him around the world, with sell-out crowds watching his performances.
Notable performances of his include WOMAD 1985 London and 1989 Brooklyn Academy of Music in New York).
His hits include 'Tum Ek Gaurak Dhanda Ho' (1990), 'Yeh Jo Halka Halka Saroor Hai '(Sanu Ik Pal Chain), 'Mera Piya Ghar Aaya' (1991: The Day, The Night, The Dawn, The Dusk) and 'Ali Da Malang' (1991).
'Dam Mast Qalandar' (1994: A Tribute The Essential Nusrat Fateh Ali Khan Vol-2) and 'Tere Bin Nahin Lagda' (1996: Sorrows Vol. 69, Sangam)
He also went onto collaborate with English rock musician Peter Gabriel and Canadian producer Michael Brook.
He released popular experimental albums with them such as Mustt Mustt (1990) and Night Song (1996).
Nusrat has many accolades to his name, including receiving the Presidential Pride of Performance Award in 1987 for his services to Pakistani music.
At the age of fourty-eight, he sadly left this world, following a heart attack at London's Cromwell Hospital on August 16, 1997.
Watch Nusrat Fateh Ali Khan perform to 'Akhiyan Udeek Diyan' here:
Fareed Ayaz
Ustad Ghulam Fariduddin Ayaz Al-Hussaini Qawwal more commonly known as Fareed Ayaz is a recognised qawwali singer.
Fareed belongs to Delhi's Qawwal Bachchon Ka Gharana. Fareed was born in Hyderabad, India during 1952.
Four years, following birth, he and his family made the move to Pakistan, living in Karachi.
He began training qawwali and music from his father Ustad Munshi Raziuddin. During his college life, he took part and won record-breaking first prizes during musical competitions.
He leads a qawwali party, which also include his younger brother Abu Muhammad. The brothers have become well known for their Sufi performances.
In fact, thirty-nine generations of his family have been performing to sufiyana kalam (mystic discussion). In an interview with Tehran Times, he describes qawwali saying:
"Qawwali is a very spiritual and devotional thing. I can say this because we have been in this profession for the past 750 years.
"The first person from our family who started performing Qawwali was Samat bin Ibrahim, who lived in the time of Hazrat Amir Khusro.
"I'm the direct blood descendant of Samat bin Ibrahim.
The popular Fareed and his qawwali group have had many mesmerising performances across every corner of the world.
Famous qawwalis sang by Fareed Ayaz include 'Har Lehza' (Soul of the Sufi: Live in Warsaw), 'Tarana' (Soul of the Sufi: Live in Warsaw) and Kangna (2007: The Reluctant Fundamentalist).
Abida Parveen
Abida Parveen is a qawwali singer who heavily takes inspiration from Sufism. For this very reason, she is often dubbed as the 'Queen of Sufi music.'
Abida was born in Larkana, Sindh, Pakistan on February 20, 1954. Her father Ustad Ghulam Haider, also fondly known as Baba Sain was her initial musical teacher.
Abida then began performing with her father at the shrines of Sufi saints. It was at her father's music school that she laid her musical foundation.
Later on, Ustad Salamat Ali Khan from the Sham Chaurasia Gharana nourished her talent further.
Her famous qawwali songs include 'Hum Toh Hai Pardes' and 'Tere Ishq Nachaya.'
From 1983 onwards Abida has performed at many worldwide concerts. She first performed internationally at Buena Park, California.
Her many performances went on air, courtesy of Pakistan state television, PTV.
Her most unforgettable performance was when she performed 'Mahi Yaar Di Gadholi' during Imran Khan's Shaukat Khanum Memorial Trust charity event.
The likes of Vinod Khanna, Rekha, Sonu Walia, Babra Sharif and Javed Miandad danced to this kalam during the historic peaceful event in Lahore.
Musically, Abida can play various instruments including the sitar and pump organ. She holds a Master degree from Sindh and understands Urdu, Sindhi and Persian.
She has a big list of awards and recognitions. They include the 1984 Presidential Pride of Performance Award, 2005 Sitara-e-Imtiaz and 2012 Hilal-e-Imtiaz.
Watch Bollywood and Pakistani stars dancing to 'Mahi Yaar Di Gadholi' here: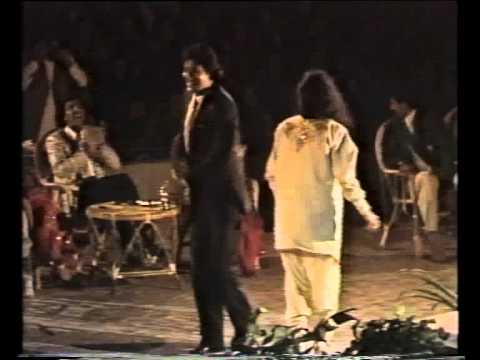 Amjad Sabri
Amjad Sabri was a Pakistani qawwal from the modern era. He is the son of Ghulam Farid Sabri, with Maqbool Ahmed Sabri being his paternal uncle.
Amjad was born in Karachi, Sindh, Pakistan on December 23, 1970. At the age of nine, he learnt the qawwali genre from his father.
Describing the most challenging aspect of training as a young boy, he once said:
"The hardest part was being awakened at 4.00 am. Most riyaz is done in Raag Bhairon and this is an early morning raag.
"My mother would urge our father to let us sleep but he would still wake us up."
He went on stage with his father for the first time in 1982. He was part of the Sabri Brothers band where he would often sing the chorus and claps.
Following his father's death, he took on the role of supporting vocalist and began playing the bongo drums.
He went onto to establish his own group in 1996, with his brothers and friends being the other group members.
Some of his popular qawwalis include 'Ali Ke Sath Hai Zehra Ki Shaadi' and 'Na Poochiye Ke Kya Hussain Hai.'
At the age of fourty-five, Amjad was sadly assassinated on June 22, 2016. Many people were in attendance during his funeral.
He was posthumously honoured with the Sitara-e-Imtiaz by then-President Mamnoon Hussain.
Rahat Fateh Ali Khan
Rahat Fateh Ali Khan is the most popular qawwali singer of the modern era. He was born in Faisalabad, Punjab, Pakistan on December 9, 1974.
Rahat comes from a famous family of qawwali singers. He is the son of qawwali musician Farrukh Fateh Ali Khan.
Legendary qawwali singer Nusrat Fateh Ali Khan is his paternal uncle. From a very early age, Rahat had a keen interest in music and qawwali.
He learnt the art of qawwali and music, particular under the shadows of Nusrat Saab. His first public performance came at the age of nine on his grandfather's (Fateh Ali Khan) death anniversary.
From 1985 onwards he became an integral feature of the qawwali group led by Nusrat Fateh Ali Khan. Accompanied by his father, he went on many tours as part of this group.
After the sudden demise of Nusrat, the qawwali baton was passed on to him. Ever since then, he and his group have toured around the work and performed to sell-out crowds.
He became the first Pakistani qawwali artist to perform at the 2014 Nobel Peace Prize concert.
There he performed the magical qawwalis of Nusrat Fateh Ali Khan, They include 'Tumhe Dillagi' (2012: Ustad The Very Best of Nusrat Fateh Ali Khan) and 'Mast Qalandar.'
Despite venturing out to other spaces, traditional qawwali holds a very close to his heart.
He was conferred with an Honorary Doctorate of Music by the University of Oxford on June 26, 2019. This was in recognition of his musical services, especially the qawwali art form.
Watch Rahat Fateh Ali Khan perform to 'Mere Rashke Qamar' here: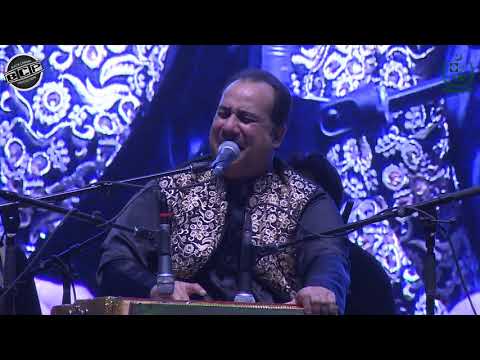 Naturally, there are other credible Pakistani qawwali singers. They include Munshi Raziuddin Badar Ali Khan and Faiz Ali Faiz.
All the aforementioned Pakistani qawwali singers have successfully carried forward the legacy of their predecessors. Hopefully, future generations will do the same.