"When I feel the melody, that's when I can truly sing with passion and emotion"
Birmingham based music artists, Priyesh Dhoolab and Nasa Munir are taking the music world by storm with their melodious singles 'Saye' and 'Mahi'.
The music composer/producer (Priyesh Dhoolab) and vocalist (Nasa Munir) duo have a unique talent of captivating listeners with their soulful songs and spiritual undertones.
Striking a chord with classical music lovers and appreciators of devotional sounds, the pair have transformed their passion into deserving musical careers.
In a special Gupshup with DESIblitz, Priyesh Dhoolab and Nasa Munir tell us more about their spiritual journey through music.
Tell us about your musical journey to date from childhood.
PD: I was mainly playing sports from childhood. But being surrounded by musical instruments from a young age and watching my uncle always performing and rehearsing with his Bollywood band back in the 90's, really inspired me.
I had good role models, as my dad and older brother are also very passionate towards music.
I remember getting my first keyboard for my 13th birthday from my parents and didn't even expect it. That keyboard became like my best friend.
But due to sports commitments growing up, it wasn't till 2011 when my life started to transform spiritually. I took the decision to sacrifice pursuing my career to become a professional cricketer to spend more time towards music.
I set up a YouTube channel called PDMusicsessions. I found a female singer (Priti Menon) who was also just starting out from London and decided to collaborate with her and did some Bollywood Piano & Vocal covers.
My main highlights are playing music and singing for my guru and playing in Mauritius. It's like Heaven on Earth!
How did you guys meet, and why did you decide to collaborate together?
NM: I wouldn't call it a collaboration as such, it was a joint decision of setting up a studio to have a good jam together as a hobby and passion for live music.
Third Floor Studio was created without our realisation while trying to create great soulful music. We are proud of what we have achieved so far together. Today it's a team not a collaboration.
Qualities of Pri, He is a great a team player, he is the most melodious and amazing pianist that I have met. His melodies have a very unique soul which makes my life easy as a vocalist and with his guidance.
He is very spiritual and calming person be around and takes great pride in his work. As being part of a team he is always willing to take advice and respects our feedback, last but not least he makes great tea and still uses sat nav to come to my house.
He lives by the rule of, 'Team work and hard work makes the dream work'.
PD: I don't really believe in failure. I think every situation is an experience, a learning curve and stepping stone leading us closer towards our destiny.
It's not so much collaboration as such. We just wanted to have a space to jam. Before we knew it, we had a studio coming together. So I started making music just as a hobby, expressing my passion.
Nasa is great guy. People who have been to the studio would be able to tell you how chilled out we are. It's not really work. It's just a very fun and educational process.
Nasa has a very unique and soulful voice with nice textures. He sings with his heart. Any song I make with him singing on it is to try and bring the best of his qualities out. His vocal range is phenomenal. He is always open to suggestions, especially during recording sessions which makes the process so much more creative and fun.
The final say ultimately goes to the music although I do follow my gut. We do tend to have similar thoughts towards music in ways which helps when taking decisions.
Nasa, you love singing slow and soothing songs, any reason why? Is there a love out there? Were you classically trained?
NM: I love singing anything with a melody that will touch my heart, which could be slow or upbeat. When I feel the melody, that's when I can truly sing with passion and emotion.
Is there Love out there? YES, listen to the song.
I'm not classically trained but I have received some basic guidance from a disciple of the great Ustad Nusrat Fateh Ali Khan. Training is important depending on what vision a vocalist may have, then again the passion for singing is very important and they both work hand in hand. For me personally it's the Passion that takes the upper hand.
Who would you like to work with if you were given the chance?
NM: Currently I am working alongside with Simon & Diamond (the Duggal brothers behind Apache Indian, Stereo Nation, Shania Twain etc.), GV, I have worked with TJ Rehmi. If I was given the opportunity it would be AR Rahman and Mithoon anytime of the day, and I would pay for my own flight ticket.
PD: I would love to work with Javed Bashir, Shreya Ghoshal and Rekha Bhardwaj. They are all incredibly gifted souls who touch my heart when they sing.
Priyesh, your music is laid-back and easy listening, who are your influences?
PD: Some of my friends say I'm that laid-back, I'm almost horizontal!
I guess I take great influence of calmness from my Grandmother. She was a huge role model for everyone in my family.
Musically. I grew up listening to all sorts from Bollywood Film music, Qawwali, Pop, Soul, RnB, Hip-Hop, Garage, African music, Arabic music and so much more. I've grown up in a multi-cultural part of Birmingham which I also feel has an influence.
A R Rahman is a huge inspiration to most musicians but I also feel inspired by the likes of Madan Mohan, Mithoon, Amit Trivedi, Jeet Ganguli and the list will go on.
Nasa, you have done many covers, did you do these to prove yourself or out of love for the songs?
NM: I did the covers just purely for the passion of music and for the love of the songs, covers are a great way to kick start yourself as a vocalist.
I have been singing for a very long time in fact the age of 6, but there has to be a time where you have to create your own sound and style and trust me nothing beats that feeling.
Priyesh, what's your view on technology and music versus live/playing real instruments? What instruments can you play? Were you trained?
PD: Technology has definitely transformed the way in which we listen to music now and in many ways, it works.
"But being brought up around musical instruments from childhood, I believe its really important for us to hold on to the essence and values of not only live instruments but live musicians too."
I can play most rhythmic instruments like the drum kit, bongos, congas, Cajon, basic Tabla and Dholak. But my main instrument I play, perform with and use to write most of my songs is the piano.
I never received any formal training in music but have taken some guidance from a couple of people with an incredible background in Jazz and Gospel.
I am learning Indian Classical music and am just a beginner.
Tell us about 'SAYE', the video looks great, who came up with the song and concept?
PD: 'Saye' stemmed from a beautiful concept from Hasan Chaudry (Lyricist). He had brief lyrics and we discussed the vision, emotion and feel which we wanted to express.
I then put something together which was quite up-beat on the guitar. Listened to it for a few days but then felt it was missing something. So then I took a more Orchestral approach and between myself, Nasa and Hasan, we put together 'Saye'.
NM: Hopefully we will continue to make good music with passion, love and soul that will bring a new sound to the listeners!
Watch the music video for 'SAYE' hear: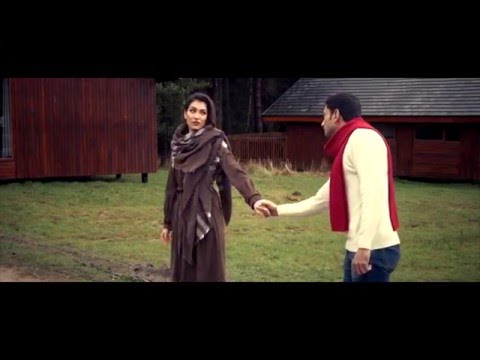 It is evident that both Priyesh Dhoolab and Nasa Munir are passionate about the music they create.
With more incredible musical projects in the pipeline, we can't wait to see what is next in store for this talented duo!