The Punjabi track won the rapper many awards
Indian singer and rapper Aditya Prateek Singh Sisodia better known by his stage name 'Badshah' has become a Bollywood legend over the years.
Badshah is widely considered to be one of the best in India's rap scene.
The rapper started his career in 2006 alongside Yo Yo Honey Singh in his hip hop group Mafia Mundeer.
The band consisted of some of the biggest names in India's music industry such as Raftaar, Ikka, Lil' Golu along with Yo Yo Honey Singh and Badshah himself.
Mafia Mundeer produced many hit releases such as 'Delhi Ke Deewane' (2012) and 'Begani Naar' (2019).
Listen to Mafia Mundeer's hit single Delhi Ke Deewane
The group went on to disband in 2012, among much speculations from fans. However, Mafia Mundeer has still not disclosed the reason for their split.
After their breakup, Badshah and Yo Yo Honey Singh among the gang went on to feature their soundtracks in Bollywood films.
Badshah went on to make a name for himself for his electrifying party songs in Hindi, Punjabi and Haryanvi.
Badshah's first debut single after the breakup of the group was the much-acclaimed Haryanvi song 'Kar Gayi Chull' released in 2012.
The song was later adapted for the Bollywood film, Kapoor & Sons (2016).
Watch the Bollywood adaptation of Kar Gayi Chull
Badshah, who is known for his upbeat party style music, has had many hits in his vast and fortuitous career.
We present the top 10 party songs by India's rapping sensation Badshah.
The Breakup Song
'The Breakup Song' features in Bollywood actor Ranbir Kapoor and actress Anushka Sharma's film Ae Dil Hain Mushkil (2016).
The film revolves around the themes of unrequited love, friendship and loss and the pain which is subsequently suffered.
'The Breakup Song' had a quirky lyrical composition and was a little wittier than the tracks Badshah had released before.
Badshah's song quickly became the breakup anthem of India.
'The Breakup Song' is sung by Badshah, Arijit Singh, Jonita Gandhi and Nakash Aziz.
Listen to The Breakup Song
Saturday Saturday
'Saturday Saturday' from Humpty Sharma ki Dulhania (2014) was Badshah's first step into Bollywood which catapulted his career.
Badshah had originally released 'Saturday Saturday' in 2012 as an independent artist.
However, the song didn't gain popularity until 2014 when it was remade for Alia Bhatt and Varun Dhawan's film.
This dance number became the ultimate Saturday night jam.
The popularity of the movie also brought Badshah unmitigated attention as a talented artist.
'Saturday Saturday' was sung by Badshah, Indeep Bakshi and Akriti Kakkar.
Listen to Saturday Saturday
Abhi Toh Party Shuru Hui Hai
Badshah is a fun-loving guy who knows how to get the party started and how to keep everyone in a good mood.
'Abhi Toh Party Shuru Hui Hai' is a song that keeps the night going wherever you happen to be.
The song was a soundtrack for India's first Disney princess film, Khoobsurat (2014) featuring Bollywood actress Sonam Kapoor and Pakistani actor Fawad Khan.
Being a part of the Disney movie was a huge moment in Badshah's career, as it was a monumental film in Indian movie history.
'Abhi Toh Party Shuru Hui Hai' was sung by Badshah and Aastha Gill.
Listen to Abhi Toh Party Shuru Hui Hai
DJ Waley Babu
This 2015 Badshah single spread like wildfire!
'DJ Wale Babu' is the song fans point to when asked about Badshah's greatest hits!
The hit song features Aastha Gill and was known as the party anthem of 2015!
'DJ Waley Babu' became the 'it' track at every club, radio station and wedding dance floor.
The popularity of this song marked Badshah as a marketable artist who had his own fan base.
Listen to DJ Wale Babu
The Humma Song
'The Humma Song' was originally a Tamil song in the romantic Bollywood drama Bombay (1995) by Mani Ratnam.
The song was remade by Badshah for the romantic Bollywood film OK Jaanu (2017) and instantly won over die-hard Bollywood fans.
Starring Shraddha Kapoor and Aditya Roy Kapur in lead roles, OK Jaanu revolved around a modern couple entering into a no-strings-attached live-in relationship.
Badshah's remake of 'The Humma Song' was a unique take on the legendary song that fans were not expecting.
'The Humma Song' was sung by Badshah, Jubin Nautiyal and Shashaa Tirupati.
Listen to The Humma Song
Kala Chashma
'Kala Chashma' was the party anthem of 2016.
The song featured in Katrina Kaif and Sidharth Malhotra's Bollywood drama Baar Baar Dekho (2016) and was an instant hit.
'Kala Chashma' was played at every dance club, radio station, house party and celebratory occasion in 2016.
In fact, 'Kala Chashma' continues to set the groove at any party ensuring partygoers are on their feet swaying to the beat.
The song was sung by Badshah, Amar Arshi and Neha Kakkar.
Listen to Badshah's heart-racing Kala Chashma
Wakhra Swag
'Wakhra Swag' was Badshah's hit single of 2016.
The Punjabi track won the rapper many awards and critical acclaim, including the GIMA Award for Breakthrough Artist in 2016.
'Wakhra Swag' also won the Punjabi Music Award for Best Music Director for a Single.
The song was sung by Navv Inder in association with Badshah.
Listen to Badshah's award-winning 'Wakhra Swag'
Tamma Tamma Again
Yet another hit song featured in Bollywood movie Badrinath Ki Dulhania (2017) is Badshah's remake hit 'Tamma Tamma Again'.
The original song was named 'Tamma Tamma Loge' in the 1990 Indian action film Thanedaar (1990).
The music for the original track was composed by Indian music legend Bappi Lahiri.
Badshah re-composed the music for the 2016 audience in Alia Bhatt and Varun Dhawan's romantic drama.
The remake of the song named 'Tamma Tamma Again' was an instant party hit and had fans reminiscing about the old days.
The remake song was sung by Badshah, Bappi Lahiri and Anuradha Paudwal.
Listen to Tamma Tamma Again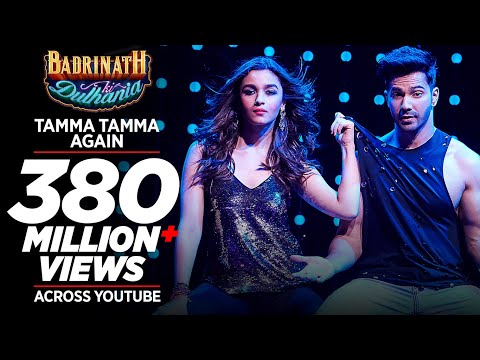 Tareefan
'Tareefan' was the hit track from Bollywood's first real girl-powered film, Veerey Di Wedding (2018).
The fun, sexy and upbeat track rapidly turned into every girl gang's dance anthem of the year.
The film starred Bollywood actresses Sonam Kapoor Ahuja, Kareena Kapoor Khan, Swara Bhaskar and Shikha Talsania in lead roles.
Preaching female friendship, independence and feminism, the film along with the scintillating musical composition 'Tareefan' was an instant hit.
'Tareefan' was sung by Badshah, QARAN and Aditya Dev.
Listen to Tareefan
Badshah has quite a resume, especially factoring that almost every track has over 200 million views on YouTube!
Even though Badshah's rise to the top was rapid, there is no sign of the Punjabi singer coming off his throne as Bollywood's bad boy rapper.
In 2019, the rapper elevated his career to being a Bollywood actor with his debut film Khandaani Shafakhana (2019) directed by Shilpi Dasgupta.
The Indian rapper starred in the Bollywood comedy-drama film alongside actress Sonakshi Sinha.
Speaking about the role Badshah shared:
"I was never inclined towards acting until I started getting offers for movies. In Khandaani Shafakhana I played the role of an arrogant singer, it was a novel experience."
Alongside being a rapper and actor, Badshah has also tried his hands in production.
He has produced the Punjabi flick Do Dooni Panj (2019) which was directed by Harry Bhatti.
The movie stars Amrit Maan, Isha Rikhi, Rana Ranbir, Karamjit Anmal, Sardar Sohi, Harby Sangha and Nirmal Rishi in pivotal roles.
The Punjabi drama was released in January 2019.
Meanwhile, Badshah continues to give fans incredible music compositions and we can't wait to see what he comes up with next!