"[Karan Johar] has been really instrumental in my growth in Bollywood"
Badshah is one name that rules the musical airwaves in India.
His Bollywood club anthems like 'Saturday Saturday,' 'Abhi Toh Party Shuru Hui Hai', 'Kar Gayi Chull' and 'The Humma Song' have spread like wildfire, not only in India but globally.
The undisputed Indian King of rap returns to the music scene with 'Mercy', taken from his long-awaited debut album O.N.E: Original Never Ends.
'Mercy' has an infectious rhythm. The electronic influence works so well that the listener can't help but groove to it. The rapper says:
"MERCY is something I took really long to create, I needed to get the right sound and mix. The millennials now want new and different music every time, something that sticks with them."
In an exclusive Gupshup with DESIblitz, Badshah explains how different 'Mercy' is from his other songs:
"There's more of a laid-back vibe. Sonically, it's very different but I feel that the lyrics are quite Desi."
The cool rhythm of the song that shows off Badshah at his best is set against an even cooler backdrop. The rapper's marketing team claim it to be the first song to be shot at the O2 Arena in London, and if that was not enough, we get glimpses of a pretty impressive Boeing in the background.
The master of swag is truly in his element in the music video, where he is joined by the ace performer, Lauren Gottlieb.
Lauren, a stunning American dancer and actress, is already a familiar name in India, having wowed viewers with her moves in ABCD 2 and Jhalak Dikhla Jaa.
She admits she was "hooked to the vibe and the groove of this song" and is positive that the song will he another Badshah hit.
Watch Lauren and Badshah groove in 'Mercy' here: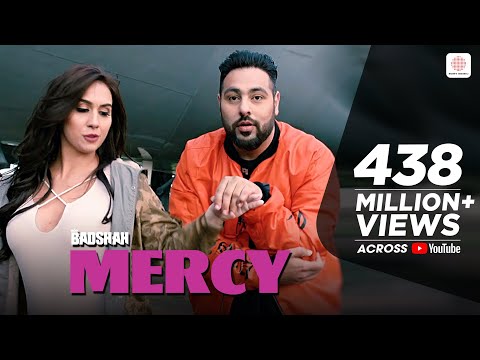 When we ask Badshah what he loves the most about Lauren, he tells us:
"She knows a lot of styles and comes from the same place where the genre (that 'Mercy') belongs to, which is Urban Street Music. It was only right to cast her in the video and I feel that she performed exceptionally and brilliantly."
Within 72 hours of the song's release on YouTube, the video has received over 12 million hits. This is a phenomenal achievement and Badshah is thrilled to gain such a positive response.
He says: "It's always exciting when people appreciate your effort and the numbers speak for the appreciation that you receive."
Bollywood stars like Varun Dhawan have also praised the song on Twitter. In fact, Badshah tells us that Varun was actually one of the first people to hear the song: "It was too kind of him to just appreciate the song. I'm always grateful."
From the Chandigarh-based Aditya Singh Prateek to becoming the 'Badshah' we recognise today, the musical journey for this talented rapper has not been easy:
"It's been quite enriching. I've learnt a lot. I think it has been exciting and I'm happy that I've been able to make a mark, although I have to do a lot of things. The music I make has been appreciated by the masses and classes," Badshah admits.
Alongside the 'Mercy' rapper, other artists like Raftaar who have worked with stars like Aamir Khan in films such as Dangal. Therefore, artists like Badshah have helped to bring rap into mainstream attention. He tells DESIblitz:
"Rap has never been accepted as a proper dance form. It is always been looked down upon, the lyrics content has always been questioned by a lot of people in societies and a lot of rappers are stereotyped for doing a particular kind of music."
He adds: "It has been difficult, but at the same time you have to keep working hard to make other people respect the work you do. I'm just working in silence and it's working for me and the genre as well."
Listen to our full interview with Badshah here:
An interesting point in his career is when Badshah became a judge on the Star Plus musical show – 'Dil Hai Hindustani.' Here, he was a panellist alongside Shekhar Ravjiani, Shalmali Kholgade and Karan Johar.
On the programme, Badshah seemed to share a great rapport with the director. So how has KJo been as a mentor and guide?
"He's been really instrumental in my growth in Bollywood. He's been always guiding me and I met him on the Dream Team tour (in America). We have mutual admiration and respect for each other. He's just too funny, too honest and just an amazing human being."
Badshah will be continuing his strong working relationship with the director in the future too: "I'm doing a lot of work with Dharma Productions and whenever I've given a song to Dharma, it has always worked."
Badshah is undoubtedly one of the biggest music sensations to emerge from India in recent years. From dominating Bollywood charts to making rap cool again, this musician is pushing all the right buttons.
'Mercy' is available to download from iTunes now.