"It calls out to all those people who are not happy where they are in life."
Cornetto Pop Rock has returned, after a successful inaugural edition in 2016, with an interesting mix of artists and music.
While the first two songs featuring Komal Rizvi and Qurram Hussain respectively, received mixed reviews, the latest one is a must-listen. A duet by Ali Azmat and QB, 'Chal Diye' is the kind of musical collaboration we have all been hoping for.
Pakistan's music scene has seen plenty of ups and downs over the years. And while most remain fixated on Pakistani cinema's rise from the ashes, one cannot deny music industry's continuous achievements against all odds.
In an urge to nurture and promote Pakistan's diverse musical offerings, initiatives like Coke Studio, Nescafé Basement and Patari Tabeer have given us several reasons to feel proud in the past year. Cornetto Pop Rock is also a similar initiative.
Cornetto Pop Rock was launched in 2016 with an aim to revive pop rock culture amongst Pakistani youth.
The project is not just about new music and colourful music videos. It also includes a series of live music performances across Pakistan that serve as oxygen to the country's dying live music scene.
Like its predecessor, the second season will also feature six music videos from the likes of Meesha Shafi, Momina Mustehsan and Ali Azmat. And while the first two left us feeling lukewarm on the adrenaline side of things, the latest – featuring Ali Azmat and QB – has our energies restored to the brim.
Listen to Ali Azmat and QB's song, 'Chal Diye' here: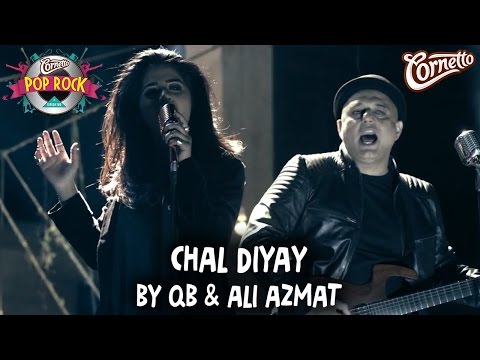 Pakistani music lovers have seen countless collaborations gone wrong. Umair Jaswal and QB being a prominent one. And so, it's definitely refreshing to see one that's just right.
On the face of it, it'd be easy to assume that rocker Ali Azmat's high-octane vocals would overpower those of Quratulain Baloch. But it's exciting to see them be in sync and their voices blending with each other so naturally.
A song about young love and the pursuit of dreams, 'Chal Diye' has a soul-rock vibe to it.
Ali Azmat opens with a soulful mellowness moving slowly into his quintessential rocker ways. QB, on the other hand, takes off with her natural, pitch-strong voice and shows an impressive vocal range as the song proceeds.
Together, Ali Azmat and QB flow into a chiming jam, offering the listener some newfound self-assurance. Omran Shafique's musical production shines bright in the raw sound of strings that cut through the song. As Ali Azmat and QB scale down, you are confident that the past few minutes were well-spent.
'Chal Diye' is a dreamer's song as QB aptly describes it:
"It calls out to all those people who are not happy where they are in life and tells them to move towards something they are passionate about," she says.
And it has surely moved us.