"Good prices, comfortable coaches, friendly staff and quick journeys."
DESIblitz has teamed up with Snap Travel to offer one lucky winner the chance of winning an incredible prize.
We are giving you the unique opportunity to win a one travel yearly pass, courtesy of Snap.
Snap is a fantastic premier league digital Intercity, Coach Travel, On Demand service where people can customise their trips.
Customers using online and mobile phone technology can decide where and when they want to travel, along with a price one is happy to pay.
By giving customers the opportunity to control the shots, Snap is excitingly changing the dynamics of UK travel.
Through this service, customers can easily select their final travel destination and a suitable pick-up point.
How does Snap work?
The company's system allows placing travellers together who want to make similar trips and snaps them up with the very best drivers and local independent coach operators.
Booking a journey is very simple and straightforward. All one has to do is enter a start point and destination on their website, as well as the intended date and time for travel.
Then potential travellers have the option to snap a trip that matches them the best. Customers will receive confirmation directly on their phone of their pick-up location, date and time.
Watch the Snap video: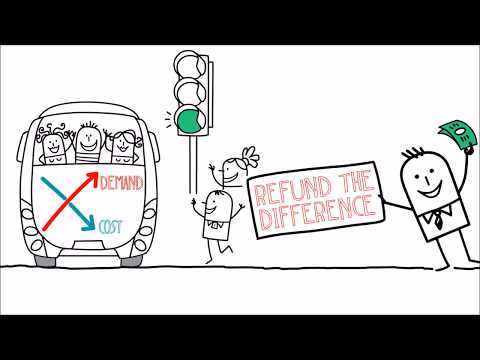 With Snap offering VIP direct travel services from A to B, people do not have to wait around stations or worry about awkward connections and needless diversions.
Snap values and highlights the importance of customer feedback. After reaching a destination, all customers are requested to rate the journey between 1-5. Customer ratings allow the company to stick with the best performing operators for new trips.
On-demand coach journeys are a reality with so many people going the same way. People also can travel on an unbelievable low budget. Snap keep their prices to a bare minimum by running coaches where the demand is high.
While customers can select a journey which is "still building" to pay cheap prices, they can secure their travel by confirming a backup trip. Customers will only pay for the trip they eventually choose to take.
If anyone finds a more economical fare for a similar journey, the company will always reimburse the difference.
With Snap having so much flexibility and being cost-effective, people can share their journey online, encouraging friends and family to join a trip.
Over 100,000 people already know about Snap, with 9 out of 10 rating them with a 5 Star. Recommending the service, a user reviewing on the official Snap Facebook page says:
"Fantastic value for money and a great coach. Will use again and again. Thank you so much."
Another user complimenting the service writes:
"Good prices, comfortable coaches, friendly staff and quick journeys."
There are many other positive reviews on Google, indicating customers love Snap.
Complimentary Trip
If that is not enough, Snap and DESIblitz have set up a unique promotion which allows all new customers a complimentary first return trip by using the code 'desiblitz' on the Snap website.
Established in 2016, Snap has been growing rapidly, covering all major cities including London and Birmingham.
For anyone who travels regularly, try to snap yourself as you will certainly not be disappointed. Their slogan, 'People Going Places Get It' symbolises the excellent service they are providing.
Be part of this wonderful travel revolution and to book a trip visit getasnap.com.
FREE YEARLY TRAVEL PASS COMPETITION
To win one FREE Snap Travel yearly pass, first follow us on Twitter or Like Us on Facebook:
Then, simply answer the question below and submit your answer to us now!
One entry will allow you to win one Snap Travel yearly pass. Duplicate entries will not be accepted.
The competition closes at 12 pm on Monday, December 17, 2018. Please read the Terms and Conditions of the competition below before entering.
Terms & Conditions
You have read and agreed with our updated Privacy Policy informing you how we use your competition data.
DESIblitz.com is not responsible for and will not consider incomplete or incorrect entries, or entries submitted but not received by DESIblitz.com for any reason, as potential competition winners.
To enter this competition, you must be at least 18 years old or older.
The winner will be contacted at the "sender" email address or telephone number that was used to enter the competition and the "sender" will be considered as the sole winner.
No more than one entry per email address is permitted and will be considered.
You hereby agree to hold DESIblitz.com and its affiliates, owners, partners, subsidiaries, licensees sponsors and assigns harmless from and against, and hereby waive any right to pursue, any claims of any nature arising in connection with the inclusion in, publication via or display on any DESIblitz.com site or this competition, or any other use authorised under these Terms, of any photo or information submitted to DESIblitz.com by you;
Your Details – In order to claim a winning entry, the entrant supply DESIblitz.com with his/her legal name, a valid email address, and telephone number.
Winner – the winning entrant of the competition will be selected using a random number algorithmic process which will select one number from only the correctly answered entries input serially into the system. If details supplied by any winner are incorrect, then their ticket will be offered to the next random number from the winning entries.

DESIblitz.com will communicate with the winner via the email or telephone provided. DESIblitz.com is not responsible for emails not getting to the user, nor responsible for the quality of the seats, if show times or dates change, and is not responsible for anything that happens before, during, or after the event.
The winner may not request substitutions of winnings. The winner is solely responsible for any and all taxes and/or fees, and all such additional costs that may be incurred after or before they receive the tickets.
DESIblitz.com, nor employees of DESIblitz.com or partners may be held liable for any warranty, costs, damage, injury, or any other claims incurred as a result of any winnings of a prize.
DESIblitz.com is not liable for any loss arising out of or in connection with or resulting from any competition promoted by DESIblitz.com.
DESIblitz.com does not accept responsibility for: (1) lost, late or undelivered entries, notifications or communications; (2) any technical, computer, online, telephone, cable, electronic, software, hardware, transmission, connection, Internet, Web site, or other access issue, failure, malfunction or difficulty that might hinder the ability of an entrant to enter the competition.
DESIblitz.com disclaims any liability for inaccurate information, whether caused by the Website, its users or by human or technical errors related to the submission of entries. DESIblitz.com makes no warranties or guarantees in relation to the prizes.
No purchase is necessary to enter the competition. Details given in the entry to the competition will only be used by DESIblitz.com in accordance with its privacy policy and consent communications from DESIblitz.com
By entering the competition, entrants agree to be bound by these Terms and Conditions which are governed by the law of England and Wales. DESIblitz.com and all entrants irrevocably agree that the courts of England and Wales shall have exclusive jurisdiction to settle any dispute which may arise in connection with these Terms and Conditions and submit all such disputes to the jurisdiction of the courts of England and Wales, provided that for the exclusive benefit of DESIblitz.com shall retain the right to bring proceedings as to the substance of the matter in the courts near an entrant's residence.
DESIblitz.com reserves the right to alter any rules of any contest at any time.