"We are excited and happy. Pakistan must be proud of us."
The Pakistan women's cricket team clinched a historic gold at the 2010 Asian Games held in China.
In doing so they became the first-ever women's cricket team to win gold medals at a multisport event.
The seven-day competition saw eight teams competing from Asia. Pakistan was the only ICC Women's Cricket Full Member to feature in the T20 tournament.
The Bangladesh women's cricket team was the only other recognised team to feature.
Besides the home nation, five other lower-ranking teams competed. These include Japan, Nepal, Thailand, Hong Kong and Malaysia.
With India and Sri Lanka not participating due to other commitments, Pakistan were clear favourites. Pakistan went with a strong squad. All-rounder Sana Mir was leading and spearheading the side.
They also had the likes of all-rounder Nida Rashid Dar, along with batting powers Javeria Khan Wadood and Bismah Maroof.
Pakistan was lethal throughout as they demolished Bangladesh in the final. Pakistani spinners Sana and Nida got the ball to turn quite substantially. Whereas Nida and Javeria were exemplary with the bat.
We look back at Pakistan's gold conquering journey, including observations and players reacting to their historical accomplishment.
Gold Medal at the 2010 Asian Games
The Pakistan women's cricket team made history by clinching the first-ever gold medal at a global multi-sport event.
The women in Green Shirts went onto accomplish this amazing feat at the 2010 Asian Games.
The T20 tournament took place at the Guanggong International Cricket Stadium, Guangzhou, Guangdong, China between 13-19 November 2010.
The Pakistan women's cricket team had a four-game winning streak on their road to gold glory. The Green Shaheens had an easy ride on their way to the knock out phase.
In the first-round game of the group stage, Pakistan comfortably beat Thailand by eight wickets on November 14, 2010.
Requiring 50 to win, Pakistan took only 8.3 overs to reach their target with the loss of two wickets.
Right-arm off-spinner Sana Gulzar did the damage early on, taking 4-8 in her four-over spell.
Their second-round game against China was no different, with Pakistan beating the hosts convincingly by nine wickets.
Pakistan made 64-1 in 12.2 overs in reply to China's 60-5. Courtesy of their two wins, Pakistan made it to the last four.
Similar to their last round-robin game, Pakistan came on top of Japan by nine wickets in the semi-final. The Japanese team made 61-8, with Pakistan cruising to victory in 10.4 overs.
In the final, Pakistan won the all-important toss and decided to field first against Bangladesh.
The Tigers were all out for 92 in their 20 overs, with right-arm off-break bowler Nida Rashid Dar claiming 4-16 in her four overs. Sana Mir also picked up 2-16 in her four-over spell.
Pakistan was in sublime form, reaching the target without losing a single wicket in 15.3 overs. Nida made an unbeaten 51 off 43 balls as an opener. She hit seven 4s in her innings.
Pakistan was triumphant by ten wickets on November 19, 2010.
Analysis and Reactions
The Pakistan women's cricket team were flawless in their quest for gold. The only disappointing fact was that no team put them under any sort of pressure.
From a fan's perspective, even the final saw Pakistan completely dominate. Nevertheless, credit must go to the Pakistani cricket players.
Sana Gulzar was the pick of the bowlers, taking 8 wickets in four matches.
Nida Rashid Dar was the all-round star of the tournament. Playing four matches, she had a batting average of 63.00. With the ball, she took 6 wickets in totals.
Opening batswoman Javeria Khan Wadood who made 39 not out in the final also had a healthy tournament batting average of 57.00.
However, it was Nida's all-round performance that stole the show in the final.
Pakistan becoming champions was the perfect gift to the nation, especially after suffering devastating floods earlier in the summer of 2010.
Sana Mir led from the front extremely well. She had taken 4 wickets overall, with one crucial scalp of Bangladesh captain Salma Khatun (24) in the final. Speaking to the media, the jubilant captain said:
"We are excited and happy. Pakistan must be proud of us.
"The way the women's team has played and the way they have handled themselves on and off the field is really wonderful for Pakistanis living in Pakistan and abroad.
"There are a lot of good things happening in Pakistan and this is one of them."
Upon arriving at Jinnah International Airport in Karachi, the women's team in their green uniforms had a rousing welcome.
Appreciating the gesture of showering rose petals at the team, Sana told the media:
"This welcome is like icing on the cake after our victory."
Watch Video Reactions on Pakistan winning Women's Cricket Gold: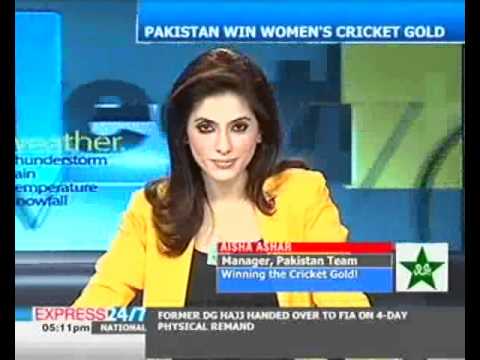 Nida Rashid Dar talking to AP was also in an ecstatic mood, saying:
"We had planned our innings as we didn't want to lose this opportunity of winning a gold medal.
"We talked with each other after every over and wanted to win gold with a big margin."
Nida earlier spoke about how gold would boost the women's game in Pakistan:
"I feel women's cricket has got an ideal platform to progress back home. More girls will take up this sport as they will definitely get inspiration from our gold-winning performance."
This triumph certainly became a catalyst to encourage more women into cricket and other sports.
The Pakistan women's' cricket team took confidence from this as they also won gold four years later at the 2014 Asian Games.
Even though the Pakistan women's cricket team and their respective players have achieved many more milestones, the victorious side from the 2010 Asian Games will forever live on in the memories of fans.