"I had Mahesh Bhatt writing for my film, what else do can I ask for?"
As Shakespeare once said: "The course of true love never did run smooth." And it seems director Mohit Suri's Hamari Adhuri Kahani follows a similar notion.
The Vishesh Films production is a real and intense love story based on the parents and stepmother of Mahesh Bhatt.
It stars the production house's favourite acting talents; Emraan Hashmi, Vidya Balan and Rajkummar Rao.
The film begins with an unstable marriage between Vasudha Prasad (played by Vidya Balan) and her abusive alcoholic husband, Hari (played by Rajkummar Rao) who is being sent to jail.
Vasudha wants nothing more than to be a loyal wife but dealing with her abusive husband has made her gone into a deep shell.
But just as she had given up on life she comes across her saving grace, Aarav Ruparel (played by Emraan Hashmi).
Aarav Ruparel is a wealthy man who owns the hotel she works at. Making her forget all her sadness and problems from the past, he breaks her through the shell of her unhappiness, and they eventually fall in love.
However, they face only one problem, Hari. He makes a promise that he will never let Aarav's and Vasudha's love story ever be complete.
As Emraan explains: "The real beauty of this film is everyone's backstory. Aarav has had a tragedy in his past, and Vasudha has also suffered.
"The film is about how they complete each other and how they fall in love. In a way, Aarav is the only selfless person in this film.
"He, no holds barred, wants to do everything for and give everything to Vasudha, while she is somewhat divided between him and her husband and child."
The tragic romance of the film has been a hot topic of discussion in Bollywood, ever since Mahesh Bhatt announced that it was a true story.
The emphasis on the reality quotient of the film has turned out to be the USP of the film.
And this was not just in Mahesh Bhatt's script-writing, but also in Mohit Sur's direction, where the ethos of make-believe fell away on set.
As Mohit explained in an interview: "Rajkumar plays Vidya's husband in the film. While the slap was part of the script, no one was expecting him to actually hit her.
"Usually, when it comes to actions such as these, actors just shoot make-believe scenes. The camera makes it all look real. So, when he slapped her for the first time, everyone was shocked."
"I actually jumped out of my seat, but then I realised that Vidya was holding the scene well. That's when it dawned on me that both the actors had planned this in advance to make the scene look authentic."
Emraan added that the script also altered the way he performed his character:
"It was connecting with the lives of my family members. You don't get this chance in every film.
"When you connect with something properly, it makes for something totally different. It's not going to be just another performance in just another film. This is as real as it gets."
Vidya Balan returns to the silver screen after a short hiatus, and fans are eager to see the talented national award-winning actress in cinema halls again.
Vidya herself was extremely excited to be back on set, especially with a story like Hamari Adhuri Kahani.
Vidya couldn't stop gushing about how excited she was about film, and spoke about how Mahesh approached her for the film:
"Bhatt saab came to me like a newcomer and asked me, 'Can I write a film for you?'. Of course, I said yes. I had Mahesh Bhatt writing for my film, what else do can I ask for?
"I think the kind of films that Bhatt saab made has now found a new following with the multiplex culture. I am just trying to take that forward."
When it comes to Bollywood music soundtracks, the Bhatt's are certainly experts. Uniting once again, Mohit Suri and Mahesh Bhatt have created another musical masterpiece
The six-soundtrack album is definitely one of the most soulful and melodious albums of 2015. Composed by Jeet Gannguli, Mithoon and Ami Mishra, each track has its own story.
Emraan's favourite track is the title track 'Hamari Adhuri Kahani' sung by Arijit Singh and focuses on the main themes of the film, which are love and separation.
Watch the trailer for Hamari Adhuri Kahani here: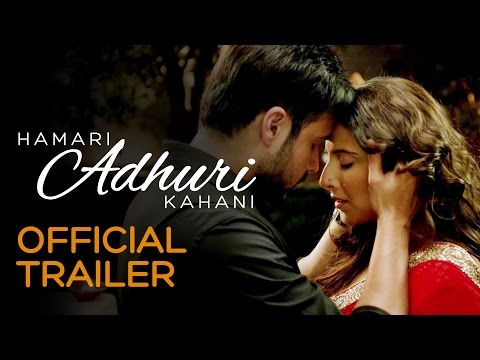 For all those who have loved and lost here is film that will heal! #HamariAdhuriKahani

— Mahesh Bhatt (@MaheshNBhatt) June 12, 2015
Mahesh's daughter Alia was all praise for Emraan and Vidya's performances:
@emraanhashmi has outdone himself and made me cryyyyy.. For the lovely Vidya Balan I have no wordsss!! Please go watch this film!!!!

— Alia Bhatt (@aliaa08) June 12, 2015
While critics have been cautious about the film so far, Hamari Adhuri Kahani has many expectations to live up to. Particularly after Mohit Suri's track record of 100 Crore hits with Aashiqui 2 and Ek Villain.
Will you be watching this intense love story Hamari Adhuri Kahani when it releases from June 12, 2015?