"People on the sets could not recognise me whenever I came in different avatars."
Vidya Balan, the most versatile actress of Bollywood, tests her talent with an array of comic character profiles for fans to enjoy.
Bobby Jasoos starring Vidya in the titular role is a film that rejoices the dream of a young girl, Bobby, who wishes to become the ace detective in the old city area of Hyderabad.
The film is directed by the debutant Samar Shaikh and produced by the couple Diya Mirza and Sahil Sangha under the banner Born Free Entertainment.
National award winning actress, Vidya Balan is famous for doing women-centric roles and has given brilliant performances in films like Kahaani (2012), The Dirty Picture (2011) and No One Killed Jessica (2011).
Apart from Vidya, the film also sees Ali Fazal, playing her love interest and the two expert actresses, Supriya Pathak and Tanvi Azmi.
Ali has earlier featured in Hindi films like 3 Idiots (2009) and Fukrey (2013). Ali Fazal interestingly was offered a role in the world famous series Homeland, however he had to reject it due to dates issues.
Fans can expect Ali in Hollywood very soon as he is working in the upcoming edition of the Fast & Furious series, which will release in 2015.
Ali and Vidya formed a strong friendship during the course of the film. Speaking about Ali, Vidya says: "He's the best liar I have come across. He seemed so nervous about dancing and I was happy I had company.
"But when I arrived on the sets, he started dancing even before they said 'Action'. It's the same with his acting. He has this understated attitude, but the kind of performances he gives is amazing."
Ali added: "The charm she pulls off, so many things people don't know about Vidya, I discovered on the sets of Bobby Jasoos. Most of the actors I have worked with are obsessed with how they perform, but Vidya is all about listening. I have learnt playing off each other."
Vidya Balan's character in Bobby Jasoos, which is flaunted as India's first female detective film has been making headlines for her 12 different looks in the film. They range from Bobby Beggar, Bobby Chashmish and Bobby B-Boy. She recently revealed that her inspiration for the character has been the famous 1980s detective TV show Karamchand.
Vidya said: "My earliest memory of a detective is Karamchand and he was probably the only one on the horizon until one got exposed to detective films later.
"We've even paid homage to Karamchand and Kitty in one of the dialogues in Bobby Jasoos. When I met Pankaj Kapur I wanted to say 'Bobby Karamchand ki chhati aulad hai' but I did not."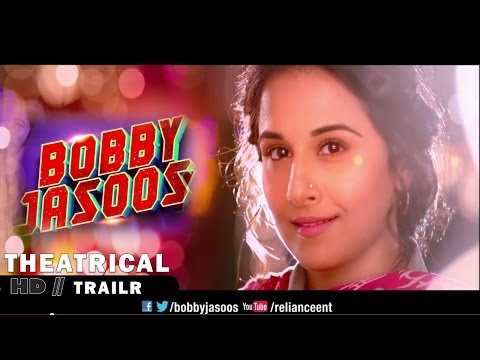 When the producers of the movie, Dia Mirza and Sahil Sangha initially approached Vidya for the film, she assumed that she may have to play 'Kitty to Karamchand' in the movie. But Vidya was happy to know that she was being approached to play the protagonist of the spy-thriller.
Vidya confirms: "Dia and Sahil walked in with the director of the film Samar Shaikh and Sanyuktha Shaikh, who penned the script and I asked them what was the film that they wanted to make about and they told me it's called Bobby Jasoos. I immediately thought, 'OH, they want me to play Kitty to Karamchand. Great!'
"Then Dia told me they wanted me to play Bobby Jasoos and I was immediately interested because I had never imagined a female detective and I instantly agreed to do it."
The most interesting fact about Bobby Jasoos is that Vidya had to give 122 look tests for the character and finally chose 12 best disguises from those.
She further adds: "The moment I got into the role, my body language and voice changed automatically. I loved the get up of an astrologer which was half bald with dirty teeth. People on the sets could not recognise me whenever I came in different avatars."
Coming to the music of the film, there are always great expectations when Shantanu Moitra and Swanand Kirkire team up. The music album has simple melodies, but unfortunately nothing exceptional which will stay in our minds.
The best two tracks of the film are 'Tu' and 'Jashn'. 'Tu' sung by Shreya Ghoshal and Papon is a delight to listen to, especially if you are a classical music lover. 'Jashn', sung by Shreya Ghoshal too along with Bonnie Chakraborty is a nice chirpy song, but the remaining album does not leave a lasting impression.
The acting powerhouse, Vidya Balan is being highly appreciated for this versatile role having multiple avatars in the film.
Interestingly, Bobby Jasoos's fate not just depends on the story but also on Vidya's character just like she single-handedly managed in Kahaani and it is because of Vidya that this movie becomes a must watch. Bobby Jasoos releases from July 4.