"Known for choosing qualitative films, Vidya delivers a knock-out performance yet again."
Ghanchakkar saw worldwide release on June 28, 2013. Directed by Raj Kumar Gupta, and produced by Ronnie Screwvala and Siddharth Roy Kapur, the film promised yet more amazing chemistry between hotties Emraan Hashmi and Vidya Balan lighting up the silver screen.
Joining them were Rajesh Sharma and Namit Das, in this quirky but dark comedy. The film follows the story of Sanjay (Emraan Hashmi), or Sanju to his friends, who is a master safe cracker but wishes to retire from crime.
Not wanting to worry about money in the future, he commits one last robbery with two other dangerous criminals that is successful. Sanju is then told to hide the money away until things cool down.
Three months later, the criminals return for their share but Sanju fails to recognise them. This is where it is revealed Sanju had an accident which has given him amnesia. Wanting their money, they decide to stay with Sanju and his wife Neetu (Vidya Balan) until he remembers where he hid the money.
The title of the film is something that captures the eye when we first see it. However, do we know what it means? Ghanchakkar means crazy. This certainly is the right word to describe the film as the characters go on a crazy adventure trying to help Sanju get his memory back.
Emraan Hashmi and Vidya Balan reunite as an oddball couple in this film after 2011's, The Dirty Picture.
Vidya steals the limelight as she plays the loud and crazy Punjabi housewife, Neetu, with very outrageous fashion choices. No doubt, bold, loud and proud characters suit Vidya the best especially after her recent hits with The Dirty Picture and Kahaani (2012).
"I play a Punjabi housewife in Ghanchakkar and hopefully, I, with this one, will put to rest the notion that housewives are boring. That's a very huge misconception and I hope people realise that after Ghanchakkar," says Vidya.
Emraan Hashmi plays a role that we haven't seen before compared to his past films. This change in role makes him stand out. Describing the film, Emraan says:
"The space of the film is very different. It is very unique as far as my films go. I think it's a huge game changer as far as cinema in general goes. The way we have seen comedies, Ghanchakkar is going to change that around and it is going to entertain you to the hilt!"
The chemistry of the couple really is undeniable, and Vidya cheekily adds: "I think Raaz 3 [secret] of our chemistry is that we may have said three words to each other in The Dirty Picture, but in this one we have said six words. So, it should probably double the chemistry between us."
Rajesh Sharma is not new to working with Vidya Balan and Emraan Hashmi, again joining them from The Dirty Picture cast. He plays the accomplice to Idris to carry out the robbery.
Namit Das who we have previously seen in films like Wake Up Sid (2009) and Lafangey Parindey (2010) turns into a comic criminal for this film.
As well as the quirky outfits in the film, the music makes an impact on it with catchy songs, one being, 'Lazy Lad'.
Music director, Amit Trivedi who has worked on films such as Aiyyaa (2012) and Luv Shuv Tey Chicken Khurana (2012), has again shown his talent and produced some out of the box songs.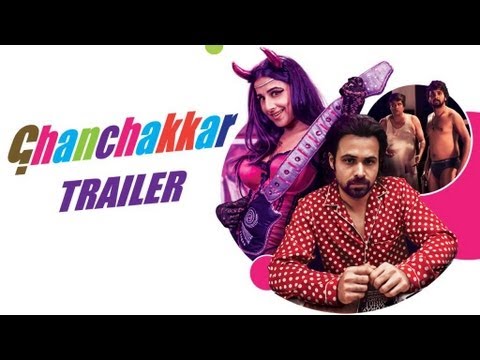 Director Raj Kumar Gupta is happy to reunite with Vidya after directing her in No One Killed Jessica' (2011). Talking about the film, Gupta said:
"Ghanchakkar is a very different movie from my previous films. It is in the humorous, suspense, thriller space that I have not explored before."
Emraan also had a few words to say about his director: "In this film, Raj Kumar Gupta has made us 'ghanchakkar'. Raj looks very sweet and simple, but I don't think he is. He is the biggest 'ghanchakkar'."
Producers Ronnie Screwvala and Siddarth Roy Kapur have collaborated together after previous projects like, Kai Po Che and ABCD.
The film has received mixed reviews so far. While most have applauded the main cast's performances and their outlandish behaviours, trade analyst, Taran Adarsh had to say:
"Emraan makes an earnest effort to deviate from his on-screen image and he does exceptionally well. Known for choosing qualitative films, Vidya delivers a knock-out performance yet again."
Box office results for the film from its opening weekend were promising in India. Adarsh tweeted on day one: "INDIA: #Ghanchakkar Fri Rs 7.2 cr."
Outside of India the film hasn't done as well, with the critic tweeting the UK's takings: "UK: #Ghanchakkar Fri £ 26,229, Sat £ 32,184. Total: £ 58,413 [Rs 52.90 lacs]."
Renowned trade analyst and film critic, Komal Nahta, also tweeted: "GHANCHAKKAR day 1 in Gulf: $100000 plus, very good. Better than THE DIRTY PICTURE and KAHAANI."
But with the cute coupling of Emraan and Vidya, there is no doubt that audiences will be eager to see them together once again.
Ghanchakkar is worth watching if you like the pairing of Emraan and Vidya. Especially with the portrayal of the characters being 'ghanchakkar'. One to definitely add to your movie list.