Jaffrey's passion and natural talents for acting and performing manifest in many folds.
On November 15, 2015, actor Saeed Jaffrey sadly passed away from a brain hemorrhage in hospital in London.
A great loss to the acting world, the veteran actor contributed many unique performances in Bollywood, British and Hollywood films.
We look at his illustrious career and pay a special tribute to this actor who has left a memorable legacy.
There were many remarkable 'firsts' in Saeed Jaffrey's life.
The Indian-born actor was awarded first honours in English Literature at university.
He was the first Indian actor to perform Shakespeare's plays in the US and grace the stage of Broadway.
In the UK, Saeed Jaffrey was the first Asian actor to appear in a West End play called On A Foggy Day.
He was also the first Asian actor to receive the prestigious Order of the British Empire for his exceptional work in drama.
A pioneer in many ways, Jaffrey's passion and natural talents for acting and performing manifest in many more folds.
His unique ability to adapt to different characters across a variety of mediums may be a byproduct of his extensive travelling when growing up.
He was born in Punjab in January 8, 1929. As a young boy, Jaffrey was constantly on the move because of his father's occupation as a doctor.
He said: "I was exposed to a Muslim school, so I learnt Urdu. I was exposed to a Hindu school, so I learnt Hindi.
"I was exposed to a Church of England school, so I got my Senior Cambridge certificate."
After obtaining a Master's degree in History from Allahabad University, he immersed into the acting world and has never looked back since.
His first stop was All India Radio, which was hiring English-speaking announcers at the time.
Jaffrey was quickly recruited and began writing plays, stories and monologues.
In 1951, he decided to set up his theatre group, running amateur productions in English language.
Shakespeare, Oscar Wilde and Dylan Thomas were merely a handful of masterpieces that the group worked on.
One of their performances in 1954, The Eagle Has Two Heads (a French play by Jean Cocteau), led him to his first wife and celebrity chef, Madhur Bahadur.
They fell 'madly' in love, got married in 1958 and settled in New York. His transition to life in the US was smooth, to say the least.
Jaffrey wasn't just another struggling actor. He arrived as a Fulbright scholar enrolled at the Catholic University of America in Washington to study drama.
In the 'land of dreams', he worked with the Actors Studio, took part in a 1962 Broadway production of A Passage to India, and toured with Shakespeare – the first Indian actor to do so.
Though his career was thriving, his relationship with Madhur was falling apart.
The couple shared three children together – Zia, Sakina and Meera. When Madhur found out he was cheating on her, it was happy family no more.
The children were sent to India and his wife couldn't forgive him, even though he was desperately trying to hold on their marriage.
Jaffrey said: "But she was deeply wounded. No amount of crying or kissing her feet could heal that wound.
"I was devastated. Devastated! The only way I could get to sleep at night was by drinking half a bottle of Scotch.
"Madhur's father sent [the children] the plane tickets. What was I to do? I was not in a position to look after them."
After their divorce, Jaffrey moved to Britain. His language skills – fluent in Hindi, Urdu and English – worked to his advantage at the BBC World Service.
His theatre experience found its home in London's famous West End stage, appearing in Kindly Monkeys, On A Foggy Day and Captain Brassbound's Conversion.
He also started to take up acting roles in television. Many would remember his wonderful performance in the series Gangsters.
But it was the big screen where he truly made his mark. He became friends with Michael Caine on the set of The Wilby Conspiracy (1975).
The British legendary actor was the one who recommended a role for Saeed Jaffrey in The Man Who Would Be King (1975), starring Caine himself and Sean Connery.
He worked with Richard Attenborough in his next venture, Shatranj Ke Khiladi or The Chess Players (1977).
The film earned him his first Filmfare award in India in 1978, thus opening another avenue for his acting talents to shine.
In addition to appearing in over 100 Bollywood films, Jaffrey also appeared in the sensational Gandhi (1982), A Passage to India (1984), and My Beautiful Laundrette (1985).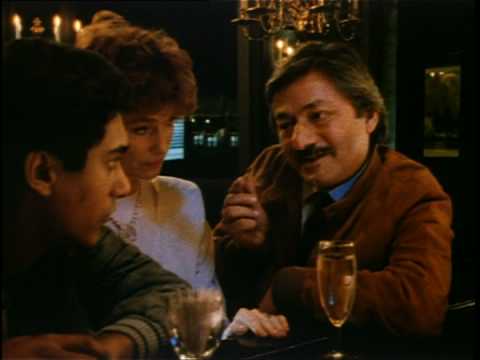 By this time, he had found love again and tied the knot with Jennifer Sorrell, a casting agent.
During the 1980s, he maintained his appearance on TV with roles in The Jewel in the Crown, Tandoori Nights and Little Napoleons.
Into the 1990s, he was still as active as ever, playing corner shop owner Ravi Desai in the iconic British soap Coronation Street, and voicing dramas for BBC Radio 4, the World Service and Asian Network.
It was his radio work that once again proved his incredible ability to bring characters to life, simply through the sound of his voice.
Jaffrey portrayed nine different roles in The Pump with Sir Michael Redgrave. He then famously played all 86 characters in an adaptation of Vikram Seth's novel 'A Suitable Boy'.
Watch a clip from Ram Teri Ganga Maili (1985) here:
Acting career aside, Saeed Jaffrey had developed a reputation of somewhat a womaniser.
He was very frank about the subject in an interview: "Oh yes. Many scores of ladies have come into my life and gone away happy.
"It wouldn't do to count. How egomaniacal! I never view my ladies as conquests.
"Still, there was a rather divine period after I split up from Madhur when I decided I would please as many women as possible.
"Then, I think it was 21 ladies in 21 nights. Oh yes, I have spread a lot of love."
His last film appearance is believed to be British drama film, Everywhere and Nowhere (2011).
Saeed Jaffrey, 'a small man with a large physical presence', will be sorely missed. His unique journey in the East and West and capacity to bring his performance cross-platforms will leave behind a legacy that will inspire all.