"We wonder how the Censor Board decides how much kissing is enough."
The 24th James Bond film and the fourth starring Daniel Craig, Spectre, has finally opened in India on November 20, 2015.
But not without a few controversial cuts made by the Central Board of Film Certification (CBFC).
Two verbal and two visual edits have been initiated by the CBFC in order for it to receive a U/A certificate – parental guidance required for under-14.
Craig's kissing scenes with Monica Bellucci and Léa Seydoux, as well as him saying 'f**k' and 'a*****e', are all deemed too much for Indian audience by CBFC.
Pahlaj Nihalani, head of CBFC, states: "We have reduced them. Our work is for censoring the movie according to the rating of the film so we have done that."
However, Ashoke Pandit, a board member of CBFC, does not see eye to eye with this decision.
He says: "Yes, this decision was taken by Pahlaj Nihalani. He does these kinds of things. Other shots have also been cut along with the kissing scene.
"This seems like a joke. If you do this to a James Bond film, then it's shameful."
Pandit also expresses his frustration on Twitter and draw a clear line between his and Nihalani's stance.
He comments: "Pahlaj Nihalani has always functioned on his own accord and I don't subscribe to his curtailing of creative rights.
"Spectre is an internationally applauded film, [but] again Pahalaj Nihalani messes it up by shading it with his own thought process.
"Nihalani's action should not be a reflection of my choices. I feel it's a mockery of the freedom of a filmmaker."
A source at Sony Pictures Entertainment acknowledges these changes have been made, but casts doubts over CBFC's standard of measurement for such scenes:
"The censor board had nothing against James Bond kissing. But the length of the kisses were found to be unnecessarily excessive.
"We heard that Ranbir Kapoor's kissing scenes in Tamasha (2015) has also been reduced by half. We wonder how the Censor Board decides how much kissing is enough."
Moviegoers in India are no stranger to the board's eyebrow-raising decisions when it comes to sensitive or sexual content in films.
Fifty Shades of Grey (2015) suffered a full ban in the country for its 'dialogue', even though a much less sexual version was submitted for the board's review.
Another James Bond film, Casino Royale, also faced a similar issue in 2006 when some of the love scenes were reportedly 'trimmed'.
However, the cuts were believed to be proposed by Sony Pictures Releasing India, as they wanted to make sure the film was granted a U/A certificate and reach a bigger audience.
Sharmila Tagore, chairman of CBFC, commented at the time:
"We are a layered society, so what may be taken easily by an urban audience may not go down well with those watching the same film in suburban areas."
Well, the Spectre cuts have definitely not gone down well with Twitter users in India.
One can imagine the rage of the franchise's fans not being allowed to watch the full version of the film, after waiting two additional weeks for its release – all to avoid clashing with Prem Ratan Dhan Payo.
A new hashtag, #SanskariJamesBond ('virtuous' James Bond), begins to trend in protest with a humorous twist.
#SanskariJamesBond? We have a wardrobe for him as well 😛 https://t.co/OGXvvssnjw pic.twitter.com/wQ1hM73nRE

— Myntra (@myntra) November 20, 2015
#SanskariJamesBond has a small idol of Ganeshji on the dashboard of his Aston Martin

— Atul Khatri (@one_by_two) November 18, 2015
Bond girl: 'Stay with me tonight!' #SanskariJamesBond : 'Nahi, kal savere savere maa ko Mandir le jana hai'

— Div (Chinese Samosa) (@divya_moorjani) November 18, 2015
#SanskariJamesBond scolds the vamp for wearing short dress and gives her a dupatta to hide her cleavage, before beating up the villain

— The Bad Doctor (@doctoratlarge) November 18, 2015
Considering Spectre is being screened in Pakistan and Sri Lanka with zero edits, fans' resentment towards CBFC is fully understandable.
The fact that the board is happy for erotic thriller, Hate Story 3 (2015), to be released uncut begs the question of what is and is not acceptable even more.
Director Vishal Pandya says: "In my film, I have actors, songs, sex and a franchise.
"I feel that nowadays, [the censor board members] are lenient as they also know that the audience too wants a little more in everything.
"Not only in sex, but in other genres like action or romance too."
Even Sunny Leone's sex comedy Mastizaade (2015) has to postpone its release until January 2016, to dodge a major box office clash with the Zarine Khan and Karan Singh Grover-starrer.
See the steamy trailer for Hate Story 3 here: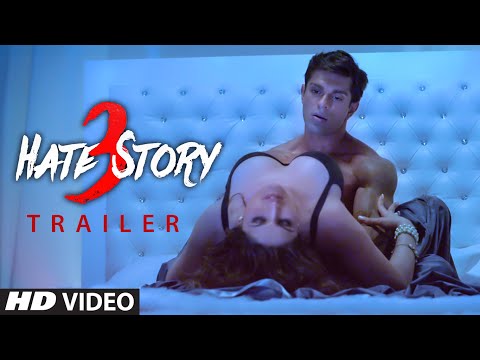 Since being appointed as CBFC's chairperson in January 2015, Pahlaj Nihalani has been heavily criticised for his conservative approach in film censorship.
Several board members have even tried to vote against him in a 'no-confidence motion' in June 2015.
One of them commented: "We are preparing for a good fight. All of us want the menace to end.
"Nihalani cannot take the board members and the film industry for granted. We have become the laughing stock everywhere."
The battle, however, is most likely going to be a long and hard one.