"I have just done the film for the joy of it"
What would you do if you were fighting eight years with the criminal justice system for a case that is nothing but a dead end?
Bringing an intriguing and gripping drama to the big screen, director Ribhu Dasgupta presents an edge of the seat thriller with the help of a talented A-list cast: Amitabh Bachchan, Nawazuddin Siddiqui and Vidya Balan.
TE3N follows the story of John Biswas (played by Amitabh Bachchan), a common man who lost his granddaughter, Angela, 8 years ago in a tragic kidnapping incident, which has scarred him and his wife Nancy.
However, even 8 years later, John still hasn't given up his relentless quest for justice. Desperate for help John is confident that an ex-cop turned priest named Martin Das (played by Nawazuddin Siddiqui) can help him, as the kidnapping of Angela had a life altering impact on both men.
When John accidentally stumbles upon a clue in a busy market, his hopes of justice and revenge are once again ignited. Also with new kidnappings taking place across the nation inspector Sarita Sarkar (played by Vidya Balan) is forced to intervene.
This forces the Martin Das and Sarita Sarkar to join forces to tackle this kidnapper. But, little do they know, that John is also closing in on Angela's kidnapper. Who is the kidnapper? And is Angela alive?
TE3N tackles a heart-wrenching subject, and is an unusual choice for veteran actor, Amitabh Bachchan. The actor explains his decision to o the film, saying: "Indian cinema has always been making films like these. It's just that, given the stage I was at earlier in my career, perhaps nobody thought of doing something like this with me.
"But now there is an opportunity because of my age, which enables me to play an older, weaker character. You don't expect him to be able to do something and that's basically what the outline of the character is.
"John Biswas is a middle-class man, he is Anglo-Bengali and there has been a tragedy in the family. He only has his wife and son. His family doesn't live with him, but he's keen to find out what happened and how.
"I don't think that he has revenge on his mind. I think he just wants somebody to confess that something like this has been done and that he is repentant about it."
Bringing together a stellar star cast, a major talking point about the movie is Vidya Balan's role in the film. Audiences and the media are intrigued to know what attracted the actress to the role and why she chose to do this film after a short hiatus following her last release, Humari Adhuri Kahaani.
Vidya explains: "In TE3N, I am playing an investigative police officer. I am in a special appearance; even though the role was short, I did the film only because I liked the story and I liked what director Ribhu was trying to do within this genre of a thriller.
"I thought his approach was a little different. Also, Sujoy Ghosh was producing it. We were shooting in Kolkata. It had Mr Bachchan and Nawazuddin. I have just done the film for the joy of it."
Amitabh also had a lot of praise for the actress, saying: "She is an exceptional actress. Vidya has done so well right from her first film Parineeta to now, I have been watching all her work. I worked with her in Paa and now this… it's a great experience."
Amitabh is no stranger to showing his appreciation for acting talent in the form of letters. Explaining this charming tradition, he say: "I have always been doing this. Jaya and I have been doing this for long. If we like something, we send flowers or something.
"I just feel very strongly when I see something like this and I do write to them. It's wonderful. It's just great to see this generation, to see anybody, giving a good performance. It's so inspiring and you learn so much from them."
Interestingly, with the film shot in Kolkata, much of the cast were prone to talking in Bengali. Even Nawazuddin, who did not understand Bengali, managed to pick up a lot of the lingo:
"Sujoy [Ghosh – producer], Ribhu [Dasgupta], Mr. Bachchan and Vidya, who feel quite at home in Kolkata, would often slip into Bengali phrases in their conversations, so even Nawaz by the end of the shoot understood most of it and could speak quite well, helped by the actors," says a crew member.
Marketing gimmicks are the new talk of the town when it comes to film promotions in Bollywood. So in order to make their film stand out, the TE3N team came up with an innovative idea to create a game that promotes and reflects the mystery element of the movie. Gamers have to solve a crime by putting together the clues.
Amit Khanduja, CEO Reliance Entertainment Digital says: "We are thrilled to associate with an ambitious movie like TE3N.
"The collaboration with TE3N deepens our association with Bollywood to develop movie based thematic games, which gives Bollywood lovers an opportunity to combine their love for movies and games.
"We are confident gamers will enjoy the experience and the adrenaline rush it offers."
Watch the trailer for TE3N here: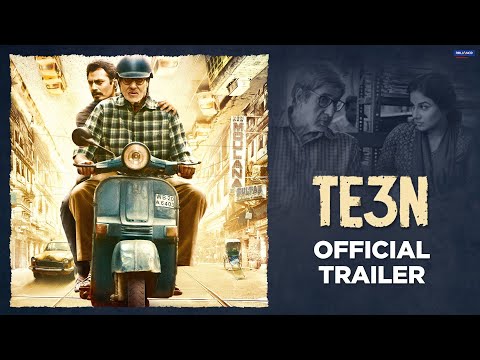 Staying authentic towards the drama thriller genre of the film, the makers of Te3n kept the music to a minimum to ensure audiences are not distracted.
The music album has five tracks, and music director Clinton Cerejo utilises an interesting mixture of sounds.
In 'Grahan', Clinton uses more bass instruments making it a very hard hitting track which is complimented by deep lyrics.
With 'Kyun Re', 'Rootha' and 'Haq Hai', Clinton takes a softer and simpler approach, using acoustic guitar instrumentals which give audiences a chance to pay attention to the emotional and touching lyrics.
The film has been received well so far, with many from the film industry praising the actors and the dramatic screenplay.
So would you like to be part of this captivating thriller? TE3N releases from June 10, 2016.