"I hope when people watch Jackpot, they see that I did work really hard."
Sunny Leone is back on screen with her new film Jackpot, alongside Sachiin J Joshi. The gambling thriller is directed by Kaizad Gustad and produced by Raina Sachiin Joshi.
The film sees versatile veteran actor, Naseeruddin Shah in a very funky avatar. Sunny's other half Daniel Weber is also seen in the movie in a cameo role.
Set in beautiful Goa among the casino boats, Jackpot is a fast-paced thriller about a group of con-men trying to outwit each other. The film delves deep into Goa's parallel lifestyle which consists of money, greed and lust.
A group of amateurs plan a con which they believe is fool-proof. This short-lived security is shaken up when they realise they are the ones being conned by the very people whom they were trying to con. Unsure who to trust, they begin to suspect each other.
It is no secret that Sunny Leone is best known for her skimpy clothing and oozing sensuality; just think of Jism 2 (2012).
With most of the actresses in today's cinema flaunting themselves, Sunny is no different in this aspect. But Sunny believes there is a lot more to her than meets the eye.
She is determined to show the world that she can compliment her beauty with a good performance and so shut those critics up who just equate her with boldness and sexuality. Believing herself to be a powerful actress, Sunny says:
"Jackpot is a very story-driven movie. It's a fast-paced film that moves extremely fast. It's not just about being sexy for me in this movie. Hopefully, they (audience) get to see a different side where my acting is appreciated a little more.
"I hope that happens. I hope when people watch Jackpot, they see that I did work really hard. I spent days and nights making sure that I learn these lines frontwards and backwards, or at least try," she says.
The movie shows the casinos and normal backwaters of Goa and how they clash together.
Even though Kaizad who has previously directed Boom (2003) has gone easy on flaunting Sunny Leone, his belief in keeping the lingo and vocabulary authentic is thought to the reason behind the movie's 'A' certificate.
It's is believed that Sachiin Joshi wanted to let the script and not just sensuality speak for the movie.
The censor board has already axed one of the songs from the movie, 'Eggjactly' by Jaaved Jaaferi. Sunny insists Jackpot is a 'very nice family movie that everyone can watch', and even though she has the utmost respect to authorities, she wishes they exercised some leniency to it.
Director Kaizad Gustad says: "I don't understand why the song has been banned. It is funny and there is humour in it. It is not anything personal it is about the whole country. Jaaved has not attacked any one person. He has been very careful to avoid personal attacks."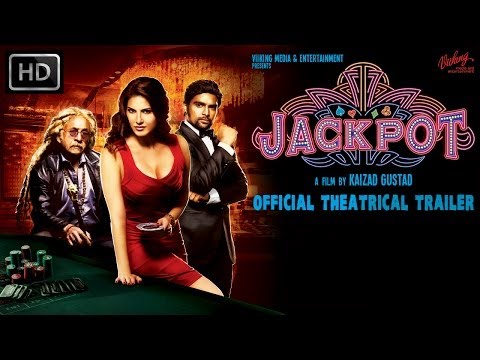 Gustad said it would have been good is the censor board has shown some sense of humour towards the song. It is being rumoured that the song was about corruption that is still heavily relevant in the country and targets everyone from the common man, politicians, to the big shots of society.
The song is already part of the music album. The track 'Kabhi Jo Baadal Barse' by Arijit Singh has been appreciated for its soulfulness. It has also been remixed by Rishi Rich and there is a female version by Shreya Ghoshal.
If the song cut wasn't enough, Sunny and Sachiin's saucy scene from the movie has also been removed by the censor board, who believe Sunny is performing a little too much than is needed. Sunny has remarked, that their decision is unfair. But it may be that the DVD format will include the Director's complete cut, as happened with Jism 2.
Lead actor, Sachiin J Joshi admits that it was his suggestion that Sunny keep her clothes on throughout the movie:
"Jackpot is saucy, it is mysterious and it is intriguing with a lot of naughtiness to it. Of course, aisa nahi hai ki Sunny ke fans bilkul hi naraaz ho jaayenge. She can still look hot and enticing by not revealing skin."
"With an eye that I am watching her on screen, she is hotter and better. It isn't always less clothes that bring out the beauty of a woman; there are other ways of capturing the imagination and fantasies of the audience."
Despite all the odds and trials the film faces, Jackpot, which has been amazingly shot in 27 days, has a crew who greatly support one another. Kaizad was happy that Sunny was a keen actress who wanted to improve and maintain good standards throughout the shoot.
The 32-year-old actress said: "I was lot more comfortable, happy with Kaizad sir. He did such a great job in making all of us comfortable."
At the music launch of the film, Sachiin said: "Sunny Leone is definitely a Jackpot."
He further added that is was the audience's prerogative to decide if they have hit the 'jackpot' or not. Talking about the film Sunny said:
"I loved the story from the very beginning. It was written beautifully and that's the reason why I picked this film and obviously working with Sachiin was a pleasure as well.
"Working with Naseer sir was as you know a jackpot and a dream come true for me. Being able to work with someone who is so many talented people was great and we had lot of fun in the shoot.
"I was nervous to work with him. He is one of the finest actors, but he made me feel comfortable. He is a wonderful co-star to work with," she adds.
Despite the movie getting a 'A' list certificate, it is predicted to get a good start at the Box Office due to the quirky set up in Goa, which is easily complemented by the cast of the movie.
The movie will most certainly take audiences on a mad ride behind the casino scenes of unseen Goa. Releasing in cinemas on December 13, 2013, let's see if this crazy thriller can well and truly hit the 'jackpot' all the way to the Box Office.