"When Jagjit sings, he adds new meaning to lyrics and enhances its depth."
DESIblitz is privileged to focus its spotlight on the late Jagjit Singh who 'musically conquered the world' through his Ghazals.
His captivating compositions are like 'reading the popular' catering to a worldwide audience who love this form of poetic expression.
Death came to Jagjit Singh in a hush, having suddenly suffered a brain hemorrhage.
He was due to perform alongside Ghulam Ali in Mumbai, before he met his final fate. Following two weeks of pain and anguish, the inevitable happened.
The 'Ghazal Maestro' died in the state of coma at the Lilavati Hospital in Mumbai on 10th October 2011.
On the first anniversary of his passing, we pay a very special tribute to Jagjit Singh – 'Ek Shayar Ki Ghazal'.
Many musical forms have affected many people around the world, but some styles of world music such as 'Ghazal' have influenced many generations.
Jagjit Singh was a forward thinking artist who spanned his career across decades enlightening and attracting new generations of Ghazal listeners.
Ghazal is a soothing poetic form consisting of rhythmic verses where the heart touches the soul.
It has originated from the Middle East and the Persian Peninsula, once written by mystic/sufi poets such as Rumi [13th century] and Mirza Ghalib [1797-1869]. It is from there that the music slowly influenced writers and singers from India.
The pioneering Jagjit Singh was one of India's finest Ghazal singers. Before he came to the limelight, the likes of Talal Mahmood and Mehdi Hassan were big Ghazal artists from the Indian subcontinent.
Then along came Jagjit Singh, and he made the Ghazal Genre an integral part of Indian music including traditional Bollywood movies.
His musical renditions proved as popular as the movies themselves. And for a major period between the mid 80's right through to the new millennium, thanks to Jagjit, Ghazal music carved out its own niche, even collaborating with other forms of world music.
Then, Jagjit Singh was the crowned 'King of Ghazal.'
Jagjit Singh, aka Jagmohan Singh, was born in Sri Ganganagar, India on 8th February 1941.
He was the son of a government employee, Sardar Amar Singh and Bachan Kaur who hailed from a religious family background, both natives of the Punjab province.
Lovingly addressed as Jeet, he was one of three brothers and four sisters.
After completing his postgraduate degree in History, and as a consequence of his noticeable talent, his father eventually did not get in the way of music.
Jagjit learnt the art of music at Sikh temples under the guidance of classical musicians such as Pundit Chaganlal Sharma and Ustad Jamaal Khan.
He initially pursued a career on radio and stage, whilst composing some musical material on the side.
In 1965, without telling his family, Jagjit Singh took a life-changing step as he embarked on a train journey to Mumbai to further enhance his artistic ambitions.
With very little money he had to do odd jobs here and there. In the very same year, he managed to persuade record company HMV to produce a four track extended play single.
Though having a strong belief in spirituality right up till his death, his personality was more in line with mainstream artists.
Therefore, Jagjit Singh had now cut his hair, shaved his beard and was no longer wearing a turban.
This was more to do with presenting a new image and his future career as opposed to anything else.
The struggle did not quite end there, Jagjit earned money from singing advertisement jingles.
It is there that he met his wife to be Chitra Dutta, who was already unhappily married with one daughter.
In 1969, Bengali born Chitra divorced her first husband, then married Jagjit and had a son Vivek.
Afterwards the newly married couple attained moderate success, but they were still trying to find their own space creating a further niche for Ghazal.
This was a fragmented time as Bollywood music was at an all time high and Muslim artists were dominating the Ghazal scene.
Alongside his new vocal partnership with wife Chitra, his major breakthrough came with the album, 'The Unforgettables' in 1976. While the 'Ghazal purists' rejected the album, the audiences it was targeted to loved it.
The album became a super duper hit and the dynamic duo became overnight stars.
After which the husband-wife singing pair were like the 'tour de force,' performing in many countries of the world.
Subsequently, Jagjit Singh produced many more successful albums together with Chitra Singh and also as a solo artist. Singh explained:
"I was determined to polish up the genre and make it more acceptable to modern tastes, so chose simple poems and set them to simple tunes. I also introduced western instrumentation to make them livelier."
His ghazals reached out to a diverse audience of all age groups with hits such as 'Kagaz Ki Kashti' and 'Tum Itna Kiu Muskura Rahe Ho' amongst many other favorites.
Jagjit Singh recorded over ninety albums including: The Unforgettables (1976), Eternity (1978), Come Alive in a Concert (1979), Ae Mere Dil (1983), Live In Royal Albert Hall (1983), A Sound Affair (1985), Echoes (1986), Beyond Time (1987), Adaa (1992), Mehfil (1990), Maa (1993), Desires (1994), Golden Moments (1999), Aaeena (2000), Dil- Jagjit, Asha & Lata (2002), Forget Me Not (2002), Jeevan Kya Hai (2005), Moksha (2005), Kabir (2007), Jazbaat (2008), Inteha (2009) and Nivedan (2011).
As a perfectionist, Jagjit was a big critic of Bollywood 'item numbers' and tunes influenced by 'Western Mantra.'
However, he did sing for some high profile film projects including 'Prem Geet' (1981) 'Arth' (1982), 'Saath Saath' (1982).
In 1986, Jagjit Singh also composed and directed the music for the Punjabi Blockbuster 'Long Da Lishkara' which included the famous Challa song by Gurdas Maan.
In 1990, tragedy struck the family, when their son Vivek was killed in a road accident.
Mother Chitra was so heartbroken that she decided to give up singing.
However, Jagjit Singh carried on, but was now singing religious songs as a solo artist.
If this was not enough, in 2009, Monica, Chitra's daughter from her first marriage and now Jagjit's adopted child, committed suicide.
Jagjit continued performing whilst Chitra stayed behind.
He performed many world tours including a trip to the UK in 2011, when DESIblitz had the honourable experience of meeting this esteemed artist.
Watch our very special tribute to the late Ghazal Maestro Jagjit Singh, which features exclusive interview footage.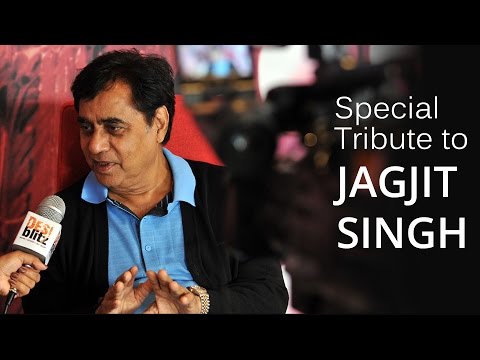 Since the sad demise of Jagjit Singh, wife Chitra has wished her husband's musical legacy continued.
On the eve of the first anniversary, Chitra said, "There should be a constant reminder of him, somehow the music must come back."
An album called 'Jagjit Singh – The Master and his Magic' commemorated the first death anniversary on 10th October 2012, consisting of nine unreleased classics of Jagjit Singh.
The album has been digitally remastered, accompanied with personal commentary from Chitra, rare photographs of Jagjit Singh and poetry by Ghalib, Farag Rohhvi and Bashir Badr.
Jagjit Singh took the art of Ghazal to a different level, reaching new heights.
As notable writer Gulzar said, "When Jagjit sings, he adds new meaning to lyrics and enhances its depth."
The memories of Jagjit Singh will remain with us forever as evergreen as his music.