"It's always good to learn from different genres"
The talented multi-lingual vocalist, songwriter and composer, SID-K has attracted a lot of attention with his track 'Haan Karni' under the T-Series label.
SID-K who was born in South Delhi, India as Siddhat Kumar began playing the tabla from a very young age.
At ten, he started singing at school, winning several competitions and prizes
He came to Manchester, UK to study, but following a long conversation with brother Ashish 'Ash,' he soon realised that music was his future.
Hence, he made the decision to pursue music back in Delhi. SID-K describes being based in Delhi like playing good cricket. Sid explains:
"You gotta be in the field. You can't be always in the stadium. Before I was just in the stadium."
"So I got onto the field, but then now I'm on the pitch. I'm living the actual industry life. I'm meeting new people, I'm making new music, I'm making my moves."
As a writer, his style is very desi and urban appealing. Connecting to his Delhi roots, he calls it "very delish."
His early and contemporary influences include subcontinental music legends, along with rappers like Bohemia, 50 Cent, Biggie and Tupac.
Inspired by the song 'Chanda Taare' from the Shah Rukh Khan starrer film, Yes Boss (1997), he is also knocking the doors of Bollywood,
Anand Kanwar, Rishiraj Gudwani who managed his 'Haan Karni' project, are the pillar of his strengths. This includes producing the video of the song and introducing him to new people.
Besides his voice, SID-K is also a very stylish individual. He is also very conscious about fashion trends and his own image.
In an exclusive conversation with DESIblitz, he opens up about his influences, 'Haan Karni,' the Punjabi music scene, T-series and Fake views:
Influences and Diverse Music
Taking inspiration from his brother 'Ash, it is at the age of sixteen that SID-K began thinking of pursuing music more seriously.
Despite planning to undertake Management Studies in the UK, SID-K told us that he made a last-minute change.
Hence, he went on to learn music production and sound engineering at Manchester College instead.
According to SID-K, he has always had a diverse playlist in relation to music taste.
His classical and contemporary influences include Nusrat Fateh Ali Khan (late), Mohammed Rafi (late), Kishore Kumar (late), Gurdaas Maan, Sonu Nigam and Yo Yo Honey Singh. He says:
"From the urban to the classics, it's always been very diverse. It's always good to learn from different genres and different languages."
However, he clarifies that the music he produces is very different to what he enjoys listening:
"I listen to a lot of rap, but, I make totally different music. I make a very urban, Punjabi kind of pop wipe, but it's not rap."
With diversity reflecting in his music, SID-K feels he picks up writing and vocal styles from a mix of influences.
Haan Karni
His romantic track 'Haan Karni' that came out on October 3, 2019,  has had a good response on YouTube with over 600,00 YouTube hits.
The buzz to the song started, when T-series Apna Punjab released the teaser of the song on September 30, 2019. SID-K spoke about how it all came about:
"I made the music. I wrote the lyrics of the song and sang this myself. So it was my own little baby."
With a 32ndloop at the start, he came up with the line, 'Wine in 69' after seeing it on some girls Instagram bio.
As the phrase was constantly on his mind, he gave the track a 69 kind of vibe.
He believes 'Haan Karni' is a very universal word, that can be understood by most South Asian music lovers.
He has many fond memories of the popular video they made for this song. SID-K reveals that he had some nerves at the beginning of the shoot:
"It was my first music video. I was really nervous in the first shot. And then I had to just like sit down for five minutes with my eyes closed and focus on it.
"After the first shot, it was really fun and we did the overnight shoot."
SID-K and his team had to shoot the song in eleven hours, as per access to the location. He mentions that with so much excitement surrounding the song, the team did not get much sleep.
He says he had fun with everyone, particularly Praveen Bhat, the director of the video and Indian model and actress Chitranshi Dhyani.
Punjabi Music Scene
SID-K is of the opinion that the Punjabi music scene has become strong. He alludes to the fact that Punjabi tracks are always featuring in Bollywood films and YouTube charts. He states:
"You'll see a Punjabi song trending in the top 10 of YouTube, which is a big achievement for the industry."
He also explains the dominance of Punjabi music is evident, as songs can be shot in any location of India. The shooting does not have to take place in only Punjab.
SID-K speaking on the universality of Punjabi music adds:
"It's very universal. It's coming out to be the second most accepted language in the country."
"Everybody's loving the Punjabi vibe. There's something about the Punjabi language that it really gels well with even classical music and also urban music.
"It really gels well with English. So everybody who listen to English music a lot, they can listen to Punjabi really easily.
"They can switch between the two languages because the music is really very similar."
With this view in mind, Sid intends to sing in Punjabi, with some Hindi and English fusion going forward.
T-Series
SID-K is under the wings of  T-series, which is a massive music label from India.
Opposing fake views, he prefers his song to have 2 million organic reaches under a record label.
He tells fans to make a comparison of the likes and dislikes with the actual views on YouTube. Thus, this can determine whether the views are legit or not.
For him, the platform that T-series provides allows him to reach such a target. He goes on to say that this is because fans prefer listening to a particular genre of music.
SID-K thinks there is a time when it becomes possible for an artist like him to make money under a label:
"Livelihood is probably better when the shows and stuff come in."
He expresses that with a good music label on your side, many gigs become available for singers. These include birthday bashes, wedding and corporate events.
Watch our exclusive interview with Sid K here: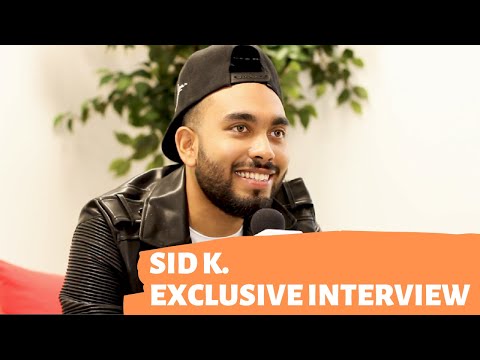 SID-K whose debut single was 'Sirf Tera Saath' (2013) is open to criticism. If constructive he will rewind things back and see where it all went wrong.
With such an open attitude, he is always looking to improve.
Similar to a cricket batsman, musically he is gradually upping the tempo. The aim for SID-K is to smash sixes with further singles and albums, eventually reaching his century.
Bollywood excites SID-K and is ready as and when the right opportunity comes his way.
Outside of music, he enjoys eating desi food such as chicken. In general, he finds desi girls very attractive.
He appreciates all his fans who continually support him. He takes inspiration from all of their comments.
For the future, he has some exciting songs in the pipeline. Having shared the stage with big names before, he also hopes to do more shows.
Music admirers can keep a track of SID-K on Facebook and Twitter.