"Ignore the gatekeepers too racist to notice you."
Desi American comedian, Sid Singh, will challenge Silicon Valley in his new Edinburgh Festival Fringe show, 'American Bot'.
A regular in major American comedy clubs, Singh has appeared on TV and radio including BBC Asian Network.
His debut stand-up album, 'Amazing, Probably', reached number 3 on the iTunes US Comedy Chart and number 13 on the Billboard Comedy Album Chart.
Now he returns to Edinburgh Festival Fringe 2018 to address the harmful behaviours prevalent in Silicon Valley's tech culture.
He'll hilariously interrogate America's "playground for the rich" in his first full one-man show.
Sid will look at how Silicon Valley 'philanthropists' finances movements like 'Black Lives Matter' and #MeToo.
But he observes that their efforts don't support the movements in a useful way.
He also casts a critical eye over the influence of Silicon Valley in our lives and the Valley's issues with rampant sexism and racism.
In fact, he shares a special insight into the region, having grown up in the area before leaving at 18 for college.
DESIblitz chats to Sid Singh about his new show, 'American Bot', his unconventional journey into comedy and his inspirations behind his stand up.
What was your path to getting into comedy?
My path was very lucky.
I hated being a pre-med student in college and one of the biggest comedy clubs in Southern California happened to be across the street from my friend's place.
One day they dared me to do it, and well, the rest is history.
What inspires your comedy routines most?
The chance to get on stage and be as funny or funnier than last time is the tightrope act that makes stand-up consistently refreshing and fun to do.
It reminds us that we always have work to do and that is my favourite thing in the world.
Do your family support your comedy?
Lol, they try their best to tolerate it, and that is all I can ask.
What has been your experience of being an Asian comedian?
A festival in San Francisco, a city with over 120,000 South Asian citizens, wouldn't hire me because "they already have a Singh."
Ultimately, if you believe in yourself and are ready to take risks, you can create your own stage time at smaller, local theatres and ignore the gatekeepers too racist to notice you.
How did it feel to see your first solo stand-up album, 'Amazing, Probably', go to number 3 in the iTunes Comedy Chart?
That was such a humbling moment.
After doing comedy for 8 years to see my efforts to make it (despite places like that festival refusing to book me just because they already have an Indian comedian) was such a dream come true!
I hope to finish writing another one by the middle of next year and release that and hopefully get to number 1!
As an American comedian, how do you find the Edinburgh Festival Fringe?
Any chance to perform on a stage in front of a lively crowd ready to hear your jokes is an honour.
I love the Fringe.
What can fans expect from your show 'American Bot'?
Hopefully, a show that tries its best to take time to make fun of the silly elements of Silicon Valley while also taking time to seriously deconstruct the social evils created by tech companies neglecting the cities whose resources they sponge off of.
Why do you think its important for comedy to address topics like Silicon Valley's tech culture?
Because when you look at some of the destructive tendencies created by their cultures it can be overwhelming and hard to focus on potential solutions.
Sometimes, remembering that these tech billionaires are huge dorks is a way to take a deep breath and refocus on the fact that there are solutions possible, so long as you don't treat these guys as gods.
What other topics would you like to address in your comedy?
Having spent a lot of time studying this in law school, I'd love to find a way to write about the refugee crisis and hopefully find a way to bring some light to that dark-as-hell situation.
What are your plans for the future?
I just want to live a life where I get to create cool stuff and find an audience that likes it.
So long as I can find a way to keep doing that, my life will be cool enough for me!
Watch Sid Singh in action here: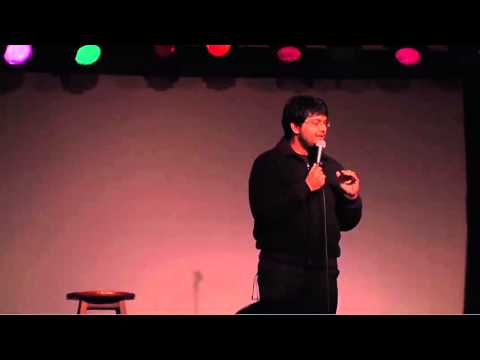 With his previous experience in Edinburgh, Sid Singh will no doubt know how to win over discerning festival attendees.
Indeed, his light-hearted and fun approach to heavy issues will stand out in the extensive variety of shows.
He promises to roast everyone in Silicon Valley, including the tech giants, Apple.
Thanks to this no holds barred style, 'American Bot' looks to be an insightful and side-splitting show.
DESIblitz looks forward to seeing where Sid Singh's comedic talents take him next.
Sid Singh's show 'American Bot' will be at Just the Tonic at The Mash House (Cask House) for the month of August 2018 as part of Edinburgh Festival Fringe.
For tickets please visit the Edinburgh Festival Fringe website here.