"When it came to Cymbeline, it was one of the most rarely produced plays"
Artistic Director, Sâmir Bhamra, has taken an inspired turn with his new theatrical production of Shakespeare's romance, Cymbeline.
Incorporating a South Asian backdrop and a Bollywood infusion of colour, drama and culture, the Phizzical Theatre Company play is an entertaining, richly painted musical adaptation of a Bard classic.
Shakespeare plays have been a continual source of inspiration for the arts since they were first envisioned by the great English playwright himself in the 1600's.
From modern theatre, art, music and film, Shakespeare has truly left his mark on contemporary entertainment and expression.
For South Asians in particular, Shakespeare marks a key figure of literary greatness, one that can be celebrated via any culture or language.
Indeed, Coventry Belgrade Theatre's Indian adaptation of the classic Cymbeline is no exception. Taking one of Shakespeare's lesser-known plays, Sâmir transforms it into a Bollywood extravaganza. And instead of a King and his kingdom, we have a Bollywood movie mogul set in 1993 Mumbai.
As one of Shakespeare's more uncommon plays, Cymbeline proves an interesting choice for Sâmir to choose. Nevertheless, as he mentions, its ties with Bollywood themes make it an almost perfect adaptation:
"When it came to Cymbeline, it was one of the most rarely produced plays and so not many people have seen it. And it was the closest [Shakespeare play] that matches the current Bollywood structure," says Sâmir, in an exclusive Gupshup with DESIblitz.
"This play has a slightly global feel about it. It retains its Britishness, which I feel as Shakespeare writing it required it to have. But at the same time it has elements that make it very Indian," he adds.
With British Asian theatre continuing to struggle in the UK, as younger generations are less inclined to watch them, incorporating Bollywood influences have been an increasingly successful way in which to entice Asian audiences through the theatre door.
As actor Robby Khela who plays the servant Pisanwa, as well as characters Ravi and Arjun, in Cymbeline explains:
"There are several themes in Cymbeline. But what drew me to the play was the fact that it shares a lot of themes similar to Bollywood. The main is a father and a daughter and their relationship. Family ties and family bonding is the main theme."
Watch exclusive interviews with Team Cymbeline here: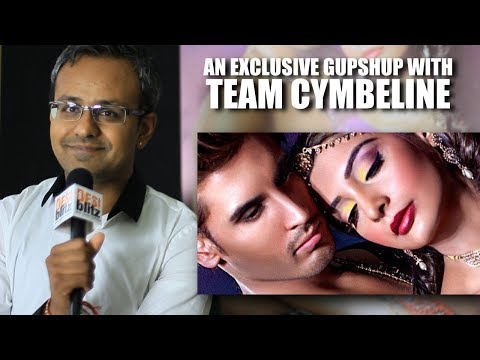 Sâmir is not the first to use Bollywood as a theatrical backdrop for his plays. Most recently, adaptations such as Meera Syal and Iqbal Khan's 2012 production of Much Ado About Nothing, have opened up new avenues of Indian entertainment for South Asian audiences to enjoy.
At the heart of Cymbeline is saree-wearing Innojaan (Imogen in the original play).
A Bollywood heroine at her best, she risks all for the love of her life, Sheruddin Khan (Posthumus Leonatus in the original) played by the dashing Adam Youssefbeygi, whom she has married in secret without her father, Cymbeline's approval.
As punishment for her disobedience, Innojan is imprisoned in her home while her husband Sheruddin is threatened and exiled.
Sheruddin comes under the influence of the manipulative Yakim. After losing a bet he believes that his beautiful wife was unfaithful and calls for her death.
In Sâmir's production, Innojan is played by the enticing Sophie Khan Levy. Speaking about her spirited Bollywood heroine-esque role, Sophie says:
"It's a very complicated play, with different plots. For me, the way I see it, it's all about me and my forbidden relationship with the love of my life and the troubles and turmoil that I go through in order to be with him. Amongst that, there's a war between two warring Bollywood mafia clans."
"[Innojaan] is very feisty. She wants to do what she wants. She'll get what she wants and she'll sort of do anything regardless of the consequences," Sophie adds.
On the other side of good and right is Yakim, played by Tony Hasnath. Hasnath has already received rave reviews for his womanising and seductive portrayal as the evil villain, he also plays Girdhar and the News-Seller. The Public Review admits:
"Tony Hasnath as Yakim is the perfect fit for the typical sexy, Shakespearian bad guy, and despite appearing to have been sewn into his leather trousers, uses every inch of the stage to exaggerate his slick performance."
Speaking about his involvement in Sâmir's production, Hasnath says: "Well with anything, it's always exciting when you meet new people. That's something I look forward to the most when being placed in a crowd of people I don't know. The fun part is getting to know them."
Other stand out performances include Nicholas Gauci who plays stern yet possessive father Cymbeline and stepson Cloten:
"Stealing the show and playing his own step-son is Nicholas Gauci as Cymbeline/Cloten. His performance as Cloten is akin to that of a Bollywood John Barrowman and he manages to ooze sex appeal whilst behaving in an absurd, comedy camp manner," writes The Public Review.
The play offers audiences a creative and enjoyable evening of pure acting talent. With only 6 actors in total playing multiple roles, Cymbeline is an intimate production that will keep audiences on their toes.
Sâmir cleverly uses his cast's multiple talents to offer dual identities and personalities that Shakespeare is so well loved for, adding yet another dimension to the fast-paced play.
Sâmir has directed this very entertaining adaptation of Cymbeline under his own banner, Phizzical Theatre Company, founded in 2003:
"Phizzical is 10 years old now. We started in 2003. The company has been great in terms of talent development, certainly for British Asian artists. Some of the artists we began with in 2003 currently work in Indian cinema."
Phizzical has been responsible for providing a strong foothold for young and budding British Asian actors looking to build their acting repertoire. Over its 10 years it has supported Asian artists to build and develop their acting skills and carve out successful careers for themselves.
Following its Coventry stint, Cymbeline will continue its tour of the UK until December 5, 2013. The play boasts an impressive 50 shows across 22 venues. For more information about tickets to this unmissable show, please visit the Phizzical website.