"Some people like violence, some like romance but I know people will connect emotionally with Haider."
Shahid Kapoor is expected to wow audiences with his take on William Shakespeare's Hamlet.
A modern day adaptation, Haider is a Bollywood drama film set in Kashmir. The film stars Shahid in the titular role.
Loosely following Shakespeare's play, Haider returns home to Kashmir on getting the news of his father's disappearance.
The story slowly unfolds as Haider learns that the security forces have detained his father for harbouring militants, and his mother is in a relationship with his own uncle.
As Haider learns that his uncle is responsible for the ghastly murder of his father, what follows is his journey to avenge his father's death. Can Haider resolve his conflict – to be or not to be?
Directed by Vishal Bhardwaj and produced by Siddharth Roy Kapur, the talking point of the film is the stellar star cast.
Shahid Kapoor and Shraddha Kapoor's chemistry, Tabu's eye-catching presence and the brilliant actors Kay Kay Menon and Irrfan Khan. With Shahid Kapoor in a bald look, its Kashmir connect and Shakespeare's story, Hamlet, Haider has set high expectations.
Shahid Kapoor is one of the finest actors and dancers of Bollywood and even the film trailer of Haider proves just that.
After having a spell of comic roles with Phata Poster Nikla Hero (2013) and R… Rajkumar (2013), Shahid has partnered yet again with Vishal Bharadwaj, post Kaminey.
For Kaminey, Shahid took great efforts to play the role of a speech defected character, but for Haider he went the extra mile going bald for his character. Shahid said about his Hamlet character:
"His journey is very complex. I wouldn't say that I have seen such drama in my personal life, but yes I have seen a lot early in life, so I could connect with the emotions the character went through.
"It's nice to delve into the dark side a little bit. I enjoy that. I have a dark side, for sure. I don't think I could play this role if I didn't."
Speaking about the star's performance, Bhardwaj says: "Shakespeare's play, Hamlet, has some really long monologues and so does Haider.
"Listening to Shahid deliver those wordy pieces on my headphones I was reminded of Naseer [Naseeruddin Shah] and Pankaj Kapur."
Shahid adds:
"I can proudly say Haider is the best film of my career. This film has everything that I haven't done before. I have pinned my hopes on this film."
"Some people like violence, some like romance but I know people will connect emotionally with Haider."
Interestingly Shahid who believed in Haider, was aware that it was a big film with a huge budget, an ensemble cast and lavish action pieces.
As a result, both he and director Vishal worked on the entire project for free.
Director Vishal Bhardwaj explained: "When he started planning the film, both Shahid and I agreed that it had to make money from day one. But, we also knew that Haider was a big film with a huge budget, an ensemble cast and lavish action pieces.
"Filming in Kashmir added to the costs. The only way we could succeed in our endeavour was not to burden the film with our remunerations. We kept the secret between us for a long time but it's finally out."
Opposite Shahid is Shraddha Kapoor, who is the current desired one in Bollywood especially after her mega hits, Ek Villain (2014) and Aashiqui 2 (2013).
The actress will be seen playing the character of a reporter Arshia in the film as well as Shahid's love interest. She will be seen in a non-glam role for the first time and is showing great potential as an actress too.
Known for his unique take on Shakespeare, Vishal Bhardwaj's earlier adaptations of Macbeth (Maqbool) and Othello (Omkara) were very well received.
With Haider, Vishal Bhardwaj completes his Shakespeare trilogy.
He is not only the co-producer of the film but has also co-written the script and composed the music for Haider. He has also teamed up with his trusted previous cast of Tabu, Irrfaan and Shahid.
After the scenic beauty of Jammu and Kashmir was witnessed by moviegoers, Haider has been shot at several locations including Sonamarg, Anantnag, Pahalgam and Dal Lake.
Vishal Bhardwaj nailed the idea as it also engulfed the political intrigue and history of Kashmir.
Haider's music is composed by the filmmaker himself and has nine songs, all of which are of different genres.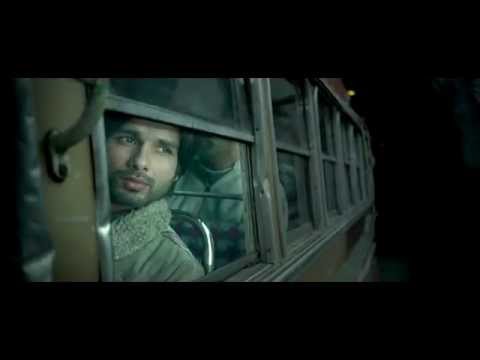 In fact, Haider might just be the composer's best till now. Lyrics penned by the maestro Gulzar make each song narrate a beautiful story. Shraddha Kapoor has also lent her voice for a song in the film.
In the trailers and songs of Haider, the chemistry of the lead pair, Shraddha and Shahid, the two Kapoors, is strikingly noticeable.
Playing love interests, Shahid and Shraddha, take the romance and intimacy to another level and even share a passionate on-screen kiss.
The first trailer of Vishal Bhardwaj's most awaited dark drama Haider made waves in the social media circuit, and it should do incredibly well at the Box Office.
Haider may not just be an absorbing film on love and revenge but may offer brilliant soundtracks and acting performances as well. The film released from October 2, 2014.