"I knew nothing about fashion. I was always like the geek in school."
What happens when you mix modelling, acting and being a legal geek all together? You get Elena Fernandes – the supermodel, Bollywood actor and a holder of a law degree.
Elena Fernandes has achieved what many women of her age would crave for, a life as a supermodel appearing in major brand campaigns jetting around the world, a role in a Bollywood film with more on the way and a university education at Kings College in London, where she studied law.
DESIblitz met up with this adorable supermodel and actor for a very sexy rendezvous to find out more about this upcoming star who is making a major name for herself, especially in India.
Born and raised in London, Elena Fernandes is one of six children born to a Goan Indian father and Peruvian mother from South America. She has four brothers and one sister. She has an OCI which recognises her as an Overseas Citizen of India.
Elena's first steps into modelling started when she was scouted in London whilst being a super-geek. He parents insisted that she finished her schooling before she embarked on this 'choice' to do modelling.
Her American agents waited for her to complete her education and she feels it was a "stroke of luck". Talking to us Elena reveals:
"I knew nothing about fashion. I was always like the geek in school. I loved studying. I loved reading. I loved learning new things. And it was just fate really."
Elena Fernandes has done major campaigns with some of the biggest brands and events in fashion and beauty. These include L'Oréal, Adidas, Koovs, Lyle&Scott, Fila, TIGI, House of Fraser, Amazon, Bedhead, Lakme Fashion Week, New York Fashion Week, London fashion Week and many more.
Being a model with a height of 5ft 9½ inches, she has been editorially featured in numerous glossy and high-end magazines including Vogue India, Cosmopolitan, ELLE, Femina, FHM, Glamour, Grazia, GQ, Harper's Bazaar, Marie Claire, MAXIM, Verve and others.
Indian campaigns include being the face of Westside Mall in India, modelling for Krishna Mehta, Nachiket Barve and Anita Dongre and adverts for Ultra tech and India tourism.
One of her significant achievements is appearing in India's Kingfisher Calendar not once but twice. She shot for the calendar in 2013 and 2015. Talking about the photoshoots, Elena tells us:
"I had the opportunity to do it twice which is very unheard of. To do it even once is such a huge achievement.
"So, the first time we went to South Africa. That was in 2013 and that was amazing. We went on safari to Johannesburg and when we went to Cape Town, before I did my final shoot, I went actually went swimming with the great white sharks.
"And when I got told I was doing it again for 2015, we went to Turkey, and one of my favourite places was Cappadocia because we literally stayed in caves. But the only difference between Turkey and South Africa was that Turkey was -1°C shooting swimwear. So, that was definitely, a very cold experience!"
From modelling to film, was seen as a natural move for Elena wanting to expand her abilities and horizons. Being in India she became the interest for film-makers looking for that sensual but sophisticated look.
Key roles include her appearance opposite Fawad Khan as his manager in the Dharma Productions hit Kapoor & Sons and as the sexy model in the opening sequence of Naseeruddin Shah's Charlie Ki Chakker Mein.
Excitingly talking about her film role with Fawad Khan in Kapoor and Sons, Elena says:
"Fawad was really sweet. My scene was with Fawad and he's just a very lovely person because it was my first big debut. So, you're really nervous. As a supermodel, I'm like I'm fine, I'm set, I can walk onto a Vogue shoot and I'll be you know, comfortable. But this was Bollywood. This was next level."
She could not commend the professionalism and support she experienced from Dharma Productions and the whole crew during this new experience.
"Shakun the director, he was just really really friendly. He explained to me before we even went on set, what he wanted from the character."
Here is the full interview with Elena Fernandes: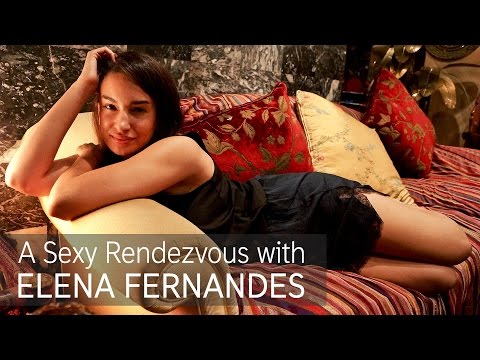 This debut was preceded by her role in Charlie Ki Chakker Mein, where she appeared in lingerie and semi-nude shots in the opening title sequence of the film. Being confident and professional, Elena has firm views on nudity and appearing in lingerie. She says:
"I think it comes down to the script or the shoot. You know the whole thing as a whole. So, when I read scripts and there are elements of nudity in it, it doesn't necessarily put me off the script if there is a whole storyline to go with it."
Being a supermodel is no easy feat. Naturally, attention from the male population is inevitable. But Elena knows how to perfectly handle the wrong kind of advances. She says:
"I think if you walk in with an attitude of true professionalism and you lay down the rules of this is how it's going to be – if you like me for my talent and ability as a model or as an actor, book me. If you want a dinner date, that's not going to happen."
Elena Fernandes does feel that if she did not look the way she did, many people would most probably not talk to her or be her friend. Again with men, she feels her look can attract those "who think they can take you back to their place at 11.00 o'clock at night."
Her regime as a supermodel has to be strict with a careful diet, regular workouts and discipline. So, when preparing for a shoot, what does Elena Fernandes do?
"You just make sure your skin is in tip-top condition. You do the extra exfoliation. You leave the conditioner in your hair for the extra 20 minutes just to make sure you really scrubbed up well. If you're doing like a lingerie campaign you make sure you are not binging on pizza the night before."
In addition to the beauty and acting work, Elena has a huge fondness for animals. One of the biggest things that hit her about India were the sheer number of stray animals like dogs and cats.
Elena is a staunch supporter of PETA, WFA and the Aware foundation. She likes to do her bit especially for animal welfare in India. She tells us:
"I've inspired those around me. They will do their own little bit like they will take care of the strays in their society. They'll help with neutering vaccinating."
"So, when people see me feeding the strays, something clicks in their head thinking, if this 'farangi' can do it, then I should be able to do it as well. So, that's one thing I've noticed the change in India that people are starting to care more. But it's tough when I go back because you want to save as many as you can."
We had to ask what does the word 'sexy' mean to Elena, as it is something we feel she exudes. She replied:
"To me, it means being comfortable with who you are. You get those days when you just wake up and you're just like yeah I actually look quite good today, I feel quite good, I'm going to own it. I'm super-hot, I'm going to go for it. That's what sexy means to me."
Internationally, Elena has worked in the USA, Europe and Asia and her own brand awareness is on the increase. Regular appearances in the press, winning awards and being featured on editorials in India is definitely giving this unique supermodel a rising star status and it will not be too long before she does land more Bollywood roles to further progress her acting career.
We certainly enjoyed our very sexy and intimate rendezvous with Elena Fernandes and DESIblitz wishes her all the best for her future in both modelling and as an actor.