"Their confidence allowed me the peace of mind to do what I thought was best."
Sephi Bergerson's dream comes to life when Ayushi and Abhishek agree for him to use his iPhone 6s Plus to capture their wedding.
The renowned Israeli photographer was in Udaipur in November 2015 for the beautifully decorated, traditional three-day wedding.
He captured the magical celebrations all on his iPhone alone and the result is simply stunning.
Bergerson says the Indian couple 'were a bit apprehensive to begin with'.
He continues: "After all, this was to be a huge wedding. However, when I talked to the couple, Ayushi said to me, 'I've seen your work, and I trust you!'"
And the award-winning photographer did not disappoint, leaving Ayushi and Abhishek marvelled by the beautiful and high quality images for them to remember their wonderful day.
Bergerson, now based in Goa, loves capturing visuals on his phone, but technology has never allowed him to do all he can, until now.
He is ever so appreciative of the couple's faith in him: "The wedding was possibly the biggest I have ever photographed.
"It is rare to find a couple that could be so trusting to allow the photographer such creative freedom on the most important day of their life.
"They were cooperative, fun and chilled out. Their confidence in my work allowed me the peace of mind to do what I thought was best, and produce this work without tension."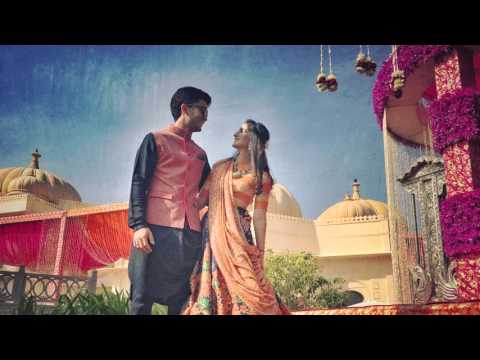 Debates between DSLRs and smartphone cameras is ongoing. For Bergerson, shooting the wedding on the iPhone is 'a whole new experience'.
He adds: "The iPhone offers a completely new breed of camera."
The author of Behind the Indian Veil: A Journey Through Weddings in India says he also enjoys the challenge of using a different equipment to achieve high standard results.
He had to keep in mind that he was 'not trying to document everything, but rather focus on images that would later translate to the artistic vision that I had for the post processing'.
Photo editing tools including Snapseed, Facetune and Instagram were used to add filters and re-touches to faces after the wedding.
His work has received immense support on social media, with thousands of people liking his post on Facebook.
Forum user, Suman Bhattacharjee, comments:
"The most important part of your photo through smart phone (iPhone) was your outstanding concept of framing.
"In a way I believe you were able to see through your frame (the exact frame as you want to be, also when printed). Your artistic approach of making each frame an extension of (digital) painting gave a very different dimension."
See more photos from the wedding in our gallery below: