Salman Khan, as expected, seems flawless in the super-agent avatar
Five years ago, in 2012, Kabir Khan's Ek Tha Tiger emerged as the second Bollywood film to gross over Rs. 3 billion worldwide.
The sequel, Tiger Zinda Hai, reunites Salman Khan and Katrina Kaif on the big screen. This time, the film is helmed by Sultan director – Ali Abbas Zafar.
Scheduled for a Christmas 2017 release, the highly-anticipated trailer is doing the rounds online. So, is it yay or nay? DESIblitz reviews the Tiger Zinda Hai (TZH) trailer. 
An Interesting Concept
This second instalment continues eight-years-after where Ek Tha Tiger ended. Tiger Zinda Hai is set in Iraq, where 25 Indian nurses are held hostage by a deadly terrorist organisation.
Assigned to save the nurses are India and Pakistan's top espionages: Tiger (Salman Khan) and Zoya (Katrina Kaif).
The most interesting point about Tiger Zinda Hai is that the movie does not highlight the war between India and Pakistan.
On the contrary, it exhibits how these two conflicting countries collaborate to combat a common enemy. This concept is quite unique and is, therefore, intriguing.
This angle, in particular, emphasises the movie's strapline: "22nd December, There will be peace."
'Inspired By True Events'
Besides the jaw-dropping action sequences and stunts, the YRF project underlines a recent and true experience. At the beginning of the trailer, it is said that TZH is 'inspired by true events.'
As such, the film depicts the real-life incident where 46 Indian nurses were taken hostage by ISIS in Iraq, during 2014.
By adapting a true event for the big screen, Ali Abbas Zafar proves that TZH transcends from solely being an action espionage-thriller. It makes the movie relevant to the society we live in today.
Watch the Tiger Zinda Hai trailer here: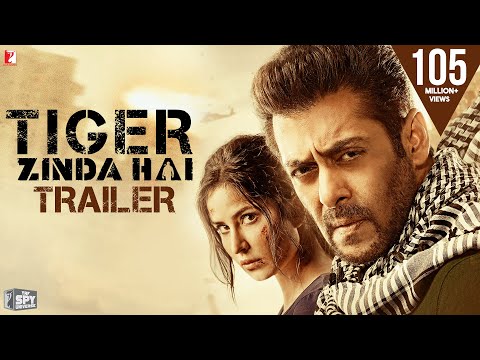 Salman Khan and Katrina Kaif Pack a Punch
Salman Khan, as expected, seems flawless in the super-agent avatar. From his looks, action-scenes and dialogue delivery, it can be said that Tiger is back with a bang.
Katrina Kaif never fails to stun us and yet again, the character of Zoya seems fearless and fiery. She is also impressive when she says:
"Hamara Yeh Mission Ab Sirf Un Nurses Ko Bachane Ke Liye Hi Nahin Hai. Puri Duniya Ko Bataane Ke Liye We Stand For Peace."
It is clear, that the loved pairing of Salman Khan and Katrina Kaif are set to wow the audience, once more.
Generally, Ali Abbas Zafar's Tiger Zinda Hai promises not just to be an action-packed thriller, but a film which really outlines the battle between Good vs Evil.
Furthermore, the sleek production value, thrills and romance promise a lot of entertainment factors. But how effective will the final product be? Only time will tell.
Tiger Zinda Hai releases in cinemas from 22nd December 2017.