"If they trash her, she works harder. She doesn't talk badly about anyone. She lives in a beautiful, perfect world"
Action, drama, and one of the best-loved Bollywood Jodi's reunited on screen, Tiger Zinda Hai promises non-stop masala entertainment with Salman Khan and Katrina Kaif.
Buzz for the upcoming action film has been steadily building ever since fans caught their first glimpse of Bhai Salman and glamour queen Katrina on the same screen earlier in the year.
The pair, who have come together after five years since Ek Tha Tiger are hoping to end 2017 on a high note with this second instalment.
Following a disappointing outing with Khan's previous 2017 release, Tubelight, fans have been eager to see the superstar return to his element as an all-guns-blazing action hero!
In Tiger Zinda Hai, Salman plays RAW agent Tiger (also known as Avinash Singh Rathore), India's top spy, while Katrina returns as Pakistani spy and love interest, Zoya.
Directed by Ali Abbas Zafar, much of the film was shot in the exotic dessert backdrop of Abu Dhabi, as well as Istanbul and Austria.
Both stars have spent considerable time working out for their roles, and Katrina had to undergo her considerable fight training two months before the shoot began:
The dedicated actress, who swears by healthy eating and a balanced lifestyle, has also managed to maintain her exceptional figure from the 'Kala Chasma' video for 'Swag Se Swagat'.
The hit song has already reached 117 million views on YouTube and sees a breathtaking Katrina rock out in khaki shorts and denim.

Just days before the film's release, a new video also surfaced showing Katrina learning a few new dance moves with ace choreographer, Shiamak Davar.
Taken during their press tour, no doubt Katrina was also brushing up for her big performance at the Zee Cine Awards.
Salman, who sports his trademark sunglasses and silver chain bracelet in the video, has regularly praised his co-star on her incredible work ethic. Speaking to the Indian Express, the actor said:
"She does a lot of hard work. She doesn't get depressed with a film not doing well or somebody writing nasty things about her performance. People used to write about her dancing, initially. If people appreciate her, she works harder."
"If they trash her, she works harder. She doesn't manipulate or pull anyone down. She doesn't talk badly about anyone. She lives in a beautiful, perfect world."
With the actor reuniting with Katrina after five years, Salman also insisted that she has not changed one bit:
"She has not changed at all. People say that you need to change and that change is growth, but she is different altogether.
"In the film industry and in life, we meet all kind of people. Somebody cons you, somebody hurts you. Somebody cheats you. You get to experience so much and you become aware. You start getting protective. You start closing down. You start doing things because others do them too, but she has not changed at all.
"She is innocent, vulnerable, and pure."
Also starring in Tiger Zinda Hai is actor Angad Bedi who recently delivered a brilliant performance in Pink.
Speaking to press, the actor mentioned that Katrina loved getting involved with cricket and tennis matches in between shoots.
Angad, whose father is former cricketer Bishan Singh Bedi, admitted that while Salman was the better batsman, Katrina bowled very well!
"Katrina doesn't like to lose. She wants to bat for one or two hours and she will not give the bat to anyone until she is tired. Then she hands over the bat. She wanted to play every day after pack-up. She would try hitting the ball and then we would just be chasing it."
Angad also adds that opportunity to act with Salman was a big part of why he chose to do the film:
"I have known him [Salman] socially for a while, but knowing him personally is a very good feeling and he looks out for you, which I really like.
"There are certain traits in him that remind me of my own father. I did this film because I wanted him to see my work and I hope I can collaborate with him again."
Doing the press rounds ahead of the film's release, Sallu has also addressed his last film Tubelight being a flop in the cinema. Speaking to Indian Express, he believes his choice to release the film around Eid played a big role in its box office failure:
"I think it is about the festive time when people just want to celebrate and cheer. People go to watch my films during festivals. They dress up, cheer and whistle. They don't want to see me crying on screen.
"I was thrown off as nobody wanted to watch the film [Tubelight] even when I kept on saying that it is not a film that you expect out of me."
The high number of advance bookings for the film suggest that Tiger Zinda Hai will see a much stronger opening that Salman's last film.
Figures could even be in the region of Rs 30 Crores on the first day. If all goes well, film industry experts have lauded the film to be in the top 5 of 2017's biggest films, perhaps even reaching Rs 100 Crores at the box office.
While the UK and US markets, where Salman enjoys a considerable fanbase, should witness a good turnout, the Pakistani censor board has banned the film completely. Much of this is down to alleged 'demeaning content' of the film which touches on the country's intelligence forces.
CBFC's chief Mobashir Hasan told IANS: "As per synopsis, reviews and trailers of the film available in media, in the said feature film, our national security and law enforcement institutions, agencies, individuals and certain state symbols are being shown in a demeaning manner on which we have a 'no-compromise policy'."
The first instalment of the Tiger franchise, Ek Tha Tiger, also received a similar ban back in 2012.
Director, Ali Abbas Zafar told IANS that the film is not a political one:
"The film is a very human story… it is not political at all. The idea is that when there is a fight between right and wrong, what is at stake, is humanity. And there's nothing bigger than humanity."
The action of the censor board has disappointed fans across Pakistan who have been looking forward to the release, particularly as 2017 has brought very few blockbuster films.
If that wasn't enough, Tiger Zinda Hai also faces potential backlash back home in Mumbai, where the Indian party Maharashtra Navnirman Sena (MNS) has called for a fairer showing of films in Mumbai theatres.
Salman's big release also happens to coincide with Marathi film Deva, and MNS leader Shalini Thackeray told ANI:
"Marathi films must be given prime time shows. Deva wasn't given screen space against Tiger Zinda Hai. If Hindi film industry takes screen space at expense of Marathi films, we'll oppose it. Haven't threatened anyone, want screen space for Deva."
But despite these external factors, Tiger Zinda Hai already promises to live up to fan's high expectations. With plenty of action sequences and gravity-defying stunts that we see in the trailer, the film is certain to be similar, if not better, than the first instalment.
In addition, music directors Vishal-Shekhar have put together a great selection of songs for the soundtrack.
This is the only album the duo have released this year, and features the already popular 'Swag Se Swagat', alongside some sweeter numbers like, 'Dil Diyan Gallan' by Atif Aslam.
Watch Katrina and Salman in 'Swag Se Swagat' here: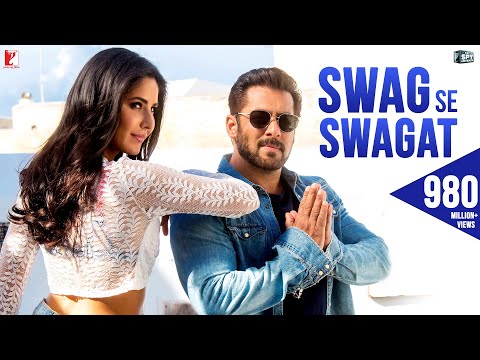 With an action-packed storyline, enjoyable songs and the chance to see Salman and Katrina sizzle on screen once more, Tiger Zinda Hai might just be the blockbuster hit that we've been waiting the whole of 2017 for.
Tiger Zinda Hai releases in cinemas on 22nd December 2017.