"I didn't know who Amitabh Bachchan was, I had heard of his name"
In a defamation vs sexual harassment case which one speaks the truth? Upcoming courtroom drama Pink focuses on the dark side of the trusted Indian judiciary system.
Directed by Aniruddha Roy Chowdhury, the dark drama has a talented cast that includes Amitabh Bachchan, Taapsee Pannu, Kirti Kulhari and Andrea Tariang who earnestly portray their characters on screen.
Pink follows the story of three Delhi-based girls in their mid-twenties, Minal Arora (played by Taapsee Pannu), Falak Ali (played by Kirti Kulhari) and Andrea (played by Andrea Tariang).
Living their life carefree and independently, Minal falls in love with Rajveer (played by Angad Bedi). However, one night he and his friends get drunk and try to molest her two roommates and her, which leads to an accident.
Rajveer uses his powerful connections to lodging an FIR against the girls wrongly labeling them as prostitutes. Minal is charged for 'Attempt to murder', where she could face imprisonment for more than 10 years if convicted.
Thus begins the fight between truth and power. Willing to fight the case is Deepak Sehgal (played by Amitabh Bachchan) who suffers from mood swings. The girls have no choice but to believe in the judiciary system to serve them justice.
Will the women win against the men? Will the judiciary system present itself as the honest institution we can all trust? Watch Pink to find out.
It's exciting to see South Indian actress Taapsee Pannu back on screen after Baby in 2015. In a recent interview, the talented actress described the experience of working with a superstar like Amitabh Bachchan:
"I remember on the night before I was to shoot with him on the first day, I kept convincing myself that I had to act normal and be professional with the legend."
"The next morning my scene with him was luckily very simple. I had to lie on the couch sleeping while he spoke to someone behind me. I fidgeted so much, my eyes kept blinking… the easiest shot became the most difficult shot in the film," she says.
She also adds how her character in Pink is similar to herself in real life: "In many ways, the character I play in Pink is closest to who I am in real life, though luckily I've never gone through what my character has to suffer in the film."
Although the film sees Taapsee and Amitabh in the forefront of the cast, there are a bunch of new faces to welcome on screen.
Actress Andrea Tariang is one of the new additions. She admits that she had no idea who Amitabh Bachchan was when she signed up to the film:
"I said yes thinking if I do the film I will get some pocket money. I didn't know who Amitabh Bachchan was, I had heard of his name," Andrea explains.
"I don't understand Hindi so I haven't watched his films and then when I got to know that I will be working with THE Amitabh I started watching some of his films and my dad said he is a huge icon in Bollywood industry."
It wasn't just the younger actors who were in awe of the legendary Bachchan, Amitabh also spoke about the incredible talent of his co-stars:
"I have said this many times publicly and I shall say it again. In Pink, you shall only notice the remarkable young actors and no one else. They are all of them fresh, accomplished and stunning. Their performances carry the film.
"Their flare in incorporating their respective roles, the efficiency with which they have presented it and the absolute genuineness in enacting their complicated characters was a learning for me!
"This generation of actors amazes me, and in Pink this generation has left me open mouthed in wonder and incredulity!"
An interesting addition to the cast is Angad Bedi, last seen in Ungli, and now starring in Dear Zindagi with Alia Bhatt. However, not really making an impact with his last release Ungli, Angad has high expectations from Pink. In a recent interview, the young actor explained how he landed the role:
"I met Shoojit Sircar and Ronnie (director Aniruddha Roy Chowdhury) at an event. After our chat, they thought I have an inherent goodness in me and am nowhere close to Rajveer's character.
"They wanted someone who has a good energy but is irrevocably transformed by something that happens in his life. After the screen test, they decided that I was the one they wanted. In Shoojit's films, there is no hero and villain."
Another USP of the film besides its brilliant story and acting is its minimal yet powerful soundtrack.
Pink has a grand total of four songs, the album has three major composers which consist of Anupam Roy, Shantanu Moitra, and Faiza Mujahid.
Pink has made sure to promote the right emotions through each song, such as 'Jeenay De Mujhe' presents the carefree emotion of the girls. Whereas 'Kaari Kaari' is a more dark and soulful song, reflecting the troublesome times the girls are going through.
Finally, 'Pink' and 'Tujhse Hi Hai Roshni' are more touching songs that make you feel the current emotions the lead girls are going through.
Watch the trailer for Pink here: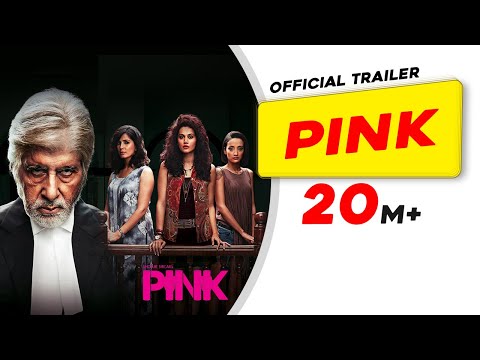 Already gathering rave reviews, audiences and critics have high expectations from this movie. So, would you like to be part of this Pink Journey?
Pink releases from September 16, 2016.