"There is not a doubt in my mind that Elias Harper acted alone."
Three months after the second bomb blew up the FBI command centre in New York, the city is yet to recover from the pain and casualties.
Many blame Alex Parrish (Priyanka Chopra) for not corroborating with the Bureau's stance that Elias Harper was the sole mastermind.
At the hearing, she insists he did not act alone and that she believes someone got to him and manipulated him.
Her former colleagues and friends, however, testify that Elias was the culprit for the attack on the command centre that killed hundreds of people, including 32 FBI agents.
Simon Asher, who was once very close to Elias, says: "I spent the last three months of my life taking apart everything Elias ever said to me. There is not a doubt in my mind that Elias Harper acted alone.
"He hated the FBI. He makes a career out of taking apart their cases in court. The attacks were Elias' way of making a statement. 32 agents paid the price for it."
One of these agents was Clayton Haas (Mark Pellegrino) – the father of Caleb and husband of vice presidential candidate Claire (Marcia Cross).
Among those grieving is Shelby Wyatt, with whom he had an extramarital affair. The affair has unfortunately become public knowledge, forcing Shelby to hide out and cut her ties with Alex.
Ryan Booth pays her former flame a visit to convince Alex that Duncan Howell, one of the hackers who helped her before, committed suicide because he was facing jail time for other crimes – not because the terrorists got to him.
As pressure mounts on her over the investigation of the attacks, it has finally become too much for Alex to fight the battle for the truth on her own.
She changes her statement at court and points the finger at Elias and him alone for the bomb that wiped out the FBI command centre – but her friends are not impressed.
Simon and Shelby walk away from her, while Ryan says:
"I thought you'd come to your senses. I thought you'd come back to us. But you're still lost."
Confused we may be as audience and obviously so is Alex, this could be laying the groundwork for a big twist later on in the season – something the writers of Quantico has been very good at pulling off!
As things get a little tense and gloomy in New York, back in the Quantico timeline, the trainees are thrown a big surprise in the form of a showdown with a more experienced group of trainees.
And when they lose, Miranda Shaw decides to merge the two groups, so not only will they train together, they will share a room too. Expect more secrets, drama and cat fights.
Watch the trailer for the next episode here: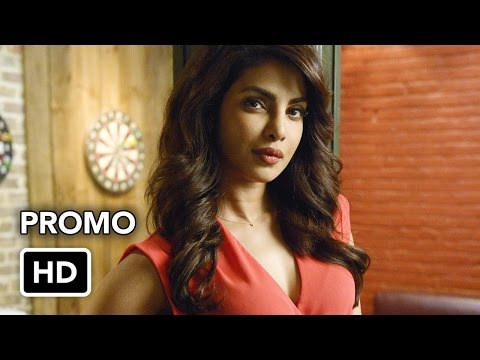 Catch the 13th episode of Quantico on March 13, 2015 at 10pm (US time) on ABC.