"I do think that South Asians write about Asian culture very well, quite often and at a high level."
Britain's second city paid due homage to some of the sharpest and spirited writing talents across the UK and indeed the world.
The Birmingham Literature Festival (BLF), held between October 3 and 12, 2013, invited some of the most gifted intellectuals to openly discuss reading and creative writing with the public.
Authors, poets and language experts gathered for the 10-day festival to unveil their new works in avid live readings while also partaking in insightful workshops, engaging with reading enthusiasts and budding creative minds.
The BLF has been created by the charitable writing and development organisation, Writing West Midlands. The agency offers support to young people through a creative writing programme that develops and enhances their writing skills.
Originally branded as the 'Birmingham Book Festival', this year it saw its name change to the more apt 'Literature Festival', thus opening its covers to a much wider writer-ship and indeed readership:
As Jonathan Davidson, Chief Executive of Writing West Midlands, admitted: "We love any format in which literature can release itself to the wider world. So the 'Birmingham Literature Festival' felt like a much more appropriate title.
"Our sense is that sometimes, we as readers are ahead of the game. We know when a writer is going to be wonderfully important before the rest of the world does.
"It should be our job as a literature festival to help create the opportunities for readers to get to writers as soon as possible and to enjoy them before the world has announced what they're going to be," Davidson added.
Held in one of the UK's most diverse and multicultural cities, it is just as well that the Festival also celebrated the literary and lingual craftsmanship of other ethnic writers, in particular South Asians, who are already so well distinguished in the literary index.
Birmingham is home to its own premier assembly of literary greats of modern Britain. From the likes of locally raised Benjamin Zephaniah from Handsworth, to Wolverhampton's Sathnam Sanghera.
Speaking about the huge wealth of South Asian Literature available in the UK, Sathnam says:
"I do think that South Asians write about South Asian culture very well, and quite often and at quite a high level. I don't think we really need to worry about representation."
Indeed, it seems that South Asian Literature is sometimes underestimated at best within the canonical English world. It already exists as a key player within literature and those writers, who are the most talented in their craft, prove also to be the most influential.
Thus, they should not be forgotten, nor should they be ignored, as the majority of published works to come out of this genre can be classified as world-class literature.
Watch exclusive interviews with Asian writers here: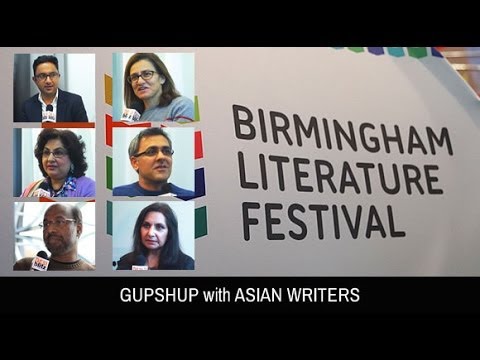 From the likes of Qaisra Shahraz's Revolt, Daljit Nagra's Ramayana, Sathnam's Marriage Material, and of course, Rosie Dastgir's A Small Fortune.

As Jonathan explains, the diversity of the writing selection is what makes the BLF so special: "Unlike some of the slightly larger festivals, there isn't a writer in our programme whose work we have not read and loved, and that's why and how we program."
While celebrating the more established writers, the festival also glorifies unheard talents. In particular, Day One of the festival began with the announcement of the New Poet Laureate of Birmingham where former poet laureate, Stephen Morrison-Burke gave way to Joanna Skelt.
In the following days, audiences were able to enjoy live readings from the National Poet Laureate, Carol Ann Duffy, who is rightly regarded as one of the most gifted and distinguished writers of our generation. Alongside her emphatic readings, Duffy was joined by the equally talented Imtiaz Dharker who has a unique ability to deeply move audiences with her expressive performances.
An impressive 40 events were spread across Birmingham Cathedral, the IKON gallery and the new Library of Birmingham, which saw its landmark opening only a month earlier in September 2013.
The library has already boasted an estimated 300,000 new visitors from across the Midlands and the UK in its first month. That's not bad for a growing virtual world where the printed word is becoming rapidly obsolete.
One particular festival event honed in on the significance of British Asian Writing. Called, 'British Asian Writers: Cities and Towns', the seminar saw the likes of Sathnam, Rosie and Qaisra discuss the influences that place and situation had on literature.
What is interesting is that all of these writers, whether ethnic or non-ethnic, have been highly influenced by the many multifaceted cultures they have experienced throughout their lives.
Their childhoods, surrounded by a multicultural Britain, have shaped and moulded their creative imagination and from it, they have managed to produce some remarkable works that perfectly reflect and unearth modern British life.
But of course, not all of these artists are from Britain. R Cheran, a Tamil poet and activist writes the majority of his poems in the Tamil language. At BLF, Cheran hosted a significant workshop that commented on the important role that the translation of literature had on uniting different cultural communities together. As British Pakistani author, Qaisra admits:
"I have been very lucky over the years, that I have managed to write books, managed to reach audiences across the world, get my work translated. In particular, I am pleased that my work is being studied in universities and schools."
But with South Asian writing, there is also the added pressure of reaching out to the Asian audiences that they are about. Poet, Daljit Nagra, who has just published a new Indian mythology adaptation, admits:
"Publishers find it hard to access an Asian audience. I'm not sure if they know always where to go. Because they are kind of familiar with their middle-class audience, they know how to hit them with maximum efficiency."
"And trying to break into Bangladeshi, or Pakistani or Indian Punjabi audiences, I think they find that hard," says Daljit.
It is clear that it is festivals such as BLF which allow fiction writers to find their relevant target audiences.
Together, the Library and the Festival form a substantial landmark for the British multicultural community; the library itself is a place of refuge and sanctuary for the public, while the festival represents the much needed inspiration for locals to divulge in creative and literary development.
Overall, the success of the Birmingham Literature Festival is that it deals a harmonious tie that offers opportunities for audiences and writers alike to allow their creative juices to flow, and without limit.