"It will motivate a lot of chefs. The best thing is some young Indian chef, will now overtake me."
Gaggan, an Indian restaurant in Bangkok, has been crowned the best restaurant in Asia in the third annual S. Pellegrino Asia's 50 Best Restaurants.
The full list, derived from S. Pellegrino World's 50 Best Restaurants, was announced in Singapore on March 9, 2015.
Gaggan, owned by Kalkota chef Anand Gaggan, first entered the prestigious list at the 10th spot in 2013. It leaped to number three in 2014 and finally took the top spot in 2015.
Anand was extremely excited and proud to be honoured with what he dubbed 'the Oscar of food'.
He said: "It will motivate a lot of chefs, and it's a proud moment for our country, which has such a rich culinary heritage. The best thing is that someone, some young Indian chef, will now come and overtake me."
Anand could not wait to break the amazing news to his mother, whom he turns to for his favourite comfort food, daal curry.
Anand continued: "She's the owner of me. I have her genes, it's her talent and vision. She told me 'you have to be a chef'. I promise you that my mom cooks better food than me!"
William Drew, the list's group editor, gave high praises for Anand, calling Gaggan a reflection of 'the chef's singular imagination, energy and skill'.
Described as 'an unexpected taste of India in colonial surrounds', Gaggan injects a bold spirit and modern flair into classic Indian cuisine.
Situated in the heart of Thailand, Gaggan is frequented by local celebrities, the Thai royal family and travellers from around the world. Its colonial architecture and mouth-watering dishes are no doubt its biggest asset.
Its exterior structure and interior design combine the best of East and West grandeur. It is beautifully decorated with 'cane furniture, ceiling fans and simple whitewashed walls'.
Gaggan also puts a cheeky spin on its presentation. A dish of young potato stuffed with sun-dried figs is named 'Beauty and the Beast'. Ask for 'Green with Envy' and you will get green peppercorn chicken kebabs combined with coriander foam.
All of these reflect the inspiring qualities and ambition of its chef and owner, who set up Gaggan in 2010.
He is also the first Indian to take up an internship at Spain's highly exclusive experimental restaurant, El Bulli, run by top chef Ferran Adrià.
Anand described: "I believe in what we're doing and I don't look at boundaries. Trying new recipes, improving old recipes, it's a continuous process and I find ways to keep getting inspired.
"At the restaurant, our team brainstorms different ways to cook all the time and I find that their collective energy and ideas are amazing. Ultimately, you can't be afraid of change because you never know what new experiences will bring."
He added: "My head chef is now Indonesian and he brings such a different element to the kitchen than a traditional Indian chef."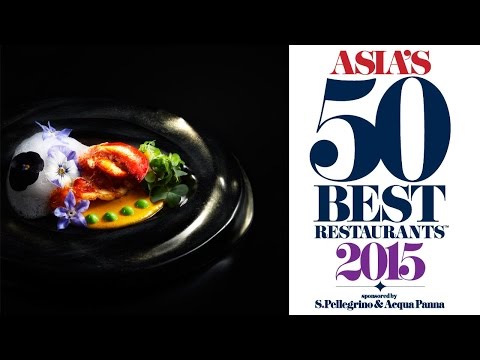 Though the rest of the list is dominated by restaurants from Hong Kong, China and Macau, three from India have taken their places as well.
Indian Accent from New Delhi enters at number 22. The luxurious restaurant is part of The Manor Hotel and excels at contemporary Indian cuisine. With a range of dishes that are designed to be consumed with bare hands, head chef Manish Mehrotra holds the authentic culture close to his heart.
Next on the list is Wasabi By Morimoto at number 29. Taj Group executive chef Hemant Oberoi and 'iron chef' Masaharu Morimoto have moved the Japanese restaurant up from its 36th spot in 2014.
Last but not least is the down-to-earth Bukhara at number 41.
Though situated in a top hotel, the Tandoor restaurant creates 'traditional rustic comforts with stone walls and log-top tables' and 'remains devoid of pretension but full of flavour'.
Launched in 2013, the Asia's 50 Best Restaurants list covers six Asian regions. It is collated by the Diners Club Asia's 50 Best Restaurants Academy. Each member is given seven votes to choose the best restaurant in Asia based on their expertise.
Here is S. Pellegrino's full list of Asia's 50 Best Restaurants 2015:
Gaggan, Bangkok, Thailand
Narisawa, Tokyo, Japan
Ultraviolet by Paul Pairet, Shanghai, China
Nihonryori RyuGin, Tokyo, Japan
Restaurant André, Singapore
Amber, Hong Kon
Nahm, Bangkok, Thailand
8 ½ Otto E Mezzo Bombana, Hong Kong
Waku Ghin, Singapore
Jungsik, Seoul, South Korea
Jaan, Singapore
L'Effervescence, Tokyo, Japan
Les Amis, Singapore
Hajime, Osaka, Japan
Fook Lam Moon, Hong Kong
Fu 1015, Shanghai, China
L'Atelier De Joël Robuchon, Hong Kong
Iggy's, Singapore
Fu He Hui, Shanghai, China
Lung King Heen, Hong Kong
Mr & Mrs Bund, Shanghai, China
Indian Accent, at The Manor, New Delhi, India
Robuchon au Dôme, Macau
Tenku RyuGin, Hong Kong
Eat Me, Bangkok, Thailand
Le Moût, Taichung, Taiwan
Ryunique, Seoul, South Korea
Bo Innovation, Hong Kong
Wasabi by Morimoto, Mumbai, India
Burnt Ends, Singapore
Nihonbashi, Colombo, Sri Lanka
Shinji By Kanesaka, Singapore
Takazawa, Tokyo, Japan
28 HuBin Road, Hangzhou, China
The Chairman, Hong Kong
Tippling Club, Singapore
Bo Lan, Bangkok, Thailand
La Yeon, Seoul, South Korea
Issaya Siamese Club, Bangkok, Thailand
Sushi Saito, Tokyo, Japan
Bukhara, New Delhi, India
Caprice, Hong Kong
Ministry of Crab, Colombo, Sri Lanka
Sukiyabashi Jiro, Tokyo, Japan
Osteria Mozza, Singapore
Hakkasan, Shanghai, China
Imperial Treasure Super Peking Duck, Singapore
Antonio's, Tagaytay, Philippines
Quintessence, Tokyo, Japan
Cuisine Wat Damnak, Siem Reap, Cambodia
DESIblitz congratulates all the winners for their creative spirit and perseverance in achieving culinary perfection!