Celebrate scoring with a simple kneeling down and pointing to the sky or full-on stomach slides.
Since its creation in 1993, the FIFA gaming franchise has grown a lot.
It has given gamers the one thing that they desperately want – to play as famous footballers and live the game.
It goes without saying that, especially here in the UK where football is immensely popular, the series is bound to take off.
The current edition, FIFA 15, does not quite measure up to the standards expected of a next gen game (PS4 and Xbox one), with graphics being the main problem.
With FIFA 16, EA Sports has focused more on the game as a whole and endeavoured to make amends with the franchise's supporters.
We take a look at some of the exciting new features!
Women's Teams
It is the first time an EA Sports video game features international women's teams. The teams include Australia, Brazil, Canada, China, England, France, Germany, Italy, Mexico, Spain, Sweden and the US.
You have the option to create an all-female team or a mix of male and female players, but it is not possible to pitch a women's team against a men's team at this stage.
Some gamers are, however, less thrilled about this new feature or what many describe as merely a PR stunt.
Online forum user, ChrisRyanParker, criticises EA for ignoring existing issues with the current edition.
Another user, totallyusable, agrees: "So many AI and collision detection issues with the game that need to be addressed and this is what they spend time on. Not [to] mention the shameful, decade old career mode."
Perhaps not many realise this may be a welcome move for younger players, who were asked about their preferences about gender and gaming in a US survey.
Parenting expert Rosalind Wiseman and Charlie Kuhn ran a joint research with gaming expert Ashly Burch in 2014.
The responses gathered from 1,400 middle and high school students show 55 per cent of boy gamers believe there should be more female protagonists.
They are not alone in recognising how this can help promote the concept of gender equality among a young generation of gamers.
ID6087845 says: "So many kids get their footballing education through FIFA these days, then perhaps including the women's game will help build it up and lift it from obscurity."
As female characters continue to gain momentum (as seen in E3 2015), it is only a timely move for the FIFA series to finally bring in the ladies in a traditionally male-dominated game.
The Beautiful Game
FIFA 16 introduces several notable features that truly highlights the reality of football and creates a more unique experience.
You can select your favourite or home stadium from a list. You can also change this at any time.
EA also focuses on improving the user interface by adding features such as stadium side commentators who give in-depth analysis on players' performance.
Not only are new celebrations added, you can even tweak it to your liking, ranging from a simple kneeling down and pointing to the sky, to full-on stomach slides and doing a timber-style fall to the ground.
It can get pretty extravagant to the point of getting on the opposing teams' nerves, as they shake their heads in disappointment.
As far as new gameplay mechanics go, gamers can expect escapable slide tackles and the option to extend them, more dynamic movements such as the ability to 'no-touch dribble'.
Other improvements include better player models compared to FIFA 15. Referees can now use vanishing spray to mark distances for free kicks.
Mid-air tackles are also made possible in FIFA 16, so players can get the ball mid-bounce by jumping up to knee height to intercept the ball.
Watch the making of 'no-touch dribbling' with Lionel Messi: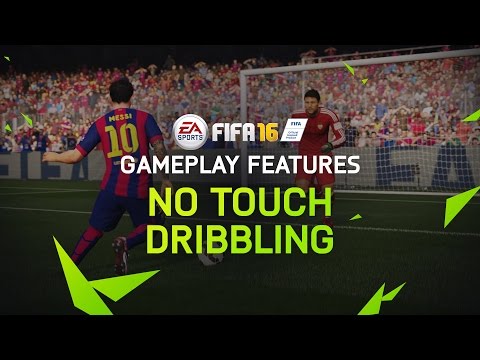 The game's performance across different consoles seems promising. Some testers report PC gamers can enjoy 4k resolution and superb running speed at around 110 to 120 fps, with a top-end graphic card.
Others have found the game to be more responsive on the Xbox One and PS4 for 'performing basic actions like passing and shooting even with a controller'.
FIFA 16 will be released on September 25, 2015 worldwide for PC, PS4, PS3, Xbox One and Xbox 360.