it is a breezy film akin to an Indian version of Sex and the City
One of the rare Bollywood films to feature an all women-cast ensemble, Veere Di Wedding is the most anticipated film of 2018.
Starring the likes of Kareena Kapoor Khan, Sonam Kapoor, Swara Bhasker and Shikha Talsania in lead roles, the movie is being hailed as Bollywood's first ever female buddy film.
Directed by Shashanka Ghosh, the comedy is backed by two strong female producers, Rhea Kapoor and Ekta Kapoor.
Ever since its announcement, the team have promoted the film as led by women for women. Notably, Bollywood hasn't explored the 'chick flick' genre extensively in the past, especially when it comes to lighter entertainment.
The last time we saw an ensemble female cast was in likes of Angry Indian Goddesses and Lipstick Under My Burkha where feminism and patriarchy were shed light upon.
Over the years, films like Dil Chahta Hai and Zindagi Na Milegi Dobara have celebrated friendships but from the perspective of male protagonists. This is the first time female friendships form the main premise of a film.
A Female Buddy Comedy Film
Veere Di Wedding's trailer suggests that it is a breezy film akin to an Indian version of Sex and the City. From orgasms to mama's boys, we get a glimpse of the conversations between four urban women who happen to be best friends.
The film revolves around the lives of four childhood friends who are now at different junctures in their life where marriage, divorce, parenting are shaping up their personalities.
As they enter new phases in their lives, their bonds are put to the test. But ultimately, it's all about sticking up for your friends. The key narrative also revolves around Kalindi's (Kareena Kapoor Khan) wedding.
The script of Veere Di Wedding is penned by Nidhi Mehra and Mehul Suri. One of the key talking points about the film's trailer has been A-lister actresses such as Kareena and Sonam swearing on screen.
Unfiltered conversations between girls discussing men and their sex lives hasn't been staple for Bollywood.
The use of cuss words by female characters has been persistent mainly in scripts that revolve around the rural milieu. In an urban setting, Veere Di Wedding has Sonam using Hindi swear words like "Bh*nch*d".
Talking about the addition of these dialogues, director Shashanka Ghosh says: "I have even gone to Ekta [Kapoor] and Rhea with a reworked, fully sanitised version of the script saying that instead of this swear word here, we can say this.
"But they were insistent on keeping it the way it is. They argued that they are not trying to sensationalise the script, but this is just how we speak, even if not all of us say it out loud all the time."
The filming of Veere Di Wedding has also created a media buzz particularly because this is Kareena Kapoor Khan's comeback post pregnancy. The actress all through her maternity phase remained in the limelight as she continued to work.
Kareena is thrashing stereotypes of actresses having to sacrifice their careers post motherhood. She not only looks stunning in the film but her professionalism off-screen from promotions to interviews has also been admirable.
When asked about how hectic it was to get back on set, Kareena said: "While shooting for Veere Di Wedding it did not feel like work because we were only talking about food and having fun. We had a fun time shooting in Delhi."
For a Bollywood film's economic success, three key things are a must; an ensemble cast, a good script and above all enjoyable music.
The music of Veere Di Wedding has been topping charts ever since its release. Baadshah's foot-tapping number 'Tareefan' has been a popular pick in the clubbing circuits of India.
Apart from that, the typical dance numbers synonymous to a wedding-themed film such as 'Bhangra Ta Sajda' and 'Laaj Sharam' are receiving a positive response.
I'm kinda getting addicted to #Tareefa
Its awesome. Loop Mode On ?

— Aman Asthana (@iamanasthana) May 7, 2018
Music of #VeereDiWedding is so good.. From smash hit #Tareefan to lovely #BhangraTaSajda, Fresh vibe of #Veere and catchy #PappiLeloon ?can't wait to see queen on big screen in 2 days #KareenaKapoorKhan @sonamakapoor @ShikhaTalsania @ReallySwara @RheaKapoor @ektaravikapoor

— Kareena Kapoor fan (@Im_Kareena_Fan) May 30, 2018
Veere Di Wedding: A Game Changer for Bollywood?
The talk about feminism and women empowerment is currently at its peak. Women in all sectors are asking for equal opportunities and equal pay. Does a film like Veere Di Wedding set an example for increasing opportunities for female-led films?
According to producer Ekta Kapoor, it's more about the film's intent. She tweeted saying:
"A generation will remember a film came that told us with absolute irreverence that its ok to BE! Be divorced b unmarried b overweight b undersexed b oversexed! Just BE!"
Unfortunately, even though the film may be saying all the right things for women, there's a thin line between making a film that celebrates women and one that indulges in male-bashing.
While 'Tareefan' as a song has received a lot of love, its music video 'objectifying men' hasn't been welcome.
In the video, Kareena and Sonam are surrounded by men flaunting their chiseled bodies, lying around in towels apparently for the 'female gaze'. The song's reverse objectification has received flak over social media.
The makers have been selling this film hard under the 'Not A Chick Flick' banner. Talking about why the film is not attaching itself to the term, Sonam in an interview spoke:
"There is nothing wrong with 'Veere…' being called a chick flick. But it is a label in which all the films about women are being put into. We don't have genres for a film with female leads.
"There are genres like action, comedy, drama for a film with male leads. But when there are females in the film it is immediately called a chick flick overlooking its real genre."
https://twitter.com/AmalShirazi/status/1001332015717896192
The film is also facing a ban in Pakistan. According to reports, members of CBFC in Pakistan have found it to consist of "vulgar dialogues and obscene scenes".
The official statement from the CBFC read: "This film is not acceptable in our society due to its vulgarity and sexual dialogues spoken by the four girls and so, we decided to ban it."
Another film that was recently banned in Pakistan for its controversial content was the Alia Bhatt starrer, Raazi.
Watch the trailer for Veere Di Wedding here: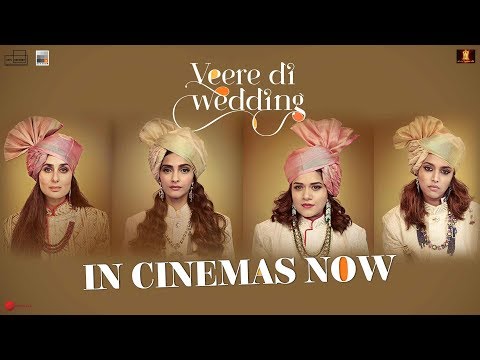 Watching four leading actresses come together in a film about female friendships and a wedding is certainly a novel concept for Bollywood.
The expectations from the film are high considering the star status Kareena and Sonam both enjoy. But we'll have to wait and see how well the female-buddy ensemble connects with audiences in India and abroad.
Veere Di Wedding hits cinema screens on 1st June 2018.