"I knew that it had to be Alia Bhatt and no one else"
Meghna Gulzar's much-anticipated period thriller, Raazi is nearly here. It stars Alia Bhatt and Vicky Kaushal in lead roles.
This espionage film is an adaptation of the novel, Calling Sehmat by Harinder Sikka. Fans can anticipate Alia Bhatt in the role of Sehmat. Sehmat is an Indian Kashmiri spy who marries Iqbal Syed, a Pakistani military officer played by Vicky Kaushal.
Also cast in the film is Alia's real-life mother, Sonia Razdan, who will be playing Sehmat's mother, Teji. This mother-daughter duo is likely to have great on-screen chemistry. Also, it is fitting these two were cast as they are both of Kashmiri descent.
After filming an emotional scene, Razdan revealed: "I wanted to hug my daughter. I was so proud."
Filmmaker Meghna Gulzar is no stranger to gritty dramas. She previously directed the hit film, Talvar (2015) starring Irrfan Khan. A film which explores the 2008 Noida double murder case.
Karan Johar, as well as Vineet Jain, Hiroo Yash Johar, and Apoorva Mehta will serve as producers.
In the patriotic trailer, we see Sehmat, "an innocent girl who knows nothing about spying", marry Iqbal. She is then taken to Pakistan by her new husband with the purpose of spying as planned by her father.
There are snippets of Sehmat training to become a spy and carrying out missions to serve her country in Pakistan. The training scenes may have taken place before the wedding.
Ultimately, the film looks enticing and mysterious. Alia Bhatt is bound to give us another stunning performance as Sehmat. We know her work contains a diverse range of roles. From college student in Student of the Year (2012) to a heroin addict in Udta Punjab (2016), we now see her as a spy in Raazi (2018).
Director, Gulzar told the press: "I knew that the girl was a 20-year-old Kashmiri and in my head, I knew that it had to be Alia Bhatt and no one else."
She continues:
"I knew the graft that the girl was going to go through and the performance that was going to be needed. I was really sure that she was the only one that was going to be able to pull it off.
She told Alia "that if [Alia] was not going to do the film, [she] would not make it."
Vicky Kaushal commented on his character: "There is more to Iqbal than just being a Major in the Pakistani army. It was important to understand his emotional side."
Kaushal starred in the Netflix rom-com, Love Per Square Foot earlier in 2018. The Hindustan Times described the film as, "youthful, urbane and loveable."
The film has a beautiful soundtrack consisting of four songs, written by Gulzar and composed by musical trio Shankar-Ehsaan-Loy. 'Dilbaro' is performed by Harshdeep Kaur, Vibha Saraf, and Shankar Mahadevan. Arijit Singh performs the title song, 'Raazi', and 'Ae Watan'. Another version of 'Ae Watan' is sung by Sunidhi Chauhan.
Zee Music Company released the soundtrack on 18th April 2018. A few days later, they released the 'making of' video of 'Ae Watan' (both versions). Gulzar explains: "Ae Watan to me is special because we are hearing a patriotic song after a long time."
"Also, it's operating at two levels because she's (Sehmat) taught it to the (Pakistani) children and the children are singing it to their country and she is actually singing it for hers (India)."
The song has incredible significance to the film as it is inspired by Urdu poet, Allama Muhammad Iqbal. Particularly his 1902 poem, Lab Pe Aati Hai Dua.
The poem is considered the national prayer of Pakistan and it is sung frequently by school children in assemblies, much like the children singing 'Ae Watan' in the film.
Indian news outlets have nothing but positivity for the film trailer and Alia.
Times of India wrote:"Alia Bhatt as 'Sehmat' delivers yet another jaw-dropping performance." Meanwhile, Hindustan Times said: "Alia Bhatt is terrific in Raazi trailer and Twitter can't stop raving about it."
And they were right! Fans took to Twitter to express their excitement for the film.
One user wrote: "Clearly enough Alia Bhatt is outstanding in the #Raazi trailer but that dialogue delivery deserves a special mention.. soooo TERRIFIC m just SPEECHLESS!!"
Clearly enough Alia Bhatt is outstanding in the #Raazi trailer but that dialogue delivery deserves special mention..soooo TERRIFIC m just SPEECHLESS!!
Girl is just growing n growing nd m soooo proud??

"Watan ke aage kuch nahi..Khud bhi nahi"
GOOSEBUMPS!!@aliaa08 ??

— ??????? (@itzme_roopal) April 29, 2018
The soundtrack is also very well received. The song, 'Dilbaro' appears to be a favourite. The lyrics explore an emotional journey a daughter has with her father. It even brought Alia to tears.
#Dilbaro is a song that made me tear up the first time I heard it.. the lyrics are simple, powerful and just beautiful. Written by the maestro Gulzar Saab. I couldn't help but think of my father who's held my hand but also let my fly.. my most special friendship! Love you papa?

— Alia Bhatt (@aliaa08) April 26, 2018
#Dilbaro It's such an awesome ? song it tells about father feeling while his daughter is getting married.? Being a daughter it's a heart touching.?
Alia you ROCKED!! ?#RaaziTrailer pic.twitter.com/dFjIKx7MmQ

— Riya Tripathi? (@Riya32137713) April 26, 2018
However, the film is banned from releasing in Pakistan due to its controversial themes.
According to the Express Tribune, a senior representative of a distribution company said:
"It is disappointing to see that films on controversial subjects are being produced in India time and again,"
"All our distributors are well aware of Alia's role in Raazi and so, no one is willing to purchase the film. Patriotism is another reason for distributors not being pushed about buying the film."
"Indian producers should know that all our distributors have unanimously decided to boycott such controversial films."
Vicky Kaushal has defended the film, telling the press: "The film is not just about the Indo-Pak war, it is much deeper than that. It is about an individual relationship."
Watch the Trailer for Raazi: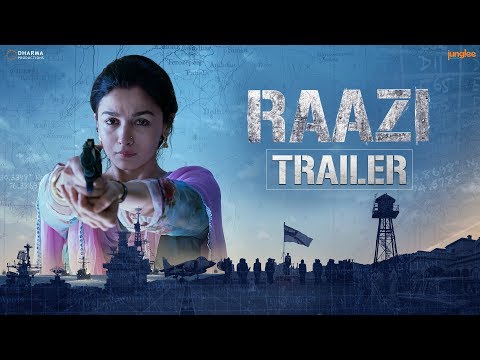 Alia will next appear as a cameo in Shahrukh Khan's Zero which, is to be released in December 2018.  After that, she has numerous films lined up for 2019.
Vicky Kaushal, on the other hand, will make three more film appearances in 2018. He will portray Bollywood actor, Kumar Gaurav in the Sanjay Dutt biopic, Sanju, releasing in June. 
He will work again with Karan Johar in the second Bombay Talkies film which is said to cover themes of love and lust. Lastly, he will appear alongside Abhishek Bachchan and Taapsee Pannu in Manmarziyaan, to be released in September.
Watch Raazi in cinemas on 11th May 2018.