"Even now, we are in the habit of saying "Cut!"
Indian cinema's legendary actors Amitabh Bachchan and Rishi Kapoor recently came together for a heartfelt conversation on their journey in Bollywood at Mumbai's iconic Royal Opera House.
The duo recently worked together in Umesh Shukla's 102 Not Out. The film has been making headlines for bringing together the two mega stars on screen after 27 years.
While Amitabh Bachchan plays the mischevious centenarian in the film, Kapoor is reprising the role of his grumpy 75-year-old son.
The evening of 26th April turned out to be an iconic one as Big B and Rishi Kapoor took to stage at Opera House, the same place where their 1977 film Amar Akbar Anthony had a 25-week run.
The conversation definitely gave us an insight into how Indian cinema, Bollywood as it is known to most today, has evolved.
Reminiscing Old Times
Coming from Bollywood's first film family, expectations were always high from Rishi Kapoor.
Recalling how his first brush with stardom was, Kapoor recalls a dinner table conversation between mother Krishna Raj and father Raj Kapoor, he says:
"There was a discussion on the dining table where my parents were discussing that he wanted me to play his childhood part in Mera Naam Joker."
"My mother spoke about how my studies should not get disturbed."
He laughingly further admits that it hardly made any difference. The acting bug had bitten him so hard though that Rishi had early on started to critic his own actions.
He said:
"Shashi (Kapoor) uncle would tell me later that whenever I cried, I would also make sure to see a mirror to find out how I was looking!"
One of the key changes that both Kapoor and Big B have seen over the years is the change in the attitude of the audience.
Actors back then weren't scrutinized for doing stereotypical roles or sticking to one genre.
Kapoor admits that the audience's forgiving nature isn't there anymore.
Actors would previously work on multiple films with similar storylines. The popular tropes were ' lost and found' stories or the rebel romances with 'rich girl and poor boy' angles.
Admitting the same, Mr. Bachchan said:
"This happened with me in more than two or three films! Thanks also to your uncle Shashi, who was doing 20 to 25 films at one time, allocating two or three hours on each set."
With technological advancement, the non-existence of 'film' and the use of digital mediums to shoot films is now common.
The senior actors also reminisced being under pressure to get their shot right in the first take because the film was an expensive element.
Today, of course, there is no limitation on the digital modes and multiple takes are almost a trend.
Recalling an awkward experience, Amitabh Bachchan says:
"Even now, we are in the habit of saying "Cut!" so that film is saved."
"One filmmaker, a young director I will not name, took me into a corner when I said 'Cut!' as I felt I was making a slip.
"He told me, "Sir, you will not say 'Cut!," I will say 'Cut!'"
On Working Together
Having worked together in five films before 102 Not Out, Amitabh Bachchan and Rishi Kapoor go a long way.
In 2018 are seen playing a father-son duo but Kapoor remembers how their dynamics have changed on-screen.
He said, "In Kabhi Kabhie you were my stepfather-in-law. In Amar Akbar Anthony and Naseeb, we were brothers. In Coolie we were friends, and in Ajooba we were "secular friends." Now we are father and son. So we have indeed played different relationships in our films!"
Many have known about the near-fatal accident that happened with Amitabh Bachchan on the sets of Coolie. He was critically injured while shooting a fight scene.
Rishi Kapoor who was also a part of the film and recalls the fanfare that Big B received after he resumed shooting for the film after a long recovery.
He said:
"I remember that every single day the crowds would swell just to see Amit-Ji – I have never seen so many people, they must be probably around a lakh of them!"
"We were all there—Waheeda Rehman-ji, Kader Khan, Satyen Kappoo and me, and Man-ji had designed the same kind of trolley shot that was done before the accident.
"One lakh people would cheer as one whenever Amit-Ji appeared!
"And every time Amit-Ji beat Puneet Issar (who was the actor who had inadvertently injured him), there would be uproar! Such was the popularity of this man!"
Watch the amazing conversation between these two megastars of Bollywood: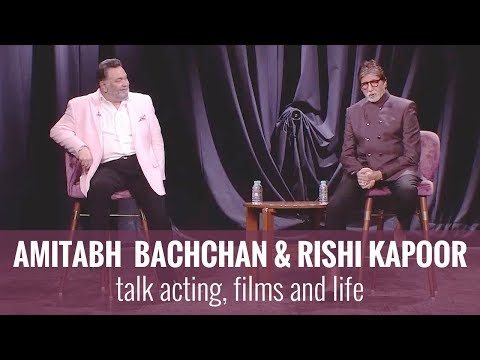 Even today as the veteran actors work together, Rishi Kapoor shares how inspiring Big B's craft as an actor is. In Shukla's 102 Not Out, the duo are seen as a Gujarati father-son duo.
Adapted from a Gujarati play, 102 Not Out released across theatres from 4th May, 2018.