"Never realised how fulfilling & rewarding foul Hindi language can be!"
Following the huge success of the Hollywood superhero movie, Deadpool (2016), fans are eagerly awaiting the release of Deadpool 2, which will be hitting movie theatres on 18th May 2018.
Led by Ryan Reynolds, the cool and quirky film has breathed new life into the anti-hero character and has gained popularity with audiences across the world.
Now, to bring it to Hindi audiences, Padmavaat star, Ranveer Singh, will be voicing the main character of Deadpool.
The stylish and somewhat eccentric funny man of the film industry seems to be a perfect choice to play the iconic Ryan Reynolds role. And if the Hindi trailer is anything to go by, viewers can expect even more laughs than the English original!
Singh made the announcement on his social media channel where he revealed his new-found appreciation for the Hindi language:
"Never realised how fulfilling & rewarding foul Hindi language can be!" the star exclaimed.
Astonishing how effectively I've managed to out-crass my Canadian counterpart @VancityReynolds. Never realised how fulfilling & rewarding foul Hindi language can be! #Deadpool2Hindi @FoxStarIndia https://t.co/BqZoxvEEls

— Ranveer Singh (@RanveerOfficial) May 7, 2018
Dubbed as the Merc with a Mouth, the character of Deadpool and his preference for crudity and swearing has opened a new and creative way of learning more about the Hindi language.
Suggesting that he might "out-crass" Reynolds voicing of the character he plays, Singh's comment saw a swift reply from the Canadian actor, who hilariously responded that if he tried to curse in Hindi it might start "an international incident".
Well if I tried to curse in Hindi, pretty sure there would be an international incident. https://t.co/cxeRIiUy5o

— Ryan Reynolds (@VancityReynolds) May 7, 2018
This fun interaction between the two leading men has fuelled fans even more for its cinematic release.
With Ranveer's hugely successful career in Bollywood, particularly after hits like Padmavaat (2018), Bajirao Mastani (2015), and Dil Dhadakne Do (2015), the actor is one of the most sought-after talents right now.
By casting Ranveer Singh as the title character, Fox Star Studios hopes to bring a Hindi audience further into the superhero genre.
It is the witty personality of Singh that makes him perfect for the role.
I'm a fan since #TwoGuysAGirlAndAPizzaPlace ??Youve always inspired me ?? I even tried being #VanWilder for a phase in College @IndianaUniv but I was definitely a Taj ????????? @kalpenn https://t.co/Rrei22xOxG

— Ranveer Singh (@RanveerOfficial) May 8, 2018
Wanting to find an actor that mirrors Deadpool's personality, the CEO of Fox Star Studios, Vijay Singh, says:
"Like Deadpool, Ranveer, too, is known for his smart, witty and irreverent humour. He's a daring and powerhouse actor and we absolutely relished having him on board for our biggest superhero film."
Ryan Reynolds will continue to physically play the character of Deadpool, following his 2016 performance.
Singh's enthusiasm and excitement to voice Deadpool in the Hindi version shows how much he resonates with the film.
Check out Deadpool 2 and Ranveer Singh's voicing in Hindi in the trailer below: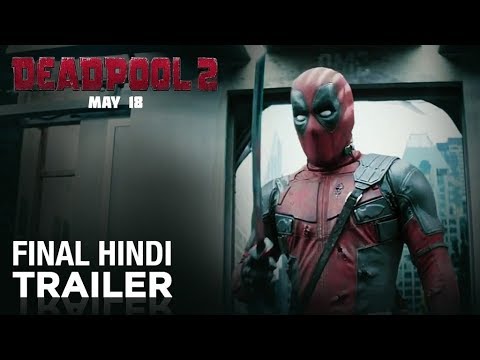 Full of violence, witticisms, and humour it's easy to see why this film is a hit.
With Singh's new take on the role, his added personality is sure to make this film even better whilst enabling a Hindi audience to get involved.
Deadpool 2 will release in cinemas on 18th May 2018.