"It is about a bad person's love story. Negative by action. It's about his battle to change for love or not."
Ek Villain sees Sidharth Malhotra and Shraddha Kapoor take on a highly emotional film filled with gory violence. The movie has familiar names like Ekta Kapoor and Shobha Kapoor producing the movie under Balaji Motion Pictures and ALT Entertainment.
It is a film of villains as opposed to heroes, with Siddarth (Guru) being an antagonist who falls in love with Shraddha Kapoor (Aisha).
Ek Villain also sees Riteish Deshmukh (as Rakesh Mahadkar) in a villainous role for the first time. Known mainly for his comedy roles so far, he describes his character in this film as a 'radical departure' from what he normally does.
With the true villain a mystery, many theories have been circulating on social networking sites. Director of the tragic Aashiqui 2 (2013), Mohit Suri has kept quiet on who the real villain of the film is. He further added to the mystery by saying: "In my head everyone is a bit of villain."
Riteish could possibly be the villain as he is playing a character that is a middle-class man and is frustrated by how he has been treated by society. Mohit adds: "There is something evil about a person who is so regular and ordinary. Rakesh's character lurks in the shadows. He isn't loud and in-your-face, but his mere presence can be unnerving."
Tanju Garg from Balaji Motion Pictures added that even though they find the discussions on identity of the villain amusing and they enjoy listening to the theories that have cropped up, there is more to the film than just identifying who the villain is.
The suspense and the chemistry between the lead couple has created lot of hype among fans and audiences.
Following the film promotions, many rumours sprouted about potential real-life romance between the lead actors. Of course, this is nothing new in the Bollywood fraternity but there are reports of the duo being a couple in real life.
As expected, both actors have brushed this off as ridiculous. Whether the rumours are a publicity stunt or not we agree that they do make a fantastic looking couple.
Their on-screen chemistry is undeniable, and both admit to enjoying the shooting of the film. Sidharth even jumped to the occasion to pull Shraddha's leg by spilling the beans about her Scuba diving skills.
He recalled that she could barely hold a few breaths before heading for the oxygen tank. That would be expected for someone new to diving but as Shraddha had bragged about her being a seasoned diver, she had a few things to explain. Shraddha humbly agreed that she could improve and was in awe of how good her co-star was despite only having few hours of training.
Having worked with Mohit in Aashiqui 2, Shraddha is not new to his style of directing. The intense romantic filmmaker is well known for being thoroughly involved with all aspects of the pre and postproduction. On Mohit Suri, she says: "The brief was different and even interacting with each other was different."
When asked why girls fall for dark characters, she admitted: "The excitement you get falling in love with a grey character is the unpredictability."
However, Sidharth had a different opinion where he thinks girls like having that power over someone who are normally very scary but they will bend down for the girl. On his own character, Sidharth adds: "It is about a bad person's love story. Negative by action. It's about his battle to change for love or not."
Mohit himself says:
"Ek Villain speaks of a love that wasn't meant to be. The sweet girl-next-door with fire in her heart and an angry young man hell-bent on setting the world on fire. This is an unconventional musical romance born out of angst."
The movie sees six songs in total. with lyrics by Manoj Muntashir, Mithoon and Soch. The whole album has received lot of praise, with Mohit Suri again getting the nod for his taste in music and melody.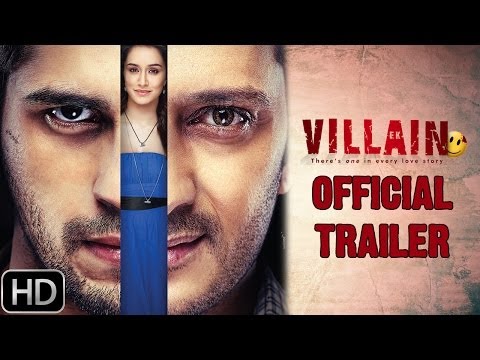 The songs 'Galliyan' (sung by Ankit Tiwari) and 'Banjaara' (sung by Mohd. Irfan) are already on the top chart-buster lists. Interestingly, the songs are not lip-synced by the actors and instead show the emotions felt by their characters.
'Galliyan' has also another version which is sung by Shraddha Kappor as a playback singer. This is almost deja vu with her character as a singer in Aashiqui 2. The song has been very well received and fans have been surprised and wowed by her singing ability.
Speaking about the films potential at the Box Office, Sidharth said: "I have received positive reactions from everyone who has seen the film but I am still nervous. It is a big release for me and I have been having sleepless nights thinking of Villlaintines Day."
Critic Taran Adarsh added: "Mohit has a knack of narrating stories with flourish and the tale he sets out to narrate in EK VILLAIN keeps you on your toes all through. On the whole, EK VILLAIN is a stylish, spellbinding and terrifying edge-of-the-seat thriller. It's a step forward in this genre, without doubt. A sure-shot winner!"
High praise indeed. Ek Villain releases from 27th June.