Players will also be able to jump on TNT crates to blow them up.
It's safe to say that although there has been speculation about this, we're still really excited that Crash Bandicoot is back.
In Sony's presentation at E3 2016, they have announced that Crash Bandicoot will be coming back for the PS4.
The well loved classics – Crash Bandicoot, Crash Bandicoot: Warped and Crash Bandicoot 2: Cortex Strikes Back – will be remastered for the PS4.
So fans of this iconic series can throw themselves into the nostalgia in high definition.
Although we have no official release date for these remasters, Activision have hinted at a 2017 release.
When it comes to remasters, there are many critiques that worry over a lack of new content in the gaming industry.
To combat this, Sony have said that they will try to create new games for this franchise in the foreseeable future.
Alongside this announcement Crash will also feature in the PlayStation 4 version of Skylanders: Imaginators as an exclusive character. This will be released on October 16 2016.
Even though it's not a new title for a furry friend, it is something to satisfy our nostalgia.
His role in Skylander will be a new one as he will be introduced as a new class of characters – Senseis.
As much as we're loving the aesthetics of having such an iconic character in the game, his role goes beyond that.
Crash will be back with everything that made us love him – his unique personality and special signature moves.
Players can jump on TNT crates to blow them up and get a rocket launcher by collecting a Bazooka Crate, use a jet pack to sore the skies and also use his classic spinning attack.
As a Sensei, Crash will also be able to use his own Sky-Chi attack, where he uses a yo-yo to grab enemies into a spin attack.
Jess Harnell will be reprising his role as Crash for this epic occasion.
Check out the reveal trailer here: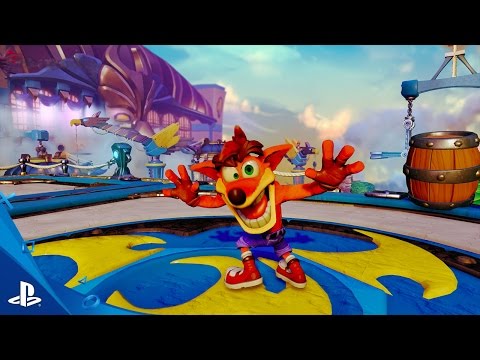 Crash Bandicoot was originally created by Naughty Dog who are known for their impressive work in the Uncharted series and The Last of Us.
This is a franchise that is loved by many different generations, and one of the most iconic gaming titles out there.
We'll be sure to keep an eye on when it'll hit the shelves!