"While I was working in Bollywood, I would look at how the industry operates"
One of the most prominent entertainment stars in Pakistan, Ali Zafar is well-known for his singing and acting talents.
After seeing much success in Bollywood, the actor has now turned his sights to Pakistani cinema, with his upcoming release, Teefa in Trouble. As well as playing the lead role, Zafar is also a producer on the film and one of the key writers.
The Pakistani action-comedy film sees a new direction for the actor, who made a promising debut in India with the satirical comedy Tere Bin Laden (2010).
Ali quickly soared to the spotlight after being signed by big banner Yash Raj Films. With films like Chashme Baddoor, Mere Brother Ki Dulhan, Kill Dil and Total Siyappa to his name, Ali has made a considerable mark in Bollywood, aided primarily by his chocolate-boy image.
However, with Pakistani artists moving back home following growing tensions in India, Ali's final Bollywood role was in the 2016 film, Dear Zindagi.
Although this may seem like Ali's last Bollywood project, for now, the actor is keen to get back to the silver screen but this time in a Pakistani film.
In an interview with DESIblitz, Ali tells us more about what led him to finally star in a Pakistani film and whether he misses working in Bollywood.
From Music to Acting to Producing
It is well known that Ali has been one of the pioneers in elevating Pakistan's music scene to a global level.
Despite the setbacks that the music and entertainment industry have faced over the years, Ali has been a key driving force for new generations to embrace fusion music.
However, even for a musician as successful as this, starring in a Bollywood film did not happen overnight. Ali recalls:
"The musical stint happened in 2003, with 'Channo'. If you remember, at that time, there was no real film industry churning out the kind of cinema that I could see myself fit in to.
"And my tours and music kept me too busy; until the time came when I felt I should venture out into acting to try something new and challenging."
"That is when Tere Bin Laden happened, a script and subject I loved instantly. To be honest I also hadn't received anything that would excite me as much before that."
He adds:
"Also, for a Pakistani personality to be cast as the lead in a major Bollywood project was a first and a challenging thing in itself for which I find myself fortunate to be able to break barriers and stereotypes."
With Tere Bin Laden being well received by fans and critics, the 38-year-old managed to sweep all the Best Debut awards in 2010.
Pakistani cinema, on the other hand, was going through a stagnant phase and saw only twelve film releases that year. The industry later picked up when a surge was seen among the business of films like Bol and Bin Roye which gained recognition internationally too.
Yet, the industry was still in its infancy, unlike the lavishly expanded Bollywood. Thus, sparked Zafar's intent to find out more about how successful films were actually made.
By working in Bollywood, Ali explains that he hoped to learn from the best, and eventually take his experiences back to Pakistan:
"While I was working in Bollywood, I would look at how the industry operates and chose to learn. To be able to apply that experience and knowledge back home and play my part in rebuilding our own cinema industry.
"From pushing the authorities on the concept of why we need to have a policy for film and culture in our country to conceptualising various projects. I did my best to kick start something groundbreaking in Pakistan," Zafar admits.
Teefa In Trouble
Taking a look at Ali's filmography in Bollywood, one can observe that he has been a popular choice for classic chocolate boy characters.
For instance, as Luv in Mere Brother Ki Dulhan, he is a confused but lovable character. In Total Siyappa, he plays the nervous boyfriend. And what can we say about Dear Zindagi's hard-to-resist, super romantic musician Rumi?
Call it the lack of creative scripts or misfortune, apart from the action-packed Kill Dil, Ali has not been able to break away from his boy-next-door image.
In an interview in 2017, Zafar mentioned he wanted to step out of his comfort zone. And with Teefa In Trouble, he promises to do just that.
Directed by Ad filmmaker Ahsan Rahim, the film also stars Maya Ali, Javed Sheikh and Nayyar Ejaz in key roles.
Ali Zafar plays both the lead and a producer for the film.
In fact, the film truly seems to be a family affair with Zafar's wife Ayesha Fazli as an Executive Producer. In addition, Ali and his brother Danyal also wrote much of the script alongside director Ahsan Rahim.
With more freedom in both storyline and character, Ali appears to finally have the opportunity to take on a different persona than during his Bollywood days.
Talking about what separates this character from the rest, Ali says: "He is dark chocolate."
From the teaser of the film alone, we can definitely say Ali is all set to pull off some badass antics in the film. From high octane action sequences to some bike racing, it looks like Teefa sure is a troublemaker.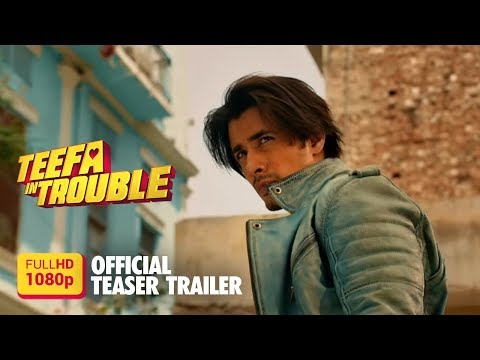 A short video of the Mann Mayal actress, Maya Ali has also been shared on YouTube, detailing more about her character, Anya.
Maya plays a 23-year-old Lahori who lives in Poland. Her character appears to be smart, tough and independent. It will be interesting to see more of her bubbly nature on the big screen.
Unsurprisingly, Ali has also made much of the music of the film, which sees prominent playback singer Shani Arshad create the musical score.
Bollywood vs Lollywood
With Ali Zafar having moved quite comfortably in Bollywood circles, audiences back in Pakistan have yet to see the musician perform as a lead actor.
Although many may think that it is Bollywood's ban on Pakistani artists that has led him to consider Teefa In Trouble, Ali insists he has his own reasons:
"All good things take their time. And after an effort of 5 years, I finally felt satisfied with Teefa In Trouble and went on to give it my best in the hope and dream to give to my country and industry a film like never before and take us to another level on both the local and international fronts."
"However, this comes with the humility that I can only try and work as hard as a person can. The rest is all with God and his people's will."
Of course, there is a significant difference between the way film industries function in different parts of the world, and both India and Pakistan have their own settings too. Interestingly, it is not just the business of films but also the production processes that are distinct.
For someone who comfortably flourished as an actor in Bollywood, we asked Ali if it was any easier in back home in Pakistan.
He tells us:
"Well, very very different. Over there, I would be hired as an actor or a singer/songwriter for my movies and anything else wasn't a part of what I had to deliver.
"In this, I have had to wear all kinds of different hats – and it takes a lot to juggle between all these responsibilities and still be able to deliver."
When asked if he is still receiving any Bollywood film offers, Ali laughingly asks: "Do you think?"
Just as he is about to change his on-screen image with Teefa In Trouble, we hope Ali Zafar succeeds in putting Pakistani films on the global map.
The movie is already being touted to be one of the most expensive films from the country.
Teefa In Trouble will release in cinemas on 20th July 2018.