"[Fans can expect] some crazy stunts, and by crazy, I mean really crazy!"
Ali Zafar is the star of larger than life action-comedy, Teefa in Trouble.
Marking his first acting role in Pakistani cinema, the celebrated artist and musician turns rogue for this laugh-out-loud movie directed by Ahsan Rahim.
Playing the charismatic Teefa, Zafar is joined by the likes of Pakistani beauty Maya Ali, Javed Sheikh, Mehmood Aslam and more for a film that promises to inspire a new style of movie-making in Pakistan.
In a special gupshup with DESIblitz, Ali reveals more about his intentions behind the film and his 'troublesome' character, Teefa.
Set across Pakistan and Poland, Teefa in Trouble follows a young man (played by Ali) who works as an enforcer and is hired by the son of a gangster to kidnap the girl of his dreams, Anya (played by Maya). Anya lives in Poland and Teefa is tasked to bring her back to Pakistan.
To carry out the mission, Teefa is joined by his trusty sidekick, Tony (played by Faisal Qureshi) and together they try and discover a viable way to "nab her".
En route, however, Teefa finds himself caught up in numerous "troubles" in what becomes a hilarious series of unexpected turns and twists.
Elaborating, Zafar tells DESIblitz:
"I would say that the troubles that he goes through in the film, are fun troubles, in a way that he deals with them and what he tries to achieve. Which is a very odd mission."
Promising an action-packed comedy with romance and songs, Zafar admits:
"We've tried to make a good, commercial, masala film. The right kind of masalas which you can enjoy for a very long time again and again."
No doubt, Zafar has taken his experience from Bollywood to help create this film.
With the screenplay written by himself, Ahsan Rahim and his younger brother, Danyal Zafar, Ali is confident that Teefa in Trouble is just the right kind of film that Pakistani cinema needs.
Having made his name in India with films like Tere Bin Laden (2010), Mere Brother Ki Dulhan (2011) and Dear Zindagi (2016), Ali was adamant to bring some of the rich diversity of Indian cinema to his home country:
"My experience has been amazing in Bollywood," Ali says.
"I feel the more love people give you, the more you have to give back.
"It is all about giving back, which is why I felt the need, that all the experience I've had in Bollywood, and all the love that I've had for so many years, I'd be a very selfish artist if I don't give Pakistan, and the people of Pakistan a film which could set new benchmarks for our industry.
"[A film that can] make us proud internationally, make us feel good about ourselves, our culture and the way it's being represented nationally and internationally, breaking records, and so that is the objective behind the film and I hope that we've been able to achieve that."
Interestingly, Zafar was also keen to perform all of the stunts in the action-comedy too. Sharing with us what fans can expect, he says:
"Some crazy stunts, and by crazy, I mean really crazy!"
Notably, Ali underwent considerable training to get into the skin of his character.
"We decided that all the action needs to look real. And if you were to bring in a real style of action, then I had to fight like a fighter."
"So I trained for a long time, and we performed the stunts and luckily, although I did get hurt a lot of times, I wasn't down and out and we finished the film, and here it is."
Aside from the screenplay and writing, the 'Channo' singer also had a close hand in the music composition.
All in all, the music soundtrack of Teefa in Trouble is nothing less than what fans have to expect from the talented artist.
Aided by his brother Danyal, the film has some very cool, acoustic songs such as 'Chan Ve' and 'Sajna Door' where Zafar duets with the stunningly talented Aima Baig.
What's more the catchy track, 'Item Number' has also proved to be a huge hit amongst fans.
A spoof on the typical item songs that we have come to expect in Bollywood, this particular song is an item number that is not an item number.
Ali Zafar explains:
"So, there was a debate going on back home about item numbers in movies, and different people had different opinions to that.
"I personally feel that everyone has a right to have their own opinion, and there should be tolerance. And whoever wants to render their version of storytelling and whatever they like through song and dance, it's their choice.
"But the discussion sort of heated up a little bit. And this is just our take on the item numbers where we have made an item number which is a non-item number in which we are dancing and all, but we are not dancing like that.
"So it's a unique idea that we thought of and it's clicked with the people, and the people are loving it."
Watch our full interview with Ali Zafar here: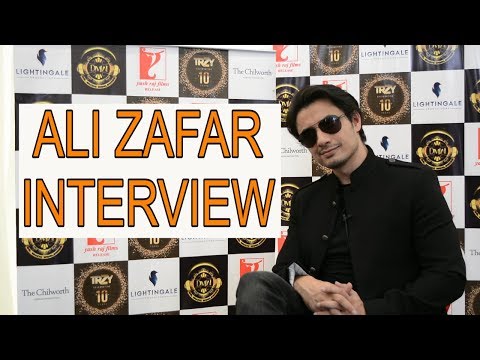 The buzz around the film has been building for some time, particularly as this is Ali's debut in a Pakistani film.
What's more, it has transformed into something of a pet project of Zafar's and he is confident that it will do brilliantly:
"I'm very confident, because we've seen the entire film and we've done some test runs, and the response of people whoever sees it, every time it gives us more and more joy.
"I mean, I'm pretty confident that people are going to enjoy the film."
Surprisingly, Ali's confidence has not wavered considering the current controversy he is in.
Earlier in 2018, Ali was accused of sexual harassment by popular singer and artist Meesha Shafi. Meesha alleged that Zafar behaved inappropriately with her during a music gig and rehearsal.
Zafar has refuted the claims and has since been embroiled in an ongoing case of defamation against the singer.
The claims which are no doubt incredibly serious, have led to a splitting up of audiences and fans. In particular, protestors against sexual harassment came out at the film's premieres in Lahore and Karachi and others have called for a national boycott of the film.
However, if initial box office figures for the film are anything to go by, Teefa in Trouble has already exceeded expectations.
Pakistani media outlets such as Geo TV have been reporting that the film has broken records by becoming the biggest opener ever in Pakistan with an indicated taking of Rs 23.1 million.
This is also despite the fact the film has not released on a big festival or holiday like Eid. Ali explains that this was a conscious decision by his team:
"A lot of cliches need to be broken and risks had to be taken. And I thought that if I were to be that person to take that risk, it might as well be because there are only two Eids a year.
"But tomorrow when we start making 40 films or 100 films, we can't be fighting over two Eids.
"So that precedent also has to be set that if you have a good film in hand, then that good film will work any day. So, we're confident with our film, and we're confident it will work."
Even with all the contention surrounding Ali's personal life, his film is proving to be exactly the commercial masala crowd-pleaser that he and his production team have been aiming for.
Breaking box office records could just be the tip of the iceberg for Ali's venture into Pakistani cinema.
Teefa in Trouble released in cinemas on 20th July 2018.