"It gives me a sense of addiction from being pushed to my limits"
Race, empire and an unexpected friendship form the basis of the highly awaited British film, Victoria & Abdul.
Starring Dame Judi Dench as Queen Victoria, and Bollywood actor Ali Fazal as Abdul Karim, the period drama is directed by the acclaimed British filmmaker, Stephen Frears.
The film uncovers true events from the last years of Queen Victoria's life, kept hidden in private journals and letters for decades.
Based on Shrabani Basu's book, the biographical drama narrates the story of a young clerk Abdul Karim (Ali Fazal) who travels from India to participate in the Queen's Golden Jubilee.
He quickly finds himself in the Queen's favour and eventually becomes her Munshi, teaching her Urdu. As the Queen begins to question the restrictions of her high-held status, the two develop a strong and unlikely friendship.
A friendship that even went as far as the Queen providing Abdul with sex tips! But due to Abdul's foreign identity and dark skin colour, Queen Victoria's household and inner-circle endeavour to destroy her alliance with Abdul.
Victoria & Abdul ~ An Indian Abroad
Victoria & Abdul deals with the cultural differences that stem from an oppressive empire. There have been numerous period dramas that touch upon the colonial period. And sadly many are tainted by a Western male perspective. Yet, Victoria & Abdul is one film that openly and undeniably confronts the racist sentiments of Victorian England.
On the one hand, we have Abdul Karim. A young Indian man who is transported to a foreign land to serve an unfamiliar monarch. On the other, we see Queen Victoria, a woman whose reputation precedes her. While she may adore her title of 'Empress of India', she has very little to do with the country or its people.
The arrival of the 'exotic' Abdul then, offers her an exciting insight into a completely new world.
This relatively lesser-known tale of Victoria & Abdul has enabled director Stephen Frears to present a new side to Queen Victoria, one that we have not seen much of on-screen.
Here, we are exposed to the vulnerable side of this monarch, as can be seen through her unrelenting loyalty to Abdul, even when it comes at the risk of her own reputation.
Dame Judi Dench, who has played the role before in Mrs Brown, adds yet another dimension to this enigmatic character. It is interesting to see how she balances her fierce independence with an inner solitude: "No one really knows what it's like to be queen," she confesses.
Her rapport with Abdul, who is so far removed from her own reality, is refreshing to see. There is no issue of race or class status here – just friendship and kindness.
In the movie, there are wonderful moments of cultural exchange between the two characters. Particularly, during sequences where the Queen is taught Urdu. A light-hearted incident occurs where Abdul describes "Apni" as "Up Knee", for Victoria to understand.
It is such scenes which stand out in the film – as they uncover the deeply felt sentiments of these otherwise opposite characters.
Ali Fazal's Impressive Performance as Abdul
It is clear to see why Ali Fazal was picked to play the male lead. His innocent look and charming smile perfectly suit the character of Abdul.
Even during the serious quotients, Fazal performs his part with utmost maturity and manages to strike an emotional chord with the audience.
While the film arguably focuses predominantly on Queen Victoria, one wishes to know more about Ali's character. He remains shrouded in mystery, and there is still so much that is left untold.
With their strong performances and on-screen chemistry, both Dame Judi Dench and Ali Fazal bring the titular characters to life. Talking to DESIblitz, Ali reveals that this close friendship also extended off-screen:
"It was pretty similar to what was in the film. I think, just the fact that this is the first time in London and first time with Judi, who is celebrated royalty [in terms of acting].
"This began with our first lunch together and we just built a nice rapport with each other," he admits.
Watch our special Gupshup with Ali Fazal here: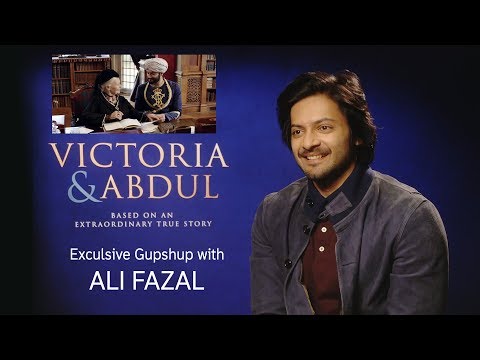 Ali adds that the film shoot led to the actor's visit to the UK, and the chance to meet so many esteemed British actors:
"It was just a lovely set of people to be part of. I mean I'm humbled. Stephen Frears and Judi Dench, Michael Gambon, Tim Pigott-Smith you know, and then there's Focus Features and Universal. Just the perfect mix, I think."
From Bollywood to International Cinema
After seeing Bollywood actresses Priyanka Chopra and Deepika Padukone dive into Hollywood this year, it is truly phenomenal to see even more Desi actors making their mark overseas.
Since his Bollywood debut in 3 Idiots as 'Joy Lobo', and sleeper-hit comedies Fukrey and Happy Bhaag Jayegi, Ali Fazal has proved his talent.
Whilst it is great to see the actor in a cameo role in Furious 7, it is also commendable that Ali features in the titular role of an international film like Victoria & Abdul – that too, at such an early stage in his career. But Ali seems unperturbed by the huge opportunity:
"I'm hungry for good (acting) parts. I know it sounds a little cliché. But it gives me a sense of addiction from being pushed to my limits. And when someone else can mould me into someone that I'm not aware of. I love being challenged as an actor."
What's more, the number of roles being created for Indian actors in the West, including Hollywood, seems to be on the rise. Are there more opportunities for Indian actors in Hollywood than ever before? Fazal tells us:
"[International cinema] is starting to open up, I think a few of us actors are sprinkling our way to Western cinema – not just Hollywood, but world cinema. I'd like to be a part of it because there's such exciting stuff happening all across the world. I think it is good times."
Interestingly, Ali admits that platforms like Netflix and Amazon Prime have paved way for Indian actors to gain global exposure. He says: "Especially because Netflix and Amazon have come in, the web has suddenly taken us on a global stage."
He reveals that he will soon appear in an Amazon Prime web-series by Farhan Akhtar's Excel Entertainment. As well as appearing in Fukrey Returns. Overall, the 3 Idiots actor has a lot of potential to shine brightly in Bollywood and international cinema.
No doubt, Ali's performance in Victoria & Abdul is excellent. He manages to take on a historical figure with maturity and ease. And he is able to hold his own against a stellar ensemble cast.
The film itself tackles true events in a sensitive way. Frears delivers an engaging cinematic experience for audiences to enjoy.
Victoria & Abdul releases in cinemas from 15th September 2017.