"I've known him (Diesel) for so many years and he has had so much faith in me."
Deepika Padukone – India's biggest superstar has stepped into Hollywood with a bang. Her debut film xXx: Return of Xander Cage has catapulted the star on to the international stage appearing alongside Hollywood superstar, Vin Diesel, who is Xander Cage.
From behind-the-scene featurettes, Vin Diesel and Deepika Padukone gelled quite well together.
Deepika plays the role of Serena Unger. The character is a fiery and independent woman of today's world. She is sexy, intelligent and is always observing and learning whilst completely standing up for herself. She joins Vin Diesel's specialist team to help combat the bad guys.
Being similar to Xander Cage, Serena 'sees a lot of him in her'. Their similarity brings them together as a team and you realise that she is in it for a much larger mission.
DESIblitz exclusively caught up with Deepika Padukone to talk about Return of Xander Cage. It seems like Vin has also been a major support during this 'exciting' journey into Hollywood: "I've known him (Diesel) for so many years and he has had so much faith in me, has given me a lot of confidence."
She adds:
"He (Vin Diesel) is someone who is very very generous and always making sure that everyone's well-taken care of and everyone's happy. That just makes the entire film experience more pleasant."
As they say, "with great power comes great responsibility." It is common knowledge that Deepika Padukone is a talented actress and she can also go to any lengths to fulfil her role. This, especially, is a commendable trait for a professional actor.
Watch the full exclusive interview with DESIblitz: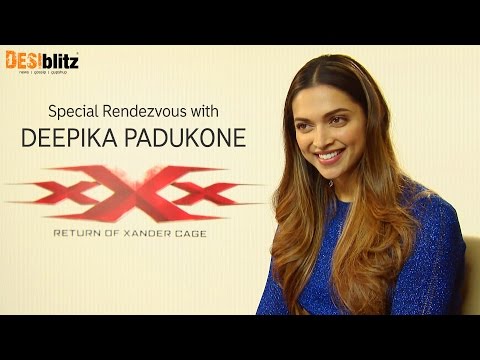 In preparation for an action-packed character like Serena Unger, one cannot imagine the training she underwent. Deepika tells DESIblitz:
"A lot of physical training, a lot of working out regularly and making sure I'm physically fit, eating correctly. Then all the stunt training I had to do, the combat and free-hand stuff I had to do. Plus, the weapon and gun training I had to do."
The action-thriller saw its grand Indian premiere at PVR Cinemas in Mumbai on 12th January 2017. With the presence of Vin Diesel and the film's director – D J Caruso both attending.
Vin describes how he was in awe of Deepika: "I was waiting for an opportunity to come to India. It was this queen here, this angel (who made it happen). It is such a blessing that she is in my life. Such a blessing to have someone in my life who is such a beautiful soul."
It seems like the blood, sweat and tears have been worth it. The movie had an early release in India, on 14th January 2017, and has already won the hearts of several critics. Ahana Bhattacharya of Koimoi praises how "she looks gorgeous" and "steals the show."
Similarly, Taran Adarsh of Bollywood Hungama mentions that Deepika "does justice to her role."
On the whole, it seems like Deepika Padukone has made an impact with a power-house performance in xXx: Return of Xander Cage.
The xXx: Return of Xander Cage debut is bound to open more doors for Deepika Padukone, who shows she is versatile enough to cross over to Hollywood from Bollywood with ease.