"If you ask me to describe the film in one word I would say 'nostalgic'"
Nostalgic is the feeling Jimmy Sheirgill uses to describe his latest Punjabi film, Daana Paani.
The popular face of Indian cinema is well known for his contributions to the thriving Punjabi film industry, and this latest venture that Jimmy stars in is a heart-warming period drama directed by Tarnvir Singh Jagpal.
Alongside Sheirgill, the film welcomes Simi Chahal, Nirmal Rishi and Gurpreet Ghuggi in key roles.
Set in the backdrop of the 1962 Indo-China war, the 47-year-old actor plays an army man called Mehtaab Singh who is given with the responsibility of personally informing the family of a martyr of his wartime demise.
During his journey, he comes across an oppressed young village woman called Basant Kaur (played by Simi Chahal).
The film revolves around their unexpected attraction and how fate plays a role in the dynamics of their relationship.
Daana Paani's storyline is developed on the timeless belief that 'If it's meant to be, it will be'. In a candid interview with DESIblitz, Jimmy reveals:
"Basically, it's how we say, 'It's already written as a fate for us'. You plan something but what happens is something else.
"Everything that happens, it's God's will in a nutshell. So, what's written… destiny, where it takes you, nobody knows. So, that's what the film is about. But it's a beautiful story."
Daana Paani's trailer showcases what no doubt promises to be a heart-touching story. Jimmy looks extremely impressive in his soldier avatar.
The actor, who is known for regularly donning military uniforms for films, seems to fit into his character with ease. But as Jimmy explains, it is the solid script of the film that truly stands out.
Sharing his experience of working on the film, Jimmy says:
"I enjoyed it. It was a refreshing break from the setups that I've worked in. For an actor, you know when you're working on a kick-ass story. The script is king, no actor is bigger than the script."
Watch our full interview with Jimmy Sheirgill here: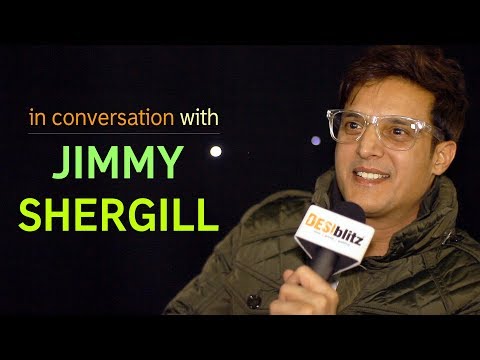 An enthusiastic young team and passionate writers such as Jass Grewal brought Jimmy on board for this Punjabi drama.
Joined at the helm by the talented director Tarnvir Singh Jagpal, the film reveals beautiful long shots and impressive cinematography.
Shot across locations such as Ganganagar, Rajasthan, the film's production design has been key since it is a period drama. Jagpal was very keen to ensure that the colours and dynamics of the period were kept as authentic as possible.
Another key element that instantly stands out is the film's music. Composed by Jaidev Kumar, the album consists of songs by popular Punjabi singers such as Harbhajan Maan, Manmohan Waris, and Amrinder Gill.
'Rabb Khair Kare' and 'Maavan' are already enjoying popularity since their release. 'Rabb Khair Kare' is a beautiful duet sung by Prabh Gill and Shipra Goyal featuring Mehtaab and Basant's old-world romance. 'Maaavan', on the other hand, captures the film's setting of the 1960s well.
Singer Harbhajan Maan mentioned in an interview with PTC Punjabi that the song 'Maavan' is very close to his heart. He said:
"Added to the fact that the song has folksy beats, it portrays the pure yet sorrowful relationship between a mother and daughter. 'Maavan' is probably one of the most favourite tracks of mine I have ever sung."
Music plays an important role in this film considering its situational placing. When asked about it, Jimmy tells DESIblitz:
"If you ask me to describe the film in one word I would say 'nostalgic' and to have that you need music too which is nostalgic. Very thankful to Jaidev Kumar who always gives his best for my films."
Director Tarnvir Singh Jagpal has clearly put a lot of thought into this film. His last film, Rabb Da Radio received positive responses from critics. With this new project, the young filmmaker appears to be redefining the standards of Punjabi cinema with his working style.
Acknowledging his efforts, Jimmy tells us more about the director's passionate team, and how vital this is for the future of Punjabi cinema:
"We need more people like these youngsters to make films selflessly and to make films for passion. I've been in the industry for 22 years and have never seen such passion before."
Expectations for the film are certainly high. With Sheirgill as the key draw, fans will welcome his return to the army avatar, particularly after his blockbuster hit Dharti, which is also considered a cult film in Punjabi cinema.
The seasoned actor has been a part of some Bollywood biggies such as Tanu Weds Manu, Saheb Biwi Aur Gangster series and popular Punjabi dramas such as Saadi Love Story (2013) and Rangeelay (2013).
Jimmy was recently seen in the Bollywood film, Mukkabaaz which was directed by Anurag Kashyap. He portrayed the role of the main antagonist which won him a lot of praise.
The actor has shown immense versatility since his debut in 1996 acting debut in Maachis, and fans will be eager to see more of him in this period drama.
Produced by Nanokey Studios & GK Entertainment, Daana Paani is one of the highly anticipated films of 2018 in the Punjabi industry. The movie will release in cinemas on 4th May 2018.