"BOSS is a fast-moving roller-coaster ride that gives you no time to think."
Despite his previous film Blue (2009) failing at the box office, Anthony D'Souza is back with a Bollywood action masala entertainer to please the crowds. Starring Akshay Kumar, Mithun Chakraborty, Shiv Pandit, Aditi Rao Hyari, and Ronit Roy, Boss released on October 16, 2013.
Akshay Kumar plays 'the boss'; a kindhearted Haryanavi gangster and Mithun Chakraborty plays his father. Akshay's younger brother is enacted by Shiv Pandit, with Aditi Rao Hyari opposite him:
"BOSS is a very colourful Haryanvi character and that's exactly what appealed to me. He is a larger-than-life figure from Haryana with his own distinct style and attitude. That forms the Masti [fun] part in the film.
"But there are some things he will neither forgive nor forget, highlighted in reference to a particular situation involving the most dearest people in his life. You don't mess with BOSS and that message is very clear," says Akshay, speaking about his character.
The so-called villain in the film is played by Ronit Roy, a ruthless police officer set out to bring the boss down. Boss is apparently a remake of the Malayalam movie, Pokkiri Raja (2010).
Boss has already beaten Ranbir Kapoor's Besharam (2013) and is the biggest Hindi film to be ever released, being distributed across 3700 and 3800 screens worldwide.
It is also the first Indian movie to release in the non-traditional territory of Latin America. It has released in Panama, Peru, Denmark and France in addition to the 400 screens already announced across Europe, North America, South East Asia and Australia.
Akshay is extremely pleased with the outcome of the film and believes it to be one of the best actions films to come out of Bollywood.
He says: "I would like to openly say that it is one of the best action movies because it has action which is raw, it has action which is man to man fight that is real action, so obviously people will enjoy it, I can promise that.
"It's different in many ways. The main reason is that we are offering the audience a different type of action movie that has a unique panache and style. Every action sequence is designed differently. BOSS is an intense film with a strong action backdrop, needed to drive a powerful story forward," Akshay insists.
Since Kumar has already played a gangster in Once Upon Ay Time In Mumbai Dobara (2013), comparisons between his characters have been made, however any suggestion that he may be repeating himself, bothers him:
"I am not inclined towards such roles, they just happen. In Boss my role is not of a gangster exactly, he is a good person, who does a lot of odd jobs for good cause. My role in Boss and Once upon a Time in Mumbai Dobara have different mindset."
To return all his love and support for his fans, Kumar planned a special screening for them at a suburban theatre in Mumbai, which was screened on October 15.
There are many films these days crossing the 100 crore club, and this puts pressure on all upcoming films to make that standard. However, Akshay admits he is not too worried about his film joining the same ranks.
He says: "I am not worried about being in 100 crore club. My film Oh My God [2012] topped about 82-84 crore and was a success despite not being in the 100 crore club because it was made only in 12 crores."
This film also marks a major break for newbie Aditi Rao Hyari, whose latest release was the unique Murder 3 (2013). Since Murder 3 catered to a more niche audience, Boss places her on a wider playing field.
She expresses: "A film like Boss promises to reach out to a larger set of people. It helps everyone, especially someone like me who has come into this industry without knowing anybody. As your base increases, so does the recognition, acknowledgment and appreciation that comes along with it."
"After Murder 3, Boss is the film that excited me the most. I had never done a film of this kind and I wanted to…they are enjoyable," she added.
Not only is this film packed with dhamaka, action and drama, it has entered the Guinness World Records for having the largest film poster, beating Michael Jackson's This Is It (2009).
The poster, which is 193 feet and 1 inch wide and 180 feet and 2 inches tall, was unveiled by Akshay himself at the Andheri Sports Complex on October 15 in the presence of his fans.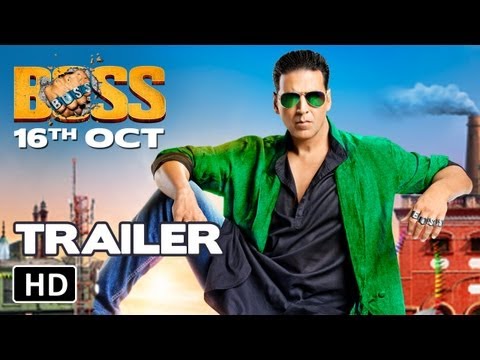 The soundtrack overall has received much positive feedback. The title song was composed by trio Meet Bros Anjjan and penned by Kumaar and Yo Yo Honey Singh. It is the typical entry song to introduce the hero and represent the film. There is also a remix version available.
There is a remake on the album that is one of the more popular songs, this time it's 'Har Kisi Ko Nahi Milta' from Feroz Khan's Janbaaz (1986). Notably, Arjit Singh renders the equally impressive second version.
The 'Boss Entry Theme', made by Sonu Kakkar with Khusboo Grewal and Meet Bros Anjjan, is what you can expect from an 'entry theme music', straight to the point.
In general, Boss has great tracks that will do well on music channels and in clubs, but 'Har Kisi Ko Nahi Milta', both versions, are without a doubt the high point of the entire album.
Taran Adarsh had positive response to the film. He summed it up to be: "Everything that spectators look for in masala fares – a daring hero with loads of heroism, the emotional chord between two brothers and their father, a corrupt cop, the fight between good and evil, a tadka of comedy, hummable soundtrack, clap-trap dialoguebaazi, lots of gravity-defying stunts.
"In fact, BOSS is a fast-moving roller-coaster ride that gives you no time to think… Watch this one – it's a paisa vasool entertainer!"
Boss will get the audience buzzing and will prove Anthony D'Souza's creative talent along with the encouragement of superstar Akshay Kumar. With a great supporting cast and lots of entertaining content, this film will most definitely set off on a high note.