"Befikre is the first Bollywood film to deploy the emoji"
Aditya Chopra's Befikre has become the first ever Bollywood film to enjoy its own emoji on Twitter.
Inspired by the film's European shoot, the customised emoji is the iconic Eiffel Tower made up of tiny pink hearts.
Fans of the Yash Raj Film can now use this specialised Befikre emoji via a series of hashtags.
These include, #UdeDilBefikre, #Befikre, #BefikreOn9th, #BefikreOn9thDec and #BeBefikre.
The super cool feature launched on 11th November 2016 and is the first ever emoji for a Bollywood film, although TV shows Bigg Boss and Koffee With Karan have also used this technique.
Be #Befikre and tweet away! #BeBefikre pic.twitter.com/utyTX0A5oV

— #Befikre (@befikrethefilm) November 11, 2016
Discussing this innovative marketing strategy, Manan Mehta, VP of Marketing & Merchandising at Yash Raj Films mentions:
"When marketing our movies at YRF, we constantly strive to push the boundaries of possibilities to delight and engage the audience with our content. Befikre is the first Bollywood film to deploy the emoji and we are stoked with the audience response."
The Eiffel Tower is an emblematic feature of Aditya Chopra's Befikre, which stars Ranveer Singh and Vaani Kapoor.
Especially after the trailer for the film was launched at the iconic monument – being the first ever Bollywood film to do so. It is expected that the YRF-Twitter collaboration will be fruitful in the long run.
Pratiksha Rao the Head-Media Partnerships for Southeast Asia, Twitter, comments:
"Yash Raj Films has been one of the leading partners of Twitter, and the marketing team behind Befikre has really innovated from sharing interesting real-time content to generating unique user conversation about the movie.
"This is the first time Twitter has collaborated with a Bollywood movie for a special emoji, which delights fans in anticipation of the movie release."
"We are excited to continue partnering with Yash Raj Films on their unique use of Twitter for Befikre and other upcoming projects."
Having recently released the Benny Dayal tracks, 'Ude Dil Befikre', there has been an immense buzz around the film, especially with its leading stars Ranveer and Vaani promoting the upcoming romance wherever they go.
Kya baat hai! A Customised emoji! Tweet #Befikre https://t.co/DfpGgxB99q

— Ranveer Singh (@RanveerOfficial) November 11, 2016
Watch the trailer for Befikre here: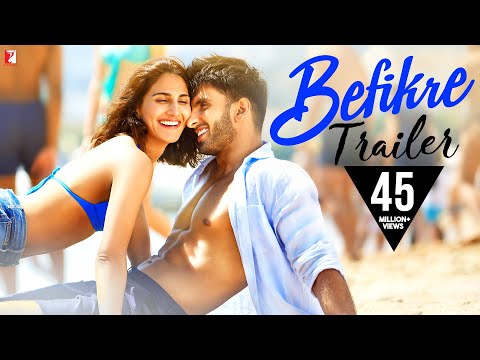 Befikre releases from 9th December 2016.
Be sure to make the most of the customised Befikre emoji on your social media!