Ranveer dons a brown cowboy hat, topless in his underwear
Following immense anticipation, the trailer for Befikre launched at the iconic Eiffel Tower in Paris on October 10, 2016.
As promised by the posters, this Aditya Chopra directorial depicts risqué and carefree love.
Befikre's trailer begins with the lead protagonists Dharam (played by Ranveer Singh) and 'psycho chick' Shyra (played by Vaani Kapoor), vowing never to say 'I love you'.
After a one night stand, we see how the couple leads a no-strings-attached relationship. This, of course, is proposed by Dharam who asks Shyra:
"So, I'm just saying, ek night some drinks, some dancing and some…"
Don't let your imaginations run wild yet, because Shyra certainly isn't easy to catch. On the condition that Dharam slaps a cop, only then will she hang out with him.
Being carefree, Dharam slaps the cop and that's when we see more from this free-spirited modern couple.
One of the highlights of the trailer is when Ranveer rapidly explains why the couple won't say 'I love you':
"Kyunki phir sab kuch emotional aur senti ho jaata hai aur masti ka 'the end' ho jaata hai."
But it seems like there are no boundaries for Dharam and Shyra. There are many sequences in the trailer which are risqué and of course, eye-candy to many.
Post his avatar in Bajirao Mastani as a royal emperor, Ranveer Singh fans will be stunned by his super-hot look in Befikre.
All you girls, hold your breath as Ranveer dons a brown cowboy hat, topless in his underwear. Oh, seigneur!
From the quasi-girl-next-door character in her debut Shudh Desi Romance, leading lady Vaani Kapoor fully exhibits her sexy, suave and swagger self.
Of course, there are also plenty skin-show quotients from Vaani Kapoor, especially during several bikini sequences, so watch out for her!
Whilst the Papon track 'Labon Ka Karobaar' released earlier in September 2016, we hear snippets of 'Ude Dil Befikre', which strikes instantly with the audience. One certainly looks forward to seeing what else composers Vishal-Shekhar have to offer.
You have no choice but to adore this refreshing Yash Raj Films romance!
Talking about the esteemed trailer launch, Ranveer says:
"It's very surreal. What more could we ask for. This is a romance set in Paris, the city of love. The iconic symbol (Eiffel Tower) is the backdrop for our trailer launch. Couldn't have asked for more."
The Ram-Leela star also adds:
"I'm not sure if it's the first Indian film or the first international film to be shot entirely in France, but we are very proud of this. We are very happy that we got such fantastic support from the country."
Watch the official trailer for Befikre here: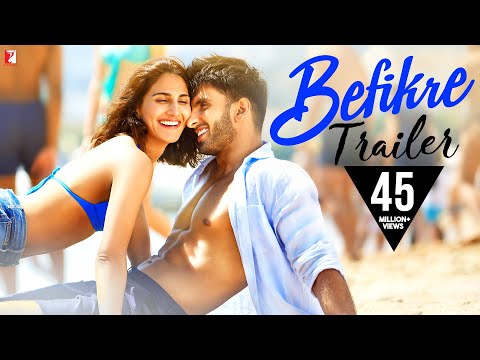 Befikre marks Aditya Chopra's fourth directorial venture since Rab Ne Bana Di Jodi and releases worldwide on December 9, 2016.