"There are some very explicit love-making scenes in Befikre."
While we are still getting over the hype of an alleged 23 kissing scenes in the upcoming Befikre, rumour has it Ranveer Singh will be going nude in the romance film!
An industry source says: "Befikre is like an Indian version of Bernardo Bertolucci's Last Tango in Paris.
"There are some very explicit love-making scenes in Befikre, to be shot realistically but aesthetically.
"Ranveer and Vaani will be working hard on getting their chemistry just right. Adi doesn't want to over-do or under-do the intimacy between the couple."
The 1972 cinematic masterpiece is known for its shocking and explicit sex scenes between Maria Schneider and Marlon Brando. We wonder how director Aditya Chopra will recreate this for Bollywood fans!
If Befikre is going to be as bold, passionate and provoking as it sets out to be, then getting Ranveer to strip will no doubt bring the plot and emotions to a whole new level.
And if the handsome hunk doesn't mind, we sure cannot wait for another magic potion of Ranveer after drooling over his picture-perfect body in Goliyon Ki Rasleela Ram-Leela!
The 30-year-old actor should have no issues with baring it all, seeing as he happily strips at parties and for Anushka Sharma in the music video of 'Pehli Bear'.
Fans love him even more when he became the first big name in B-town to endorse a condom brand in 2014 and is at great ease with talking about sex.
He says: "I am very comfortable with my sexuality and I am comfortable engaging in conversation and speaking about the subject of sex. I have no qualms and make no bones about it.
"In our country sex is still a taboo subject, which it really shouldn't be.
"Sexual well-being is a topic that calls for healthy discussion, education and awareness and should not be shunned."
Isn't he just the best? Just watch the fun and quirky 'Do The Rex' video here: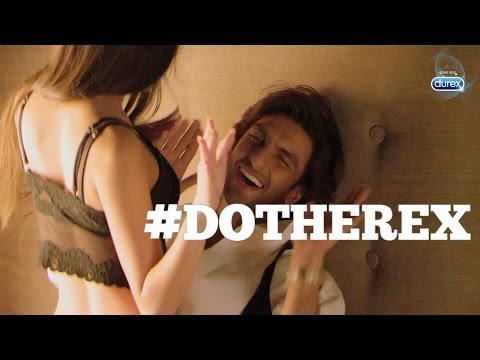 Befikre will mark Ranveer's reunion with Aditya who launched his career in Band Baaja Baaraat (2010). His respect for the acclaimed director only makes him all the more irresistible!
He says: "I am happy, super charged, there is excitement and energy. It's a light romance. It's a matter of great pride for me to be playing Aditya Chopra's next leading man.
"He is an incredible man. A true lover of cinema. He has an amazing business acumen when it comes to films."
Ranveer and Vaani are currently shooting Befikre in the city of love, Paris. The film is planned for release on December 9, 2016.