"There's an emoji for everything. Well, almost everything"
The popular dating app, Tinder, has urged the Unicode Consortium to create an emoji that is specifically related to interracial couples.
In a campaign entitled, The Interracial Couple Emoji Project, Tinder has launched a petition on Change.org asking users to sign a petition that could expand the emoji keyboard to feature interracial couples.
In a promotional video, the dating service states: "There's an emoji for everything. Well, almost everything. Isn't it time emoji represented all love?"
As one of the fastest evolving languages in history, emojis have failed to represent all communities since they were launched worldwide in 2011. Interracial couples, in particular, have been lagging behind in representation in the emoji keyboard.
In fact, it is only recently that more diverse emojis have been featured at all. In 2015, the Unicode Consortium finally added five different emoji skin tones. This was after several calls were made for greater diversity to be included in emojis.
When iOS 8.3 was released in April 2015, Apple released a range of emoji aimed at increasing diversity. Those featured in the update included same-sex couples and families, as well as families with same-sex parents.
However, all family and couple emojis are currently available on iOS in the default skin tone with no options for changing skin colour.
Microsoft's Windows was the first platform to roll out interracial emoji in January 2017. Accessing it, however, meant copying and pasting through a web browser rather than accessing it through the emoji keyboard.
Emojipedia's Chief Emoji Officer Jeremy Burge spoke about the challenges that lie ahead for creating an interracial couple emoji.
Jeremy said: "Other platforms like iOS have 3D-rendered images that all need to be created and stored in an emoji font on a device.
"A font file with 52,000 colour emoji images wouldn't be possible using Apple's current emoji font today due to memory limitations on mobile devices."
Tinder has said that with this petition it is "fighting for emoji equality". And that "all races should have a place on your keyboards".
According to Emojipedia's list of the top 30 most requested emojis, interracial couples are the fourth most requested emoji. They feature behind "bearded face", "dab" and "cross-eyed face".
In the petition, Tinder also mentions how a proposed emoji can take up to two years to complete the review, approval and standardisation process.
Watch Tinder's video for The Interracial Couple Emoji Project here: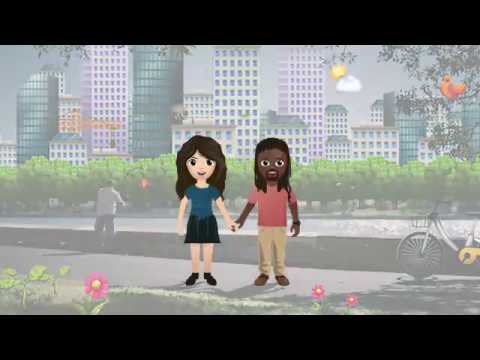 At the time of this article, Tinder's petition for an interracial couple emoji has hit its 5k target and is currently at over 7,000 signatures.
Let's hope positive changes are being made with this petition to finally represent the interracial couples' community with their own series of emojis on the emoji keyboard.