"He's actually the first true love for music we had."
THEMXXNLIGHT are a fascinating R&B collective who have released their smash-hit 'Naughty or Nice,' featuring hip-hop legend, Wiz Khalifa.
Real names Krish and Akash Chandani, the identical twins have emerged as America's next big superstars.
They have showcased their tremendous talent in their new song, which was released in July 2021.
Originally born in California, the 25-year-olds have set the music world alight with their soul-hitting melodies and immersive ambience.  This is an ode to their main musical influence, The Weeknd.
Although, as multiinstrumentalists, the pair have been obsessed with musicality since school.
Playing incredible instruments from the violin to the saxophone, the superstars can create a sultry, yet intriguing sound.
So, there was no doubt that the musicians would soon flourish amongst the competition.
However, THEMXXNLIGHT believes it is the pride they take in their Desi upbringing, which has set them apart, especially within the American music industry.
Taking major inspiration from raag-style tones, their tracks are infused with Indian structures and rhythmic harmonies.
This is one of the main reasons why the popular duo have gained a mass amount of notoriety. Not only from fans, but from the likes of Megan Thee Stallion, Travis Scott and Mickey Singh.
With insane vocal ranges, gripping lyrics and robust bass lines, THEMXXNLIGHT have found a unique recipe to continue their worldwide takeover.
DESIblitz caught up with the iconic twins to talk about the new song, their relationship with Wiz and the importance of South Asian artists.
A World of Music
As siblings, THEMXXNLIGHT have encountered everything with each other and they both were exposed to musical artistry at the same time.
During school days, it was the vibrant noises of different instruments that captured their hearts. As they began playing, their understanding and love for music started to grow:
"We started playing musical instruments like the saxophone, drums, violin, guitar, piano, we played a whole bunch."
As many listeners are surprised to learn of the might pair's vast skillset, THEMXXNLIGHT emphasise:
"A combination of all these sounds and also listening to Bollywood music definitely shaped our love for music."
The culmination of numerous voices and intricacies allowed a strong foundation for the twins to build from.
As their appreciation for instrumentation grew, their influences also did.
Taking note of iconic singers like Michael Jackson and Sade, the musicians have infused their songs with the same charisma and excitement.
Then, between 2014-2015, the artists started to gravitate towards more modern and captivating singers like Chris Brown and The Weeknd, stating:
"Artists like this really inspired us to look into music and take a deeper dive into what new R&B and music are really about."
Continuing their admiration for The Weeknd, they declared:
"He's actually the first true love for music we had. The first true love for singing we had.
"He's the reason why we started making the style of the music we make."
These numerous avenues paved by established musicians motivated the singers to explore this new wave of R&B.
However, they were more excited by renovating this sound by applying their knowledge and cultural roots to their productions.
Playing by Ear
Interestingly, THEMXXNLIGHT had stopped playing instruments after they finished secondary school.
When they attended university at Rensselaer Polytechnic Institute in New York, they were still focused on music but wanted to develop their vocal strength.
Shifting their attention towards singing, the musicians started to train their voices but only had limited resources. This meant the twins had to teach and learn themselves, an impressive feat for any singer.
However, they explained that it was the early involvement with instruments that really helped their singing practice:
"I think the fact that we played our instruments by ear, and then we learned to sing by ourselves, that had a very huge impact on our creative freedom and the way we just freely sang.
"Because we could play by ear, it really helped us with our vocals too because the melodies and the tunes came more naturally.
"The teacher herself said that we definitely had a talent."
Playing by ear is a very poignant technique within music. It means an artist can reproduce a sound they hear from memory, without the need for sheet music.
So, the fact that the brilliant collective could apply the skill in this method to singing, highlighted their promising potential as musicians.
As the duo started to get into their groove and create music seamlessly, they released their debut track 'No Problems' in 2015. This is a song that epitomises techno waves and honeyed hooks.
It wasn't until their career-defining release, 'Drunk' (2018), where THEMXXNLIGHT were contacted by Sledgren. He is the producer for Wiz Khalifa's label, Taylor Gang.
Collaborating with Wiz Khalifa
After admitting he was a fan of their music, Sledgren and THEMXXNLIGHT stayed in consistent contact. They updated each other on new releases, upcoming collaborations and future projects.
The iconic producer would send beats to the twins so they could bless the song with their stunning hooks and Desi-inspired transitions.
After five months of communication and joint ventures, Sledgren admitted he had showcased the twins' songs to other major artists, including Wiz Khalifa:
"One morning after studying for a math test, we got a text from Sledgren and it was a video of Wiz Khalifa in the studio bumping one of our songs. We went totally crazy!"
This was the turning point in THEMXXNLIGHT's career, as they were then invited to a listening party for Wiz Khalifa's 2018 album, Rolling Papers 2.
The pair recall a surreal moment where they were surrounded by Wiz and his entourage.
Here, the notable rapper confessed that they would feature on three tracks on the album. These were 'Mr Williams/Where is the Love', 'All of a Sudden' and 'Homework'.
All three tracks have over 450,000 views on YouTube. The smooth chords, head-nodding beats and decadent hooks showed off an impeccable fusion of rap, R&B and trap.
The humble attitude of THEMXXNLIGHT left them in disbelief at the success of the tracks and the feedback from the Taylor Gang label:
"Shout out Sledgren for discovering us, truly, and introducing us to Wiz because that was the main turning point in our career.
"He really thought our sound was very unique and eclectic."
This meteoric rise signifies the musicians' relentless attitude towards creativity and their craft. Hence, they began to receive countless opportunities.
'Naughty or Nice'
As solidified artists within the industry, the singing twins have stayed on a formidable run since their 2018 breakthrough. This is highlighted by their 2021 release, 'Naughty or Nice'.
Intriguingly, the song was originally completed in 2018 when Sledgren would send over beats to THEMXXNLIGHT.
At the time, the musicians were oblivious that they would feature on Rolling Papers 2. Thus, they jumped at the chance to make a song to a Sledgren instrumental.
Luckily, the dup saved the original song as they recall how Wiz ended up featuring on the track:
"After being in the studio with Wiz for a hundred times, there was one day where Wiz was just like, 'yo, do you guys have anything for me to record on?', 'do you guys want any features from me?'.
"So we just pulled up the song and he loved it and he stood up in the studio and recorded it right there and then."
Although the artists had numerous joint projects by this point, 'Naughty or Nice' is the duo's maiden feature with Wiz.
This marks a poignant moment in history. It is the first time that artists of Indian descent have collaborated with the American rapper:
"That was a very special feeling for us. We never imagined that kind of situation would arise."
"Usually it was more like a setup where our collabs would happen, but this was a fully natural way of collaborating, which was great."
The incredible song oozes with vibrant hits of bass, hypnotic tones and sensuous vocals, along with holding on to that chilled production and tantalising melodies that the musicians are known for.
The project is a mesmerising anthem, hence, the epic success it has already achieved.
With over 988,000 Spotify plays and over 2 million YouTube views on the spellbinding music video, it is incredible how these Desi musicians have blossomed.
Likewise, it showcases how South Asian musicians are slowly penetrating more western genres of music.
The South Asian Influence
Even though THEMXXNLIGHT are known for their American takeover, they do not shy away from their South Asian roots.
Without even hearing their music, the name of the artists is the first indication of the pride they take in their culture:
"Our last name is Chandani. I guess when you're speaking in Hindi, it's 'Chandini', the way you pronounce it.
"I think everyone knows that 'Chandini' means the 'moonlight', it's a direct translation. So that's how we got our name."
Curiously, the duo went by a different name before this that referenced the twin sons of Rama and Sita:
"We actually used to go by a previous name called Luv Kush.
"When we were Luv Kush, it was going well because of the Indian twins, Luv and Kush, but people in America didn't quite get it.
"So we had to come up with a name that was mysterious, R&B, unique."
This endearing infatuation with South Asia has enabled them to create an extraordinarily original image.
By creating a cultural depth to their songs they have penetrated the charts as well:
"I think the fact that our sound comes off as so fresh and new is because we are Indian and we incorporate a whole versatile set of sounds.
"I definitely think our South Asian roots plays probably the biggest role in our music."
This shows how THEMXXNLIGHT is incorporating the different factors of their upbringing, surrounding and experiences in their career.
Although, this is not just shown through their image and name. It is also noted through the proactive roles they've taken in teaming up with Desi artists.
Diversifying the Catalogue
Well aware of the talent and artistry that India can produce, the twins teamed up with Sony Music India in 2020.
Although they went on to become independent, the label helped THEMXXNLIGHT to release their EP Mashallah (2020).
The striking five-song EP is a multilingual masterpiece where the twins teamed up with a variety of Indian musicians.
For example, 'Intezaar' featured Indian rapper Ikka. The classy tune gave way for Ikka to deliver an impactful verse whilst the twins created a mystical atmosphere, reminiscent of a Travis Scott record.
The title track 'Mashallah' featured Indian twin singers Sukriti Kakar and Prakriti Kakar.
The back and forth between the two pairs of twins is a thing of beauty. Not to mention the soulful Indian flutes, distinct hi-hats and enriching vocal notes that soothe the ears.
In addition, the creative stars teamed up with Indian rapper Emiway Bantai for their project 'Night Rider' (2020).
Surpassing 6 million YouTube views, the catchy chorus, high-pitched tones and raw rap convey a consistent yet fresh record.
THEMXXNLIGHT express how these collaborations are down to their upbringing:
"The whole reason why we are so unique is because we have these Indian raga style melodies that we were born listening to."
They go on to reveal how their cultural projects are there to make an impact and not just to showcase their artistry:
"We definitely want to keep working and going upwards."
"Making people realise that we're here to make the R&B sound really stick to the Indian culture because it's not really super apparent right now."
With such grateful personalities, the twins have never lost track of their enriching foundations within music.
More importantly, recognising that their notoriety can influence and motivate other South Asian musicians to follow in their footsteps.
Their portrayal and appreciation of Desi instruments and sounds transcend to listeners and artists alike.
Making that Difference
Although they have an array of appreciation for their culture, THEMXXNLIGHT expressed their dissatisfaction with the progress of the South Asian music scene:
"I think that there is a lot of room to improve. I do think that there needs to be more representation and more guidance, in terms of artists that directly come out from India."
However, where some Desi artists conform to western personas, the twins want others to feel confident. This is to the point where they know they will prosper within music.
Their intuition and understanding of the scene compliment their ambition to make a difference for these artists.
In addition, the twins feel that established musicians like themselves should initiate this kind of change:
"We really need to make more of a stamp…on the culture and on the representation.
"I think that's our goal is to really push that forward and make sure people know that we're Indian."
Although with previous megastars like Jay Sean and successful Indian rapper Nav, THEMXXNLIGHT can see some progress:
"Now I see a lot more creativity, a lot more encouragement happening. I think there's a lot more team building as well within the Indian scene."
This encouraging take from such young musicians proves that South Asian artists are beginning to prosper across the world.
Their talent speaks for itself and it serves as an uplifting story for any singer, rapper or instrumentalist out there.
Continuing to Prosper
With such an exhilarating and versatile outlook on their careers, THEMXXNLIGHT are adamant to become a bigger success than they already are.
Thankful for all the gigantic icons that they have already worked with, the twins show no signs of stopping.
With their legendary collaborations with the likes of Wiz Khalifa, Emiway and Roy Woods, the singers want to reach the pinnacle.
Even though they want to improve different sectors of music, they also mention a bigger aspiration they have in mind:
"Our goals are to be the biggest…twin duo of all time.
"Hopefully that inspires other twins and other siblings to start making music together or to start doing other activities and other passions together.
"Because it's just always amazing when you have siblings to pursue your passion with."
This exemplifies how important music is to the singers and how they've held on to South Asian traditions like togetherness and family.
Moreover, the audience will be ecstatic to learn of upcoming projects from the twins. They are boasting a Desi type of resilience until they reach ultimate glory:
"We probably have a hundred plus unreleased songs."
"We have seven plus unreleased videos that are fully done, high quality, ready to go. So we have content ready for the next year, two, three years even.
"Other future projects that you can expect from us definitely include Indian albums, more work with Indian artists."
Watch our full interview with THEMXXNLIGHT: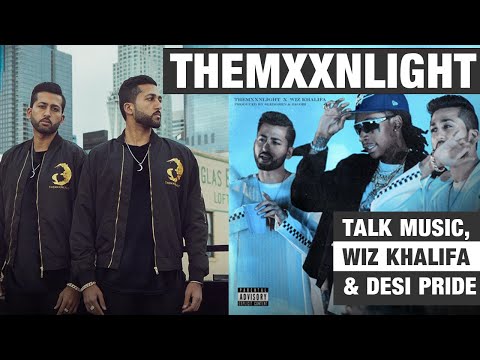 This vast amount of projects is shocking, even to fans of THEMXXNLIGHT, but portrays their ability in making top quality content in a short amount of time.
Without forgetting their South Asian counterparts, the singing duo remain virtuous and this will guarantee their innovation within music.
Held in such high regards by moguls like Wiz Khalifa will surely put more listeners onto the superstars. Whilst it also allows for THEMXXNLIGHT to introduce new Desi artists to the American rapper.
Their monumental journey has been formidable. Multiple achievements and recognition will undoubtedly give the twins a bigger platform, continuing their unique rise to the top.
Check out 'Naughty or Nice' and the rest of THEMXXNLIGHT's original tracks here.