"As a woman, you're always expected to do certain things."
The highly anticipated return of the music event, London Remixed Festival 2021 is happening, but with a twist.
Singer and producer Noni-Mouse and Mumbai based hip-hop band, Swadesi are some of the exciting desi highlights of the festival.
Taking place from March 26-27, 2021 at 8 pm-1 am (GMT), the festival is taking place at Lost Horizon. This is the world's largest virtual reality music and arts complex.
The impact of the global pandemic has meant that London Remixed can not exist in its usual form in 2021 but is mutating to survive.
Taking the Festival to Lost Horizon in VR has opened up a world of infinite musical possibilities.
The digital evolution has provided a platform to deliver a dream global line up, working with incredible partners in the UK and across the globe to showcase sensational artists from their hometowns and current locations.
Connecting countries and continents, the event is hosting an incredible line-up. This is to celebrate different genres and sounds from around the world.
Joining artists from Peru, South Africa, UK and more, the London Remixed Festival 2021 is partnering up with some talented musicians.
South Asian artists are one of the focal points for the 2021 festival, highlighting the progress of music specifically coming from India.
Nutkhut/Mela Partnership is a key partner for the London Remixed Festival. Ajay Chhabra, founder of Nutkhut and Artistic Director of London Mela exclusively told DESIblitz:
"A period of deep change and adaptation has brought new people, new artists and new ways of working together.
"Working on a programme that represents the multi-layered sound of the Global South Asian Diaspora has been a timely and necessary journey.
"The London Remixed Festival 2021 is an opportunity to remind us of hope."
International partner and Indian record label, Azadi Records, will be there showcasing some of their incredible talents.
Critically-acclaimed Indian MC Prabh Deep will also be one of the Azadi musicians performing at the iconic event.
Fans are keen to witness Deep's immersive sound and the soothing vocals of his debut album, Tabia (2021).
Also, the electronic melodies of Noni-Mouse and insightful lyrics of Hip-Hop group Swadesi will be on show.
Both hailing from India, the distinctive musicians are eagerly awaiting to showcase their musicality to fans.
DESIblitz spoke exclusively with both artists about their journey and the thrill of being a part of the festival.
Noni-Mouse and The Ambition of Her Unique Sound
The Mumbai native is a female singer, songwriter and producer who focuses on emotive yet diverse music.
Her electronic and synthetic tones are everpresent within her songs.
Incorporating the contrast of soft hi-hats and gentle melodies, she cultivates a sultry yet explosive retro sound.
Her inspiration stems from musical car journeys with her father listening to cassettes. This allowed her to appreciate traditional Indian melodies:
"Growing up I've heard a lot of Ghazal's and loads of old Bollywood with my dad."
She adds, saying:
"I love the fact that these old songs had so much focus on vocals and emoting through vocals. That's exactly what I like to go for in my music too.
"I know that in a lot of my arrangements, those kinds of influences really come through, especially in terms of vocal melodies."
The unusual fusion in Noni-Mouse's music is built upon her love of instruments.
Her relationship with traditional Indian instruments mixed with her passion for the modern keyboard transcends through her songs.
Playing "some tabla, some sitar" and having a keyboard to use "in multiple ways" means her music doesn't lack originality.
Although the techno-fuelled instrumentals shine in the majority of her tracks, she still exudes powerful and affectionate lyrics.
In 2019, her hit song "Closer to You" featuring Matt Dumas, demonstrated this raw emotion.
The track was not "curating sounds and samples" that just merely fit.
It was more about producing a track that exemplified feelings of sorrow yet togetherness. She expresses:
"I like to invest a lot of time into deciphering what kind of emotion is coming across.
"What kind of mood is it creating? What type of vibe is it creating for those who are listening?
"There's a lot of focus and attention, not just on the mix, not just on the arrangements, but also the overall picture and what does it really say."
The attention to detail is not just kept for music. Noni-Mouse is also trying to cast a light onto female artists within the industry:
"I feel like if you want to get booked for playing certain gigs then you have to present a certain type of image."
However, the London Remixed Festival has provided a great platform for budding female musicians.
All-female dhol group/DJ band Eternal Taal, female empowerment rapper HorsePowar and Punjab native singer Amrit Kaur are all featured within the festival line-up.
These artists' musical diversity will provide a much-needed insight into the South Asian female talent within the industry.
It's extremely important to these musicians that their talent speaks for itself, whilst going against male-dominated assumptions. As Noni-Mouse explains:
"You have to look a certain way or you have to play a certain kind of music.
"As a woman, you're always expected to do certain things. I love doing gigs where I show up and don't sing. I'll play a very hardcore dance music set for an hour.
"If we really want to include women more, it has to happen more at the ground level.
"They are not being encouraged enough to enter the industry in the first place.
"That's where we need the funds, that's where we need the help, that's where we need the resources."
Offering her advice, Noni-Mouse continues stating:
"If you want to be good at what you do, please make sure you learn and spend enough time practising.
"Don't overthink it and don't second-guess everything. If something feels right, do it.
"People like to put on this façade where they like to pretend they're absolute masters at what they're doing.
"Maybe in some way they are, but if you keep at it, you'll get there.
"I promise you, just don't hold yourself back."
This tenacity is the reason behind the progressive status of Noni-Mouse among other musicians.
With numerous eyes on the London Remixed Festival, Noni-Mouse has welcomed the challenge of performing at her "first international festival."
Being able to produce a show-stopping performance has been the priority for the experimental artist.
With a diverse musical catalogue, Noni-Mouse feels "extremely lucky" to be able to showcase her impressive skillset:
"I'm so happy that I'm able to share my sound with a whole different audience.
"I feel like artists like me can really use the push and visibility that comes with a platform like this."
Her electronic ambience, authentic lyrics and musical awareness will definitely resonate at the festival.
Watch an Exclusive Video Interview with Noni-Mouse here: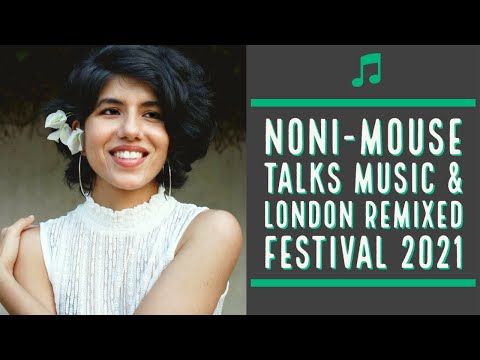 Swadesi and The Importance of Change
The five-member multi-lingual rap group have emerged as prolific storytellers within Indian Hip-Hop.
They stand out as one of Gully Rap's innovators, a movement that started a decade ago within India.
It is a genre of music that emphasises poverty, corruption and crime using local slang and languages.
Their art form aims to mirror society and the tribulations within everyday life. This goal led Swadesi to be featured on the soundtrack for the movie, Gully Boy (2019).
Starring Ranveer Singh and Alia Bhatt, the movie had American Hip-Hop legend Nas as an executive producer.
Their song "India +91" and the issues they raised propelled Swadesi to mainstream stardom. However, they are extremely cautious about remaining grounded:
"Rather than focus on the commercial side or give in to the mainstream industry, we like to engage with socio-political issues and grassroots people's movements."
Swades also add that they want to "highlight the problems facing our country."
Taking inspiration from other artists, Swadesi aim to be as transparent as possible:
"We felt connected to other rappers and always loved how they portrayed their lives which we felt represented our reality."
Their ambitions to spread awareness of injustices within India have exemplified their personal relationship with their surroundings.
Their unfiltered lyrics are fused with essences of "Indian folk culture and old-school Hip-Hop," This result in them producing hard-hitting tracks.
Swadesi's "The Warli Revolt" is the most notorious track that uses these sounds in an artistic way that projects their message.
It has been streamed over a staggering 445,000 times on Spotify and viewed over 1 million times on YouTube.
The track describes the destruction of the Aarey colony. This is one of the last natural green spaces left in Mumbai.
Swadesi touch on this, expressing:
"We have been visiting Aarey since we were kids. It's been our hangout spot for ages."
"When we started seeing the destruction of forests, we were quick to make people aware of the tribals living in the forest."
However, their intentions are not just to bring awareness of deforestation, but also to shed light on the loss of the tribals tradition and identity:
"Their culture, music, food, art and sustainable lifestyle inspired us to research more about the tribals of Maharashtra.
"The conditions they live in, how they have been not receiving electricity, been evicted from their homes, forced to live in 250sq feet houses."
Later adding:
"This injustice led us to raise our voices that led to collaborating with Prakash Bhoir, the chief tribal of the Warli community."
The bassy rhythm, war-like drums and frantic percussions illustrate their urgent "care for people and nature".
They warn of growing concerns and a future revolution if no progress is made to sustain life and protect the people.
It was this collaboration that sparked waves of unity from listeners to bring about change.
The socio-political messages behind Swadesi's music have given fans a taste of what's to come at the London Remixed Festival 2021.
Fans will be hoping for some more creative music from them. They have good memories of their previous projects such as "Ta Dhom", "Sthiti" and "Shambhar Bars."
Performing at the festival, Swadesi are hoping that this "opens up the opportunity to voice our concern to an international audience beyond our national borders."
The energetic, insightful and passionate aura of Swadesi will undoubtedly be on show.
The traditional sound of Hip-Hop underlines their music. Though, it is their vivid and unfiltered portrayal of world issues is what set's them apart.
A Chance Provided
The London Remixed Festival 2021 will evidently provide a major insight into Swadesi, Noni-Mouse and other adept musicians.
The worldwide attention to the festival will bring a sense of normality for many music fans who have been without festivals due to Covid-19.
However, the virtual reality component of the festival will be innovative for festivals moving forward.
Not only does this comply with public safety, but it also allows a whole new audience to experience festival culture and diverse performances.
As Ajay Chhabra notes:
"We've fast-tracked change in the arts by pressing the reset button and working with artists across the world on one single event.
"Multiple identities, completely connected through a musical identity of rhythm, feeling and meaning."
With an abundance of contrasting sounds and skills, fans will be grateful to be in the presence of elite musicality.
With many artists on the verge of skyrocketing towards the top, the London Remixed Festival 2021 will be an incredible milestone in their careers.
The 2021 festival is free, with viewers able to experience it in full VR and via Sansar, a social, virtual reality platform.
The pay by donation festival is also streaming via Twitch. Find out more information, especially how to join here.