"It coolly and deftly averts every cliche"
The 2019 Birmingham Indian Film Festival showcased the not-so-typical love story of Sir (2018). Sir depicts the story of a young and prosperous Indian man who falls in love with his servant.
This unconventional love story brings light to the issues surrounding class structures and the role of women in India.
Servant Ratna (Tillotama Shome) comes from her rural village to work in Ashwin's (Vivek Gomber) home in Mumbai.
Ratna is widowed at just nineteen-years-old because her husband dies a couple of months into the marriage. This female protagonist is an inspiring example of a woman who breaks through cultural barriers.
By doing so she is able to achieve a relatively high level of independence. She is a servant, yes, but with the extra money she earns, she has a powerful impact.
Ratna sends money back to her family so that her sister can be educated. She also pays for her own lessons in tailoring. This investment brings her one step closer to her dream job as a fashion designer.
DESIblitz attended the screening of Sir at the fifth Birmingham Indian Film Festival. Let's take a closer look at the film:
Strong Female Lead
Sir opens with the young Ratna packing her bags to leave home.
Her family is upset that she is leaving earlier than expected. But she confidently assures them that they don't need to worry. She then begins her journey from her rural village to Mumbai.
As Ratna embarks on a bus ride, she takes out bangles from her bag and puts them on.
Later it is revealed that as a widow she should not be wearing bangles. But women in Mumbai assure her that she can do whatever she wants in the city.
This opening scene begins to paint the picture of Ratna being independent and sure of herself. She is calm and self-assured from the very beginning.
She is also a brave character. Moving away from home to an unknown city is never an easy thing to do. She also takes it upon herself to enrol in a tailoring course and balances this with her domestic work.
Comedy is a key feature of this romantic film. At one point the male protagonist Ashwin (or as Ratna calls him, Sir) tells Ratna that she is brave.
Ratna responds with an unthankful and slightly embarrassed "okay" and rushes out of the room. Ashwin is a little confused, but then we see Ratna asking a member of staff what "brave" means.
Ratna does not want to admit it, but it becomes clear to the audience that she had no idea what the word meant. Hence, did not know what to say.
When the member of staff enquires why she wanted to know what brave meant, she responds by saying "no reason" and quickly closes the door.
At this point, the audience at the Birmingham Indian Film Festival 2019 burst out in laughter.
Pushing Cultural Boundaries
Life is not always easy for women in India. Especially for poor and uneducated women. There are certain expectations that can result in women being less economically independent.
In the case of Ratna and her family, there was an expectation for her to marry young.
Ratna explains this to Ashwin, telling him that she felt pressured to marry. She says that the wedding was rushed because the husband's family offered to marry Ratna without a large dowry.
In reality, however, the groom's family wanted a quick wedding because the husband was terminally ill. They withheld this information from Ratna's family.
This left Ratna a widow at the age of nineteen. Unfortunately, this meant that she had less chance of marrying again in the future.
However, Ratna breaks through any obstacles and decides to take the brave step and earn money for herself. Ratna works hard enough as she sends money back to her family. She is particularly focused on funding her sister's education.
Ratna explains that she wants her sister to live her life. Ratna is consequently heartbroken when she receives the news that her sister is planning to stop studying in order to get married.
Being financially independent to fund her sister's education is a massive step.
It allows her to break down the cultural barriers that she was faced with.
In addition to this, she earns enough money to be trained in tailoring and makes her own clothes as a result.
This is despite being disheartened when she visits a designer dress shop and is assumed to be a thief. The shop staff believe that the clothes Ratna is wearing prove that she is not worthy of their trust or respect.
Love Isn't Easy
In all romantic films, there will be a part where the love story struggles.
For Ranta and Ashwin, their struggle is revealed the moment they start to have feelings for each other.
Ashwin's best friend notices the way Ratna and Ashwin talk to each other and instantly understands that they have a romantic connection.
He quickly confronts Ashwin, telling him that he cannot be with her because of their differences in term of social status.
Ashwin tells him that she is the only one who truly understands him. His friend says that if he really likes Ratna, he should leave her alone.
Ashwin seems unable to do this. He likes her too much to allow cultural barriers to get in the way.
Ratna confronts him and expresses that they cannot be together because people will laugh at them. Ashwin tells her that he does not care.
Ratna, however, does care. She scolds him for asking after her at a dinner party. She tells him that the other servants teased her about it and that the experience was humiliating.
Ratna is terrified of the social stigma that she could face if she openly reciprocated Ashwin's feelings.
But when you're truly in love, does it really what others think?
To find out what the couple decides is more important, you will have to watch the film for yourself!
Watch the Trailer for Sir here: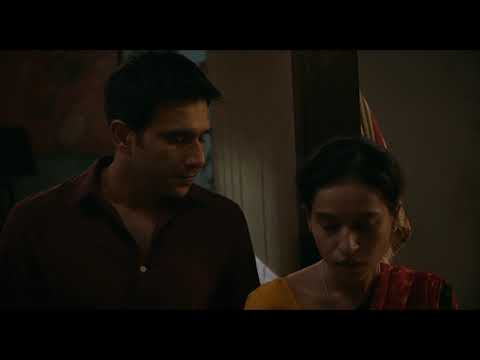 Sir is directed and written by Rohena Gera who was the screenwriter for the first season of the popular comedy series Jassi Jaisi Koi Nahin (2003-2006).
Besides Vivek and Tillotama, the Sir also features Ahmareen Anjum (Devika), Geetanjali Kulkarni (Laxmi) and Rahul Vohra (Haresh).
An IMDb user giving the film a positive review wrote:
"From the moment the real collision happens and a spatial barrier of sorts is severed is where the mettle of the writer and so also the film is tested.
"And it's actually from this moment that the film soars way beyond what one had expected."
"It coolly and deftly averts every cliche and possible corniness that a story like this could have moved into and instead surprises you with such a rise that few films are able to."
If you're interested in a Cinderella story with a modern-day India twist, Sir will be the perfect film for you.
Sir, which was screened at the Midlands Arts Centre as part of the Birmingham Indian Film Festival 2019 has won the hearts of the audiences.