"Ritesh Batra is once again able to do a good movie"
After boasting an array of independent South Asian films, the 2019 Birmingham Indian Film Festival (BFF) has been brought to a close, with the coming of age drama, Photograph.
The film was shown at the Midlands Arts Centre on 1 July 2019. The film was sold out days before the screening, indicating much anticipation for it.
Having made its world premiere at the 2019 Sundance Film Festival, Photograph was well received by critics.
Photograph had a successful English Premier at the 2019 London Indian Film Festival (LIFF) Audiences at the 5th Birmingham Indian Festival also applauded the film.
Led by award-winning director Ritesh Batra of The Lunchbox fame, Photograph stars excellent Indian actors.
DESIblitz were there to witness the finale of BIFF 2019, and to review the atypical feature.
An Unconventional Storyline
Though an independent film, Photograph graces us with familiar faces.
Actors in the film include Nawazuddin Siddiqui adopting the protagonist, Rafi, and a special appearance from veteran actor, Vijay Raaz.
The film opens with a snapshot view of the bustling city of Mumbai. This is where we are first introduced to an unenthusiastic street photographer, Rafi.
He sheepishly tries to grasp the attention of passers-by.
This is then contrasted with a quiet and humble household, where we first set eyes on Miloni Shah (Sanya Malhotra). She is a hard working accounting student who lives with her parents.
The offbeat characters have an uneventful first encounter. A desperate Rafi coaxes Miloni into buying a photograph for a discount price of Rs 30 (35 pence).
Despite reluctantly agreeing she walks away without her photograph. This leaves Rafi in a state of confusion as he had a photograph of a stranger.
In the midst of this, viewers get a glimpse into both Rafi and Miloni's lives. The audiences again witness a stark contrast in their lifestyles.
Miloni has a closely knit family. Whereas Rafi mainly has a group of friends with whom he shares a living space. However, he also has a grandmother who lives across the country.
The grandmother is desperate for her grandson to settle down. We also come to find that she is his only family.
With Miloni's photograph still imprinted on to his mind, he childishly conjures up a love story. He writes a letter to his grandmother, informing her that they are ready to tie the knot.
This is a big contrast to the house of Miloni. As everyone shares a family meal at the table, Miloni's mother speaks of her daughter's desire to be an actress.
While they mock her unrealistic goals, Miloni stares wistfully into the distance. We bear witness to Miloni's overlooked dreams and the dissatisfaction of her seemingly successful life.
Eager about sticking to his story, Rafi approaches Miloni and explains his predicament.
With his grandmother due to visit shortly, he has no choice but to request a favour from Miloni. He asks her to be his acting fiancee for a few days.
Miraculously, she agrees. The pair then meet numerous times, in the desperate hope that Rafi's grandmother will believe them.
When the two first find themselves alone, they exchange an awkward conversation and have little to talk about.
However, as they spend more time with each other, while the conversations remain formal, they bond over trivial matters. They speak about their favourite childhood drinks and ice creams.
Throughout this, they begin to feel more comfortable in each others' presence and are no longer affected by their troubled personal lives.
Unlikely Duo
Miloni, a Gujarati from a well off family, lives an entirely different life to Rafi who struggles to make ends meet.
In order for Rafi's grandmother to approve, he gives Miloni a new identity, naming her Noorie.
Whilst adopting a new character does not come naturally to Miloni, she seems to enjoy her alter ego. This is a big change to her bleak life, living at the behest of her parents.
Subtle references are consistently made towards social class systems throughout the feature.
Miloni's maid is present throughout the majority of the film. But her presence is felt through limited shots of her face and conversations, which are always restricted to chores.
Miloni breaks the cycle and finally asks her maid to sit down and speak to her. This is a scene where the audience gets a close-up shot of her face for the first time.
As formalities are put to one side and barriers are broken, she talks of her life in the village.
Miloni, sick of a busy life in the city, tells the maid she will join her in the village one day. The maid laughs nervously, and tells Miloni she must stay with her.
After a short silence, she once again retreats to her original conversation, asking Miloni whether or not she would like a bite to eat and then leaves the room.
Though having shared a tender moment, she is reminded once again of her position in society and dares not to overstep the mark.
In another incident where Miloni wishes to speak with her maid, she enters the home to find her sleeping on the floor.
Ironically, her maid knows Miloni better than anyone. Though no matter how close the two become, she will forever be beneath her as per the social hierarchy system of the country.
Themes of overcoming barriers are persistent throughout Photograph.
Religious barriers, the difference in language and social class, along with a stark contrast in their career choices are all prevalent in conservative Indian society.
None of these factors appears to affect the couple's relationship, but others do question it.
For example, Miloni's well-respected career and Rafi's low income could be a problem – something which is also raised by Rafi's grandmother.
With Photograph subtlety touching on issues, which are often overlooked by the mainstream, this unique film offers spectators an alternate view of life.
The film also is a constant reminder for us to find beauty in everything that passes us.
The showing of Photograph at MAC Birmingham concludes the 2019 Birmingham Indian Film Festival.
Everyone who attended this closing night film enjoyed it a lot.
It seems many outside the festival are also appreciating the film, everyone, the film.
An IMDb user describes the film as "A movie to remember for long time, just like a photograph."
He further adds:
"The best part of the movie is its simplicity in terms of storyline & acting. Characters of Nawazuddin Siddiqui and Sanya Malhotra are written/played so well, so imagine them to be someone next door to you.
"Ritesh Batra is once again able to do a good movie just like The Lunchbox."
Watch the official trailer of Photograph here: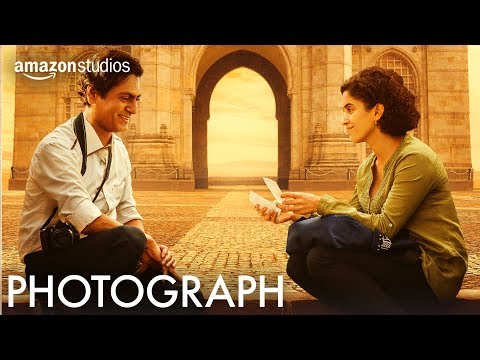 Photograph was just one of many incredibly diverse films enjoyed at the annual festival across London, Birmingham and the north.
The charming romance film Sir (2018) won the inaugural BIFF Audience Award. Director Rohena Gera was thrilled with the award as she expressed:
"I am truly delighted that 'Sir' has won the Audience Award in Birmingham."
"It means a lot to me that the film connects with the audience at the heart of the UK. I am honoured to be their favourite."
The 2019 Birmingham Indian Film Festival (BIFF) across five different venues was a big hit with the audiences.
We look forward to the sixth edition of the festival in 2020, hopefully with more exciting films, which will pack a punch.