"I am hoping that if anything happens SRK will catch me and I will be there for him."
Shahrukh Khan has truly outdone himself with the promotions of his blockbuster film, Happy New Year, cementing his rightful place as the Badshah of Bollywood.
King Khan has left no stone unturned: Happy New Year features a mega star cast with Deepika Padukone, Abhishek Bachchan, Boman Irani, Jackie Shroff, Sonu Sood and Vivaan Shah; best friend Farah Khan as director; and a non-stop entertaining masala ride of pure Bollywood goodness.
The story of Happy New Year promises to keep audiences captivated throughout. Charlie (played by Shahrukh) is the leader of a mismatched gang of thieves, who plots an epic diamond heist. The only drawback is that the group will have to enter a World Dance Championship held in Dubai.
As SRK explains: "Unlike other heist movies where you have a bad guy hindering your plans, Happy New Year is about six people indulging in something they are the worst at [dancing]."
Hype around this blockbuster of the year has been rapidly brewing.
King Khan and his team of marketing experts have encouraged new and innovative ways to engage public interest. From personalised digital posters, to the trailer being launched on WhatsApp, to the music launch being streamed live on YouTube.
Shahrukh and his fellow troupe of Bollywood stars also took to the stage with a spellbinding live concert that toured across America and had its grand finale in London. The HNY team were joined by the dancing temptresses Malaika Arora Khan and Madhuri Dixit for a mixture of filmy classics.
For the HNY cast, the project has been more fun than work, and all of them agree that they have developed a strong bond, which they will be sad to see end post film release.
Shahrukh reunites with Farah Khan and Deepika. The trio last worked together 7 years ago for Om Shanti Om which was Deepika's debut. Working together again has been a huge pleasure for the actress with the Midas touch:
"Happy New Year is a homecoming for me. The way they [Shahrukh and Farah] made me feel has brought back the memories of Om Shanti Om. The way we talk to each other is special. In fact, a lot of time we would sit together and remember old times. They are family," Deepika says.
"They gave me such a beautiful launch in the industry and presented me so well. They took the responsibility and understood that this girl's career is in our hand."
But the humble SRK insists otherwise: "I have nothing to do with [Deepika's] success. It's all hers. You can't take credit away from someone. I haven't worked with her for seven years, but I think she has it all.
"As a friend, I told her that 'Always do a film where you feel comfortable with the people around'. She has made wonderful choices — whether it's Cocktail or Finding Fanny. She has chosen some highly commercial films too; she has made the right choices," he said.
This is also Shahrukh and Farah's first project together following their temporary fallout in 2010. But having since reconciled, the fast friends are back on track to create box office success with HNY:
"We are taking a free fall with this film. Everything is bigger be it the star cast, scale or the story. Nothing is small in our frame. I am hoping that if anything happens SRK will catch me and I will be there for him," Farah says.
For Shahrukh, HNY is turning into a family affair. Reports reveal that wife Gauri and youngest son, AbRam, will make a short cameo appearance. Notably, SRK has kept AbRam under wraps and away from press attention, so bringing him on-screen for the world to gaze upon is a big step. But as Gauri explains:
"It was a very spontaneous decision. I was going for my shot when Farah and Shah Rukh asked me to bring AbRam along. So I went ahead. Even Aryan has done a movie appearance when he was two-and-a-half-years old."
Vishal-Shekhar and local lad Dr Zeus are responsible for the chart topping beats of HNY's soundtrack. Standout tracks include 'Manwa Lage', 'Lovely', 'Indiawaale' and 'Sharaabi':
"Being a dance film, it very important to have good music and Vishal-Shekhar have done an exceptionally great job with that. Because we are participating in world dance competition, we are rehearsing, practising and each song has a good logic to it," says Shahrukh.
"It is one of those commercial films where it's just not taken for granted and we put a song. There is a reason for every song and you may not like some of the songs until you see them in the film."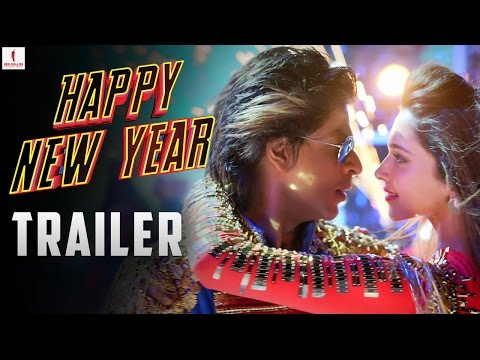 With its release date on October 24, 2014, when Diwali festivities will be at their peak, Shahrukh is expected to break all box office records with this fun feature.
Film distributor, Arun Mehra says: "Shahrukh Khan always makes a festival out of his releases. We had released Chennai Express during Ramzan Eid last year, which is one of the highest grossers in Hindi cinema. This time, he is back with a massive cast and it looks like a full-on paisa vasool entertainer."
Happy New Year, is perhaps one of the most anticipated films of 2014, and Shahrukh is keen to impress fans, critics and cinema lovers alike. We shall wait and see how the film fares on screen. Happy New Year releases from October 24, 2014.
What did you think of Happy New Year?
Mind Blowing (72%)
Okay (17%)
Time Pass (11%)
Loading ...